Fighting for the sixteenth time on ESPN Friday Night Fights and sixth in front of a huge crowd at the Mohegan Sun Arena, Star Boxing's Delvin Rodriguez once again showed the spirit of a warrior winning a fierce battle against former world title challenger Freddy "EL Riel" Hernandez with an eighth round stoppage.
An intense war over the first seven rounds with both fighters working aggressively and punishing each other, but Rodriguez had the upper hand-often hurting Hernandez with outstanding combinations. Throughout the bout, both punches and clashes of heads resulted in numerous cuts for both fighters with each battling valiantly in front of the "loud and proud" area fight fans.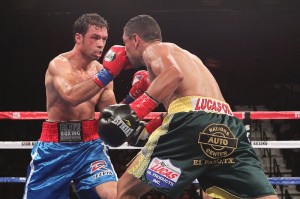 A terrible cut over the left eye of Hernandez caused the fight to be stopped in the seventh round.
Originally scored as a majority decision for Rodriguez, the result was changed to a technical knockout as replays showed Rodriguez's final battering punches caused the cut resulting in the stoppage.
With the win, Rodriguez improves to 29-6-3 (17KO's), while Hernandez falls to 30-6-0 (20KO's).
"This win was indicative of Delvin's entire career, fan friendly and usually doing what is necessary to win," said Joe DeGuardia of Star Boxing. "This was another exciting outing for him and we're looking for bigger fights ahead."
In the televised junior welterweight co-main event, Crossville, Tennessee's Chris Howard improved to 16-2-1 (7KO's), handing New York City's Issouf Kinda his first loss, now 16-1-0 (6KO's).
Fighting on the inside throughout the fight, Howard suffered a swollen left eye from an accidental head butt in the first stanza. After six rounds of excellent two-way action, the fight was stopped as the ringside physician determined that Howard could no longer see out of his left eye.
Since the cut that caused the stoppage was ruled the result of an accidental head butt, they went to the judges scorecards. The split decision went in favor of Howard, as scores were 58-56 twice for Howard and 59-55 for Kinda.
In a four round heavyweight bout, Catskill, New York native, Constantin Bejenaru, 3-0-0 (2KO's) and Excell Holmes, 2-1-1- (1KO), of Buffalo, New York's fight was stopped in the second round as Bejenaru suffered a deep forehead cut from an accidental head-butt and the bout was halted with a no-decision being declared.
The stoppage towards the very end of the second stanza was unfortunate for Bejenaru who had thrilled the Mohegan Sun Arena crowd with his Mike Tyson-pit-bull like style throughout the action. Upon completion of the second round, Bejenaru would have been awarded the victory in accordance with his dominant performance.
Junior middleweight prospect Michael Moore of Cleveland, Ohio, remained undefeated, improving his record to 12-0-0 (6KO's) winning a unanimous decision over Lancaster, PA veteran Doel Carrasquillo, 17-24-1 (17KO"s). Scores were 60-54 twice and 59-55.
Also on the undercard New Haven, Connecticut's Jimmy Williams improved to 3-0-0 (2KO's), stopping Marqus Jackson, 2-10-0 (2KO's) of Atlanta, GA in the third round of their scheduled four round welterweight bout.
Rounding out the undercard Paterson, New York super middleweight Michael Mitchell, 1-1-1, won a four round shutout unanimous decision over Saul Almeida, 0-1-0, of Framingham, New York. Scores were 40-36 on all three scorecards.