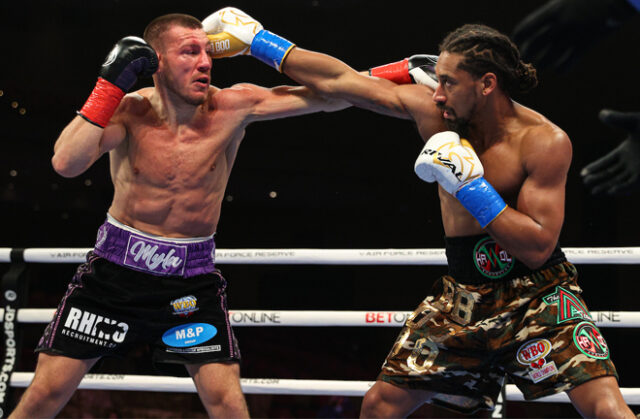 Demetrius Andrade overcame the stern challenge of Liam Williams, as the Rhode Island native defended his WBO Middleweight title by dropping 'The Machine' in the second round on the way to a wide win on the scorecards at the Seminole Hard Rock Hotel & Casino in Hollywood, Florida on Saturday.
It was the fourth defence of the belt that Andrade (30-0, 18 KOs) won back in October 2018, and he was facing his mandatory challenger in Williams (23-3-1, 18 KOs).
Andrade made a quick start and began with intent, and a flurry of punches followed by an overhand left buzzed Williams as early as the first minute of the contest.
There was swelling and bruising to the eye and cheek of the Welshman in what was a disastrous opening frame.
The second wasn't much better for the challenger, as Andrade was confusing Williams with fleet of foot and fast hands, and a right-left combination straight down the pipe had the 28-year-old on the floor.
He beat the count at the last possible second, and survived the round. Andrade controlled the third with his slick countering skills, but the champion's legs looked unsteady as he walked back to his corner.
Andrade knocks Williams down in the 2nd! 🔥 pic.twitter.com/lAQjSdAa51

— DAZN Boxing (@DAZNBoxing) April 17, 2021
Williams was brave, and continued to come forward, and the fourth was certainly his best round to date, pushing the home favourite back with a stiff left hand as Andrade was sending out distress signals.
'The Machine' landed a flush right hand in the fifth, and he was being implored to keep the pressure on 'Boo-Boo' by his trainer, Dominic Ingle.
Andrade wasn't seeming to like the pressure and pace that Williams was exerting, but he landed a wicked uppercut that stunned the former two-weight British champion in the sixth.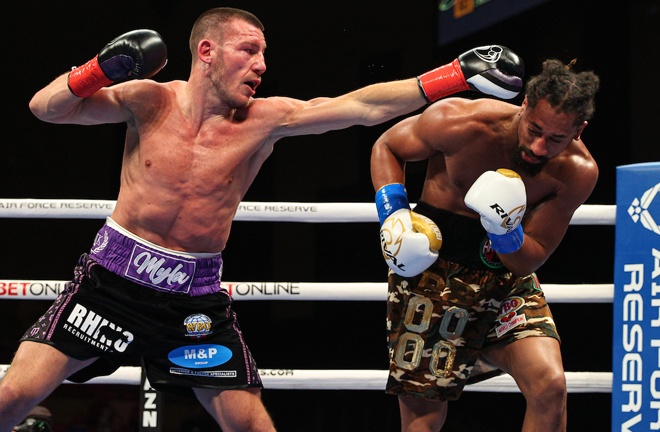 The seventh was a much quieter affair, but Williams got caught yet again by an Andrade uppercut right at the end of the round.
The Providence man was beginning to revert to type, controlling Williams and holding whenever trouble arose, but a raking right hand from Williams forced him to sag into the ropes, and it looked like the champion was hurt from it, but Williams hadn't seemed to notice the damage he had done, and couldn't capitalise.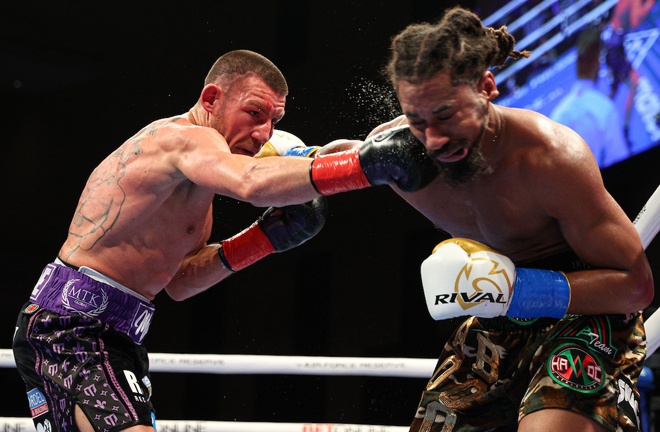 Another right hand found the mark for the challenger in the tenth, and Andrade was constantly holding as he was feeling the pace of a heated battle.
The 33-year-old had a much better penultimate round, and the final round seemingly required Williams to go for broke, but try as he might, he couldn't pin his man down, and 'Boo Boo' used his know-how to see out the contest.
Liam Williams lands a big right in the 9th 💥 pic.twitter.com/t4pKGQ4k4P

— DAZN Boxing (@DAZNBoxing) April 17, 2021
Although spirited in his efforts, Williams was never likely to get the nod on the cards, and two scores of 118-109 and a third at 116-111 ensured Andrade made a fourth defence of his crown.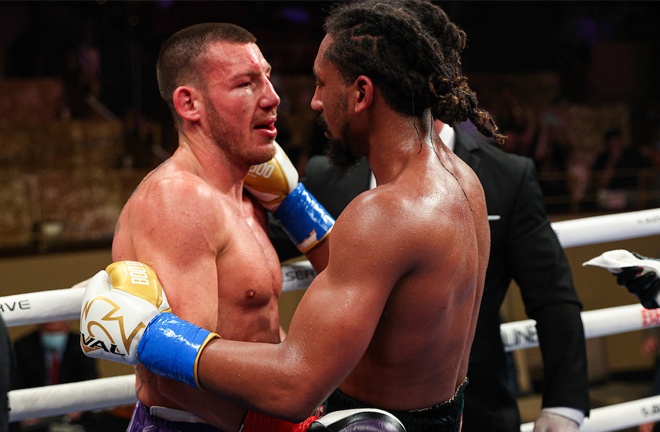 "Liam Williams is a hell of a fighter, and that's the type of fight people wanted to see from me," said the champion post-fight to DAZN.
"He came to win, at the end of the day we both showed we're tough fighters."
Asked about his future plans, talk turned to meetings with other champions in the division.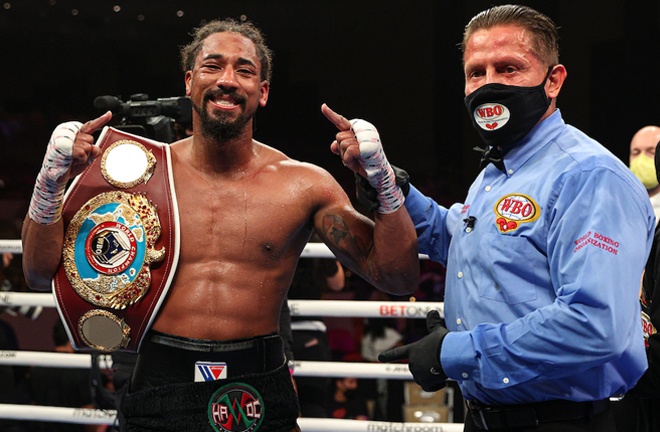 "I'm undefeated, I shouldn't have to inspire anybody to get in the ring for a belt. Whenever we can sit down and make something happen, I'm willing to do it, I'm ready to risk it all."
Andrade had four words when asked about a clash with WBC champion Jermall Charlo, "Let's get it on!"
"He's a very good fighter, better than I thought," said Williams post-fight to DAZN.
"Champions are supposed to fight champions." 💯

Eddie Hearn wants to see Andrade face GGG or Charlo next. pic.twitter.com/AO0WwjtNwf

— DAZN Boxing (@DAZNBoxing) April 17, 2021
"I couldn't really get going. I hurt him a couple of times, but he was gone before I could capitalise. I believe I will stay at world level. He [Andrade] is the best of the world champions other than probably Canelo [Alvarez]."
"I've got nothing but respect for him, he's quality."
View this post on Instagram
Gongora retains IBO crown
Chief support came in the form of Carlos Gongora, and the IBO Super Middleweight champion successfully defended his title with a routine eighth round knockout of the unambitious Christopher Pearson.
Gongora (20-0, 15 KOs) pretty much did as he pleased in the first couple of rounds, with Pearson (17-3, 12 KOs) struggling to pull the trigger and get a foothold in the fight.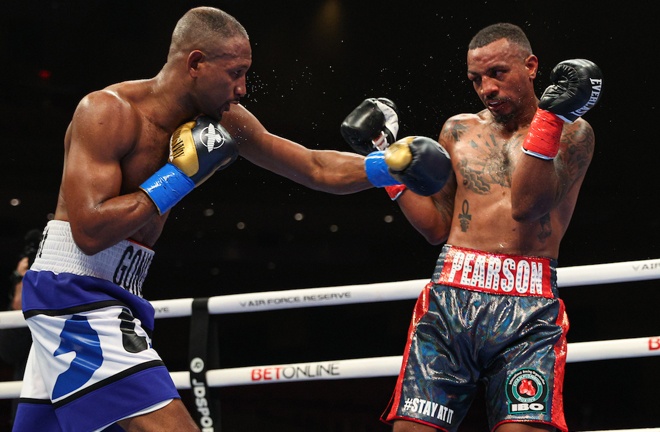 The champion upped the tempo in the sixth with some sustained attacks, and the challenger just couldn't get off the ropes.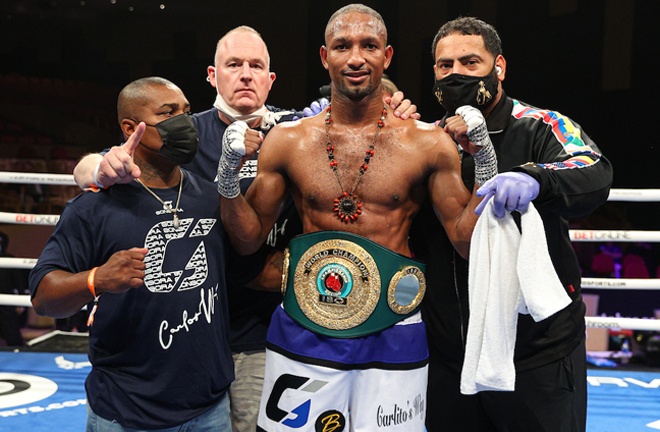 The ending finally came in the eighth round, where after a short right hook followed by a cuffing left hand from Gongora landed on an already swollen Pearson right eye the Ohioan decided to take a knee and made little attempt to beat the count as accepted the defeat.
Fesodov stuns Majidov
Heavyweight Mahammadrasul Majidov was dealt a huge shock, as the three-time amateur world champion was knocked out inside a round by unheralded Russian, Andrey Fedosov.
Majidov (3-1, 3 KOs) is also a 2012 Olympic Bronze medallist, who holds a 2011 victory over Anthony Joshua suffered a first defeat in four professional outings here.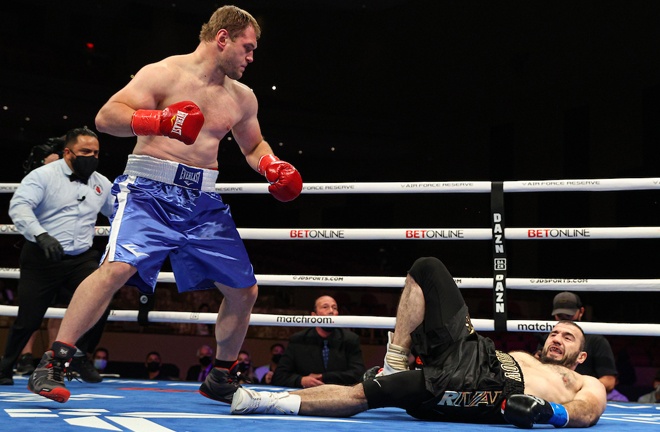 The 34-year-old drove Fedosov (32-3, 26 KOs) back with the first jab of the fight, but it wasn't a sign of things to come as he was caught by a massive right hand straight through the guard that dropped the man from Azerbaijan heavily, and he took the fall on his ankle that went from underneath him.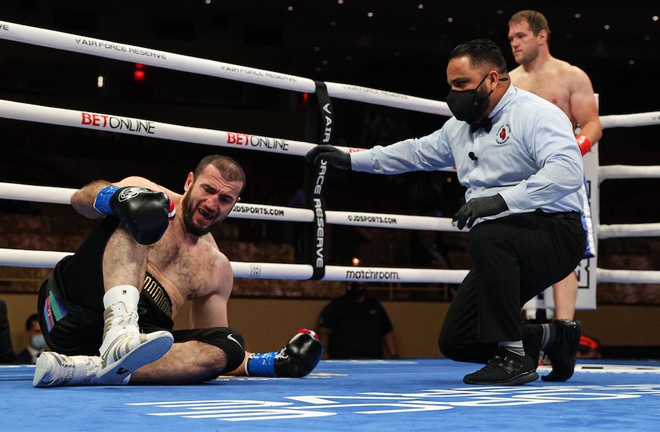 He did well to get up and beat the count, but a follow up attack had Majidov over again, and he was unable to put any pressure on his injured ankle to attempt to beat the count. He left the ring on a stretcher, as the injury left him unable to walk unaided in what could be a possible fracture.
Prospect watch
The broadcast opener came at Super Lightweight, and, in a battle of unbeatens, it was Movladdin Biyarslanov (8-0, 6 KOs) that kept his '0' in tact, as he boxed well in a majority decision eight round points win over Israel Mercado (9-1, 7 KOs).
The Russian based in Canada took an entertaining contest by scores of 78-74 and 77-75, while a third judge had it a 76-76 draw.
Another contest where someone's '0' had to go came at Middleweight, where Alexis Espino dominated the crude but brave Ty McLeod over six rounds.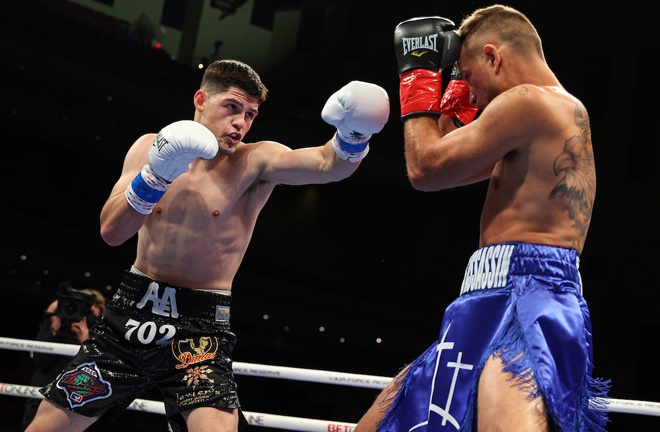 McLeod (6-1, 6 KOs) suffered a nasty cut above his left eye, and with him well behind, he maybe should have been withdrawn, but the ringside doctor allowed him to continue after the fifth round.
Two scores of 59-55 and a third at 60-54 ensured Espino (8-0, 5 KOs) remained undefeated.
In the non-televised contests, Otha Jones III (5-1-1, 2 KOs) suffered a first career defeat, as he went down by majority decision over eight to Jorge David Castaneda at Lightweight.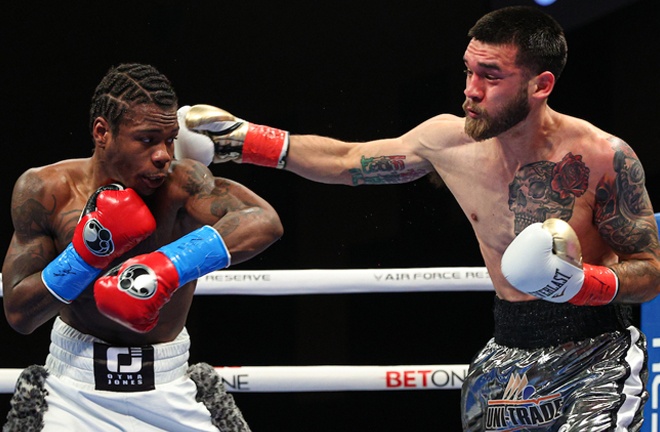 76-75 and 77-75 tallies won the fight for Castaneda (14-1, 11 KOs), trumping a third verdict of 76-76.
Aaron Aponte (3-0, 1 KO) made it three wins as a professional, winning every round of four at Super Lightweight against Javier Martinez (4-8, 3 KOs)