This Saturday Deontay Wilder looks to extend his perfect record when he takes on, former Olympic gold medallist and world title challenger, Audley Harrison. The fight is the chief support bout to Amir Khan's clash with Julio Diaz and at the final press conference we managed to catch up with the likeable and charismatic heavyweight.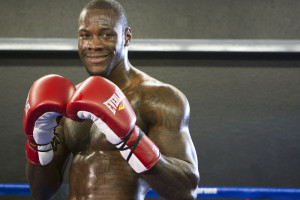 Deontay, this weekend you take on a former sparring partner in the shape of Audley Harrison. What sort of threat do you think he will pose to you?
DW: Audley likes to counter a lot, he's a counter puncher. He's quite smart and he tries to sit and wait on you, but he's not that fast and doesn't have great speed. The main thing I know is that if he gets into a rhythm he can be an effective fighter, so I'm going to stop him getting in a rhythm and stop him getting comfortable.
You've haven't been past 4 rounds so far in your career if this fight goes that far will stamina be a problem?
DW: I could go as many rounds as you want, if it was 30 rounds I could do it. Going the distance is no problem for me and I wouldn't mind it, but you don't get paid for overtime.
Do you think fighting in England will have any affect on you?
DW: It makes no difference, I've been here before with sparring. Last time I was here was when I was in the camp with David Haye in London. Even though this is a long way from home I'm comfortable because I adapt to any culture and any environment, that's one of the special things about me. Many guys may leave home and get nervous but I'm confident and I'm excited and I just want to pick up more fans in England.
You talked about sparring with David Haye but you've also sparred with Wladmir Klitschko, what was that like?
DW: That's one of the best camps I've been too. Just watching the champ  and analysing why this man is being so successful meant I learnt so much. The main thing I got from that camp was that if you work hard, hard work will pay off in the end. He had some downs in his career, but he's got back up and rebuilt himself and now he's been champ for almost a decade.
Wladmir spoke highly of you, do you think you can emulate him and get a world title?
DW: Defiantly, I'm going to be the next heavyweight champion of the world. He wouldn't have said all the great things he said about me if I couldn't. I feel everybody gets their opportunity it's just what you do with that opportunity and when I get my opportunity it's going to be my time.
Before this fight was scheduled you were interested in fighting Tony Thompson. If you beat Audley,  would you be the interested in fighting the winner of the upcoming Thompson-Price fight?
DW: Whoever wins I would love to fight and I think it would be a great fight. If that's how it is, let the games begin.
There's a few other Americans coming through at the moment who might soon be challenging for heavyweight titles such as Jennings, Mitchell and Malik Scott. Who out of the other American prospects do you rate?
DW: You're looking at the only good American. Deontay Wilder.
Finally your prediction for Saturday?
DW: Knock-out inside 3. I'm going to show the people why I'm 27-0 with 27 KO's.