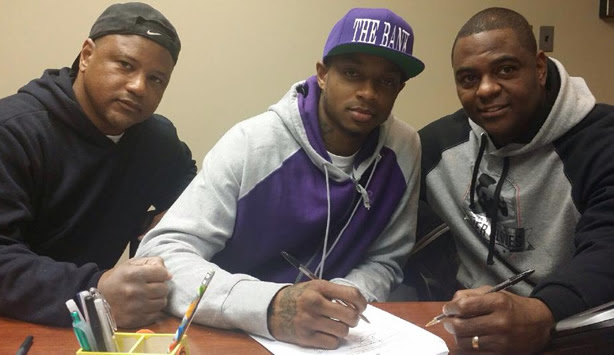 Less than a week after scoring a TKO of Julio Garcia in his first fight in a year, undefeated super middleweight Derrick "Take it to the Bank" Webster (15-0, 8 KOs) is seeing an already outstanding 2014 continue to get even better. Webster has now entered into a three-year managerial deal with Philadelphia-based D and D Management, making official the partnership this week.
"First and foremost, I am very excited to sign with D and D Management," Webster stated. "The deal came to a close after a few weeks of negotiation, so I am very comfortable with the signing. Just knowing that I am already fighting again on March 14th and that I'm going to be active again truly makes me feel like 'I'm back.' I'm ready to take this division by storm, and I'm just excited for everything that is going to take place this year."
Prior to his dismantling of Garcia last Friday night in Philadelphia, opponent pull-outs and other frustrations forced Webster into a year layoff. Despite all of the aggravation that he was facing, the Glassboro, New Jersey, native never stopped training and improving at his craft. All of his hard work and dedication is something that never went unnoticed by his new managerial partners, who have had their eyes on him for quite some time.
"Using a personal experience helps me best verbalize how I feel," Webster responded when he was asked how he knew that D and D Management would be the right partner for him. "I felt the same type of feeling and security when I knew (my fiancée) Kara was the person who I wanted to marry. I've had a personal relationship with (D and D co-founder) Doc Nowicki since I was an amateur. Before I even thought about turning pro, Doc was already telling me that he wanted to sign me. He always said that. And now, I also have a personal relationship with (D and D co-founder) Dave Price.
"Through all of the nonsense I went through over the past couple of years, I would always sit and watch these guys from afar. I've seen them in camps across the world, and I've also dealt with them locally. I sat down with Doc at one point in my career, but it just wasn't the right time. From watching them and seeing how they move, as well as building a relationship with them, that's what made me say 'These are the guys.' They always had my best interest in mind, and they were always there. They just had to wait for me to recognize that I needed a little more help."
With the deal now signed, sealed and delivered, Webster says that his complete focus is geared towards the future and reaching all of the goals he set out to achieve when he turned professional.
"Just like everything else in my life that I hold closely, these are the best guys for me," Webster concluded. "They were the missing piece to the puzzle. Take it to the Bank and them D-Boys, we're about to take it over and make some serious noise over here."
Webster and his head trainer, Denny Brown, have already begun preparation for his upcoming bout in March. On the business end of things, he is currently navigating through various offers from different promoters, but his team is also open to hearing proposals from any new promoters who are not currently in the mix. A decision regarding a promoter is something that Webster expects to be made in the very near future.
Comments
comments