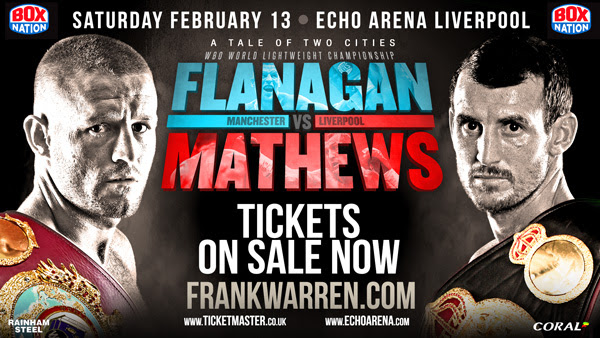 A furious Derry Mathews has accused WBO Lightweight champion Terry Flanagan of playing mind games after their title showdown at the Liverpool Echo Arena was pushed back a month to Saturday March 12th.
Manchester's Flanagan has suffered severe tendinitis in his left foot that has left him unable to train ahead of the big fight but Mathews believes his bitter rival is running scared.
Boasting an impressive record of 38 career wins with 20 stoppages, Mathews is as experienced as they come and is unfazed by the challenge of facing an unbeaten fighter. The Liverpudlian is looking forward to fighting in front of his home crowd and says the pressure is all on his opponent.
Flanagan didn't mince his words when the pair went head-to-head at a heated press conference held at Liverpool's Hilton Hotel, boldly predicting that he'll have no problem knocking out Mathews at any point in the fight. Derry, preparing for the 50th fight of his professional career, says his rival has another thing coming if he thinks it'll be that easy.
Mathews said:
"He doesn't fancy this fight in Liverpool, even his manger didn't fancy it and come fight night there'll be nowhere for him to run; it'll be just me and him in that ring. He's trying to pull a fast one pretending he's injured but he's just delaying the inevitable; I'm taking that belt with both hands.

"If he is genuinely injured then I wish him all the luck with his recovery but if he's trying to play mind games then he's picked the wrong man to play them with. I've got the strongest mind in the business and I've seen it all before. Silly mind games won't work on me, I'm fully focused on becoming the new champion in my home town."

"The entire country has made the mistake of writing me off before I've even put a foot in the ring. Apart from my team and my fans, everyone has Flanagan down as the clear favorite. That doesn't bother me one bit, every time I'm written off by people I prove them wrong with a big win. All that matters is deep down I know it's going to be my title and now he knows that too; he's realized he's in deep water.

"I've got him worried; it's clear to see for everyone. He put himself right in it when he stupidly announced he was going to knock me out, he couldn't name a round at the press conference and here we are two weeks later still waiting to hear a round; at least now he has another five weeks to think of one!"