Lightweight Devin Haney is one of boxing's youngest ever promoters as well as introducing himself as a champion in world boxing today.
At only 20 years of age Haney has propelled himself into the world title mix after just 23 fights, all ending in victories for 'The Dream'.
"I'm originally from San Francisco, California," he tells Pro Boxing Fans. "Where I come from wasn't the best place but my parents tried to keep me away from the streets and, you know, the streets and the bad stuff. I'm not saying my childhood was real bad or anything like that.
"Then we moved to Vegas but it was still a bad area. When I first came to Vegas I had some problems there because everything was different from California. That's kind of how I got into boxing due to the problems there, my dad took me to the gym because I got into a fight at school."
After scooping the WBC international lightweight title against previously undefeated Xolisani Ndongeni. Haney got ten rounds under his belt that evening before defending the international title against the tall and rangy Mexican, Antonio Moran. Devin became the first man to stop Moran. This earned 'The Dream' the number one spot and a shot at the WBC interim world title against fellow unbeaten, Zaur Abdullaev.
"On paper, he was a very dangerous opponent he didn't get ranked number two by just beating anybody. I knew that he was a tough opponent that's why I trained very hard for that fight. I knew that he wasn't coming in there to lay down and he came in there and tried to put the pressure on me, he came to fight. He was looking to put up a very good fight.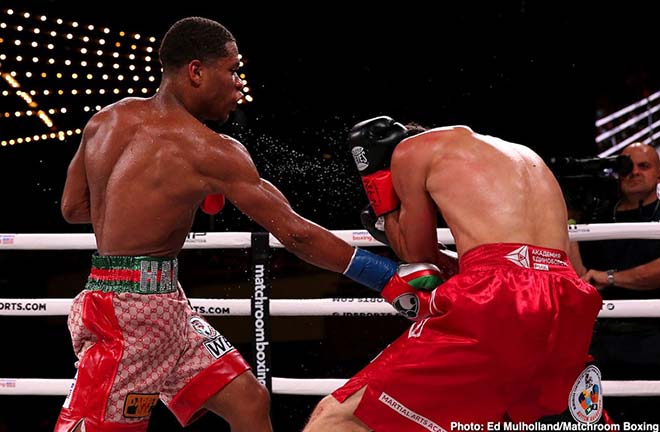 "I felt good. I had a good training camp, I trained hard. I was prepared mentally and physically I felt like the fight was just getting started. The first couple of rounds I was just using my jab, I was just getting in my groove. That's when the fight was stopped."
It was at the end of the fourth round that the Russian, Abdullaev could not rise from his stool as he cut a sombre figure suffering from injury but it was his pride that took the biggest beating after admitting defeat.
"I didn't know that it was anything serious I was just boxing, doing my thing. They told me after [the fight] but before that, I didn't know [about the injury]."
The lightweight from San Francisco was elated afterwards winning his world title. Not the interim, his world title.
"That means a lot because everyone knows that Lomachenko has been saying that he's going to get all the four titles and then he's going to vacate. That fight was basically a world title fight for me because he vacates and the interim bumps up so that means a lot and it put a lot at stake so that's why I knew Abdullaev was going to come to fight and give it his all."
Vasyl Lomachenko is the fight Haney wants and it's one he has wanted for a long time and after a bad night in the office against Briton, Luke Campbell it's a fight Haney wants more than ever.
"I've been saying this a lot lately but I try not to judge somebody off of one fight because it happens, on any given night you could have a bad night in boxing. Everybody can have a bad night. I don't think that it was a bad night for him I do think he showed a little bit of weakness that I'd capitalise on."
But, it was Luke Campbell whose stock had risen after the gruelling twelve rounds of respiration-robbing organ onslaughts.
"He showed that he was a lot tougher than what everybody thought he was, Lomachenko was ordinary and basically he showed that he is a lot tougher, he gained a lot of respect from that fight and he's going to get a lot of big fights after that [performance]."
However, it's about that the 20-year-old isn't confident he will get to showcase his skills as he believes the Ukrainian will partake in a 'tick-over' bout before facing the IBF king. The favourite for that tick over bout is Aussie, George Kambosos.
"That's good for him that he can get a big fight with Lomachenko I'm happy for him. I really don't know too much of George Kambosos but it's good that he gets the fight and hopefully, he goes in there and does good. But, I don't understand how he got the fight. But, everything happens for a reason.
"I don't know why I haven't had the opportunity yet. I've been begging for the fight. Lomachenko has plans to become undisputed so maybe that's why the fight hasn't happened."
It has been a fast-paced three-year-journey for Devin after turning professional at the tender age of 17, Haney was just a boy in a mans world. Undeterred, with nothing left to achieve in the amateurs and money to be earned in the professional ranks Haney started his journey.
"When they took the headgear off at the Olympics they changed the age to 19. So either I was gonna wait until the 2020 Olympics or I'm gonna turn pro and start making money and that's what I did."
Two years after his debut Haney started a new venture and Devin Haney Promotions was born. The aim was to ensure financial security for himself whilst also bringing boxing to California with the help of his father William Haney and world-famous referee Joe Cortez in a consultancy role. Now Haney has also secured an association with Eddie Hearn, Matchroom USA and DAZN.
"I felt like the first couple of deals I were offered wasn't worth it and I thought if they are offering me that when I'm 0-0 what will they offer when I'm 10-0 or 20-0?" Haney explains. "100 per cent it's put myself in a better position and it's got me into the position I am in right now. Coming out of the amateurs I wasn't able to fight on the big shows early but timing's everything and my time is now.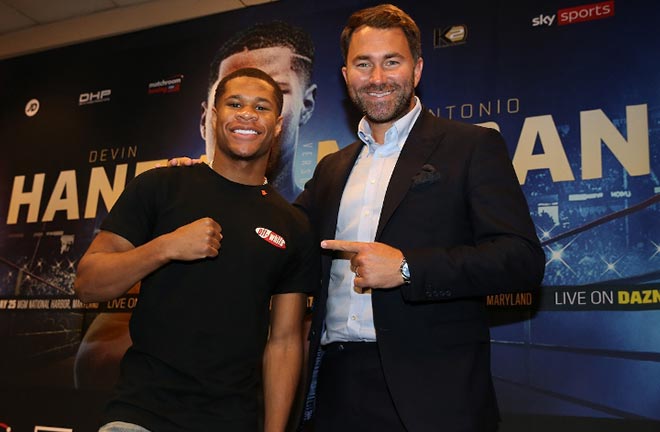 "Eddie has been a class act. He's welcomed me with open arms – Matchroom and DAZN everything has been great. I'm blessed to be signed to Matchroom and DAZN. It's a co-promotion so we're working together. I definitely have the machine behind me so it will push me and Devin Haney Promotions to the next level."
Haney is now hot property in boxing and he could be on a collision course with another highly touted youngster in Teofimo Lopez. After hearing rumours of Lopez stopping Haney in sparring circulated the latter is keen to put a stop to such speculation.
"I met Teofimo in the amateurs at a lot of tournaments," he says. "We sparred, he claimed that he stopped me but wasn't the way that the sparring went at all. He is a good fighter, he has been looking good in his fights. I wish him nothing but the best, we will meet when the time is right. He's making noise in boxing and so am I, it's a fight that has to happen!"
The fight that possibly could end up being a unification bout as the Honduran finds himself battling Ghanaian Richard Commey for the IBF version of the world title. A fight Haney feels his former amateur foe will revel in success after.
"It's a very competitive fight. I think that Commey is very strong of course everybody knows that. Teofimo is strong as well but I think that Teofimo will go in there and he will box smart. Well, I hope he'll box smart you know go in there and don't try to trade with Commey. I think that he [Lopez] has the better boxing IQ, faster hands so if he goes in there and boxes it'll be a good night for him. He saw that he would get the world title via the IBF route."
Next stop on the Devin Haney train is November 9 where he finds himself on the undercard to the now infamous 'YouTube Fight'. As YouTube personalities, KSI and Logan Paul face off in the professional ranks after their white-collar bout ended in a majority draw. The recent press conference for this clash was watched by over six-hundred-thousand viewers live. A bout which has torn the boxing community but Haney is adamant it is a positive move for boxing and his promoter, Eddie Hearn.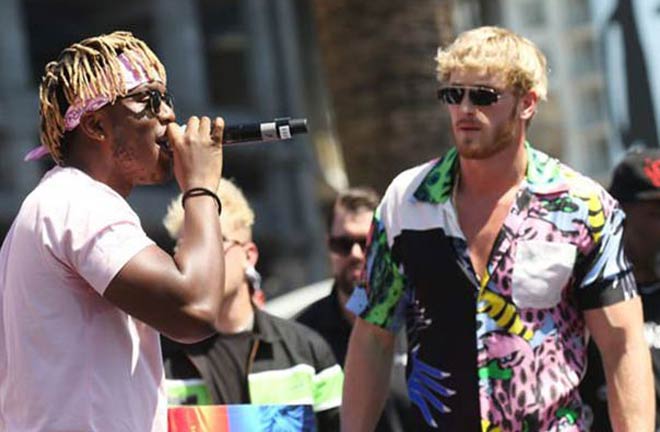 "I think it's good for boxing. It creates a lot more fans who wouldn't watch boxing, kids who wouldn't watch boxing. It creates a lot more attention to the sport of boxing and with fighters like me and Billy Joe [Saunders] they can see some real fighters fight. I think it's good for the sport of boxing.
"It isn't make or break, it just brings us more fans. It isn't like a Manny Pacquiao vs [Floyd] Mayweather undercard or anything like that but, it is good for boxing."
Comments
comments