On February 25, two solid 140-pound contenders clash in St. Louis, Missouri. Devon Alexander, a former champ ranked #6 by Pro-boxingfans and a St. Louis native, meets Marcos Maidana, the #4-ranked South American slugger. [Note: While both men are still currently ranked as junior welterweights, Alexander vs. Maidana is scheduled at the full welterweight limit of 147 lbs]. Both men are hoping that a win will catapult them back into the top tier of their division (as well it should). Less important is that Marcos Maidana is currently the fake WBA Champion (the real one is "Super Champion" Lamont Peterson), so the winner might be in line for a shot at the WBA's increasingly insubstantial black belt later this year.

Devon Alexander (22-1, 13 KOs)
5'8″ tall, 70″ reach, southpaw, 24 years old
American
Former Light Welterweight Champion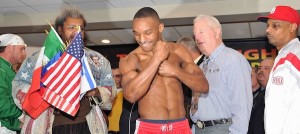 "Alexander the Great" has been one of the fixtures of today's hot 140-pound scene. He comes from an outstanding national-level amateur career that concluded with a US amateur championship and missing out on a berth for the 2004 Olympics by a hair. The St. Louis native took his slick boxing ability on to capture the vacant WBC Light Welterweight crown in 2009, and then pummeled Juan Urango to add the IBF belt to his collection.
A solid win over tough, skilled Andriy Kotelnik led him to a showdown with division top dog Timothy Bradley, which Alexander lost in an uninspiring fashion. His comeback fight, a close (and sometimes disputed) Split Decision win over Argentine Lucas Matthysse, was hardly a decisive statement from a man who was once a WBC-IBF champion.
Marcos Maidana (31-2, 28 KOs)
5'9″, 70″ reach, 29 years old
Argentine
Marcos Maidana is also a fixture, namely as the division's hardest, toughest puncher. While Maidana only commands limited boxing ability, his aggression, determination, durability and sheer power have made up for whatever he lacks in skills on more than one occasion, and it is too easy to write Maidana off as a man who is "there to be out-boxed." Erik Morales, who is no slouch in the skills department, wasn't able to keep Maidana at bay; Kotelnik, as skilled as they come in the European school, needed everything he had to blunt Maidana; "El Chino" even managed to find and rough up Amir Khan. Only a fool takes Marcos Maidana for granted.
Alexander vs. Maidana Analysis & Preview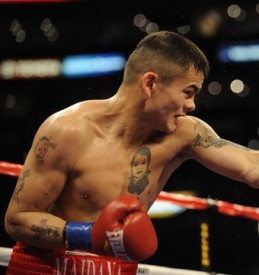 That said, Devon Alexander is one of the speediest, most athletic boxers in the game today. If Alexander applies himself, it's hard to see Maidana sustaining any traction against him.
Even so, this match-up isn't a foregone conclusion. Alexander isn't the fastest opponent Maidana has faced (that would be Khan). He isn't as durable as Kotelnik or Morales, and I think Khan and Kotelnik both have harder hands than Alexander. The American has the tools and talent to beat Maidana, but he can't afford to let up at any time, and that is where Alexander is weak.
The man has a tendency to lose focus, not nearly as bad as Zab Judah, but Alexander still lacks firm discipline in the ring. Given that Alexander's chin is merely average, he can't afford to slip very much against Maidana. A loss of concentration at the wrong time could prove fatal to his chances.
Alexander vs. Maidana Prediction
In my mind, this fight isn't a question of whether Alexander will slip or not; it's a question of by what margin is he going to slip. If the American goes out there and performs at 90 to 100% for every minute of all 12 Rounds, like he did against Kotelnik (where he pumped the jab non-stop), he wins handily. However, I expect him to be operating at 50% at some point in the fight, and that is when Maidana will find him. Even so, half of Alexander ought to be able to avoid getting clocked. I wouldn't be surprised to see Alexander's butt on the canvas at some point, but I doubt he'll be knocked out.
Therefore, I see Maidana bulling out 3 or 4 rounds of this fight, with at least one of those a 10-8 round from a knockdown. As a result, the fight might actually be quite close, but it won't read that way on the scorecards. This fight is scheduled for Devon Alexander's hometown, and the St. Louis fight crowd alone will be enough to sway one or two judges to give Alexander the close rounds, just as they did with Matthysse. If Maidana doesn't knock Alexander out or doesn't give him an obvious beat-down, he can't win.
Prediction: Devon Alexander UD12 Marcos Maidana
Comments
comments