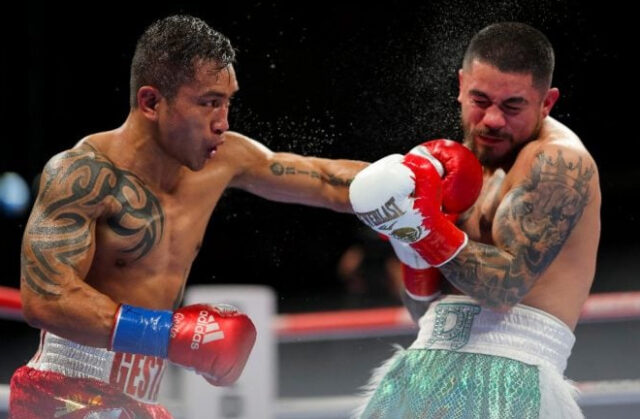 In a main event that was bumped up the card, Mercito Gesta won the crossroads clash at super lightweight, as he took a lop-sided split decision win over ten rounds against Jo Jo Diaz in Long Beach, California.
The headliner was due to be Gilberto Ramirez's return to action against Gabe Rosado, but the Mexican spectacularly missed weight by over a whopping seven pounds, and the fight was swiftly pulled all together. The new main event featured Diaz (32-4-1, KO15), a former IBF world champion who had lost his last two contests, and Gesta (34-3-3, KO17), a previous world title challenger.
Gesta began quickly here, letting his hands go in the opening round, and he arguably took round two due to the sheer volume of his punches and his relentless work. The third was a war, and Gesta was hurt by a right hand, and with the Filipino's work slowing slightly, Diaz edged his way into the contest. By round five though, Gesta caught a second wind, and his non-stop punches were banking him rounds, but Diaz did have solid seventh and eighth frames to stay in the hunt, and he landed a solid body shot that found the mark in the penultimate round. Gesta though would have the last say, as he produced the best of the last session, landing with a big left hand, and the fight went to the cards.
In what both fighters called a "must-win", Mercito Gesta topped JoJo Diaz in a tight contest 👊#DiazJrGesta | @autozone pic.twitter.com/MkrtsOmWKJ

— DAZN Boxing (@DAZNBoxing) March 19, 2023
Scores of 99-91 and 98-92 won the fight for Gesta, against a 97-93 verdict in favour of Diaz.
Hot prospect Eric Tudor (8-0, KO6) remained unbeaten, but he was made to work hard before seeing off Damoni Cato-Cain (7-1-1, KO6) in their eight rounder at super welterweight. Two scores of 78-74, and a way too wide 80-72 card saw Tudor get the victory.
After suffering a cut from a headbutt, @eric_tudor1 comes out swinging 💪#DiazJrGesta pic.twitter.com/0JPsthI8r5

— DAZN Boxing (@DAZNBoxing) March 19, 2023
Oscar Duarte Jurado (25-1-1, KO20) ground down Alex Martin (18-5, KO6), and inflicted Martin's first stoppage loss in an eighth round victory at lightweight. Jurado was cut in the fifth, but surged in the second half of the fight, eventually dropping Martin twice before the contest was called off.
Relentless finish from @oscarduartej 🇲🇽#DiazJrGesta pic.twitter.com/DUxwmMBwPE

— DAZN Boxing (@DAZNBoxing) March 19, 2023
Dalis Kaleiopu (4-0, KO3) routed Jonathan Perez (40-35, KO32) on the cards after six at lightweight, and after Perez was deducted two points for separate infringements, Kaleiopu took the win by three scores of 60-52.
A roaring finish to the fight from Dalis Kaleiopu, who picks up win #4 🤙#DiazJrGesta pic.twitter.com/4DSVYSAn4c

— DAZN Boxing (@DAZNBoxing) March 19, 2023
Jorge Chavez (5-0, KO4) only needed 30 seconds to dispatch Bryan Perez (12-17-1, KO11) in their four rounder, and Patricio Manuel (2-0, KO0) dropped Hien Huynh (1-2, KO0) twice on the way to a technical decision win that he took 40-34 across the board.
Jorge Chavez only needed 30 seconds 💨#DiazJrGesta | @autozone pic.twitter.com/yrjcwZyflo

— DAZN Boxing (@DAZNBoxing) March 18, 2023