In the last week, we have witnessed the retirement of undeniable British great Carl 'The Cobra' Froch. But today we assess his career in correlation to that of Welsh wizard Joe Calzaghe. The long-time public rivals unfortunately never squared off, so we didn't get a chance to see how they stacked up directly. Instead, we'll analyze the careers and see who will have the historical edge.
Calzaghe vs. Froch: Records & Wins
Joe Calzaghe – 46-0, 32 KOs
Biggest wins: Mikkel Kessler, Jeff Lacy, Bernard Hopkins, Chris Eubank, Robin Reid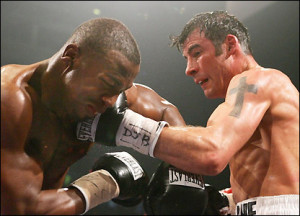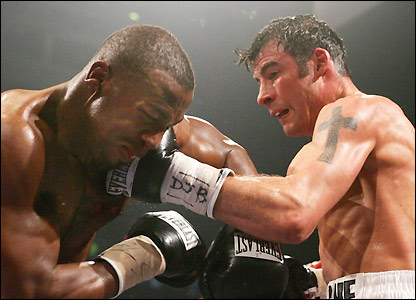 Carl Froch – 33-2, 24 KOs
Biggest wins: Lucian Bute, Mikkel Kessler, Jean Pascal, George Groves (twice), Arthur Abraham, Jermain Taylor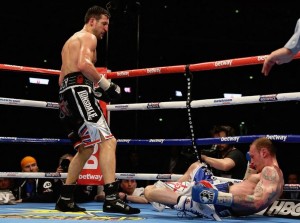 Calzaghe was the reason this Scottish gentleman started tuning in to the sweet science. Joe Calzaghe vs. Jeff Lacy on terrestrial television in 2006 was a spectacle and propelled Calzaghe into the American mainstream, as he was an underdog facing the unbeaten American, and absolutely destroyed him, wrecking his career in the process.
Bouts with Mikkel Kessler, Bernard Hopkins and Roy Jones Jr brought the Welshman's career to crescendo and one of the things separating Calzaghe and Froch is Calzaghe's loss column, where a big "0" stands strong. As of retirement, he was only the 10th reigning world champion to retire completely undefeated in the paid ranks. Of course, Froch might say that's because he never signed on to face him. Aside from his wins over the men previously named, he also triumphed on big domestic nights beating former champs Chris Eubank, Richie Woodhall and Robin Reid.
An argument could, and probably should be made for Carl Froch having the toughest resume of any British post-war fighter. After battling Jean Pascal, Froch went on to fight Jermain Taylor, Arthur Abraham, Glen Johnson, Andre Ward, Lucian Bute, Mikkel Kessler, twice, Andre Dirrell and of course his massive career-ending two-parter with domestic rival George Groves.
The Cobra provided many nights of excitement and although he suffered defeat twice in his career, it came against two of the best super-middleweights of our time. The 80,000 spectators who stormed in to watch Froch vs. Groves made for one of the biggest nights in British boxing history.
Style & Skill
Joe Calzaghe was simply beautiful to watch. So fast, with elegant combinations bemusing opponents, he had boxing credentials beautifully fine tuned. Not the hardest hitter by any means, but with his fair share of stoppages (70% KO ratio), Calzaghe would systematically break down an opponent.
It was his shutout victory over Lacy that showed the wider viewing public just how majestic he truly was. Consistently outworking opponents and giving them mere split-seconds to catch their breath, he was a master of trickery and blessed with naturally nimble footwork. And blessed were we, to watch him in his prime.
Interestingly, Froch has a slightly lower record regarding finishes (69% KO rate), although perhaps quality of competition accounts for that. Froch is known for his warrior spirit, his swarming attacks and his wide wailing hooks to the head and body.
His fight with Jermain Taylor showed his grit and determination, finishing Taylor in the last round while behind on points. He could struggle at times against superior tacticians like Ward, Dirrell and Kessler, but The Cobra would always battle through. Froch achieved new status with his demolition job of unbeaten Lucian Bute and was constantly on the front foot, picking his shots and unloading a vicious barrage of spiteful rights and lefts.
Who gets the historical edge?
Calzaghe has always insisted he would pick apart Carl Froch. 'Speed kills' being his catchphrase whenever the question is raised. Rather unsurprisingly, Froch has his own opinions. But at the end of the day, who trumps who? I am of the opinion that they are extremely close when matched against one another.
On the one hand, Calzaghe oozed eloquence with his fists, while Froch had those highlight reel knockouts. But where Calzaghe reigned undefeated for more than a decade, Froch lost and regained his belts amongst a who's who of super middleweights in some of the most explosive fights of our time.
Clearly, Froch was the fan favorite of the two. Everyone loves a warrior, everyone loves drama. Calzaghe was top class, but Froch was a fan's dream and filled homes with excitement on his most momentous nights.
However, I believe Calzaghe holds a more important place in the sport's history. His dominance, his unbeaten record and his untouchable aura will forever cement a place in British hearts.
It was a pleasure to watch and report on both legends of the sport. Different boxers, different records, different styles. But unfortunately for myself and the fans amongst us, an ever so slightly different time.