When I checked my boxing news on Sunday morning, I was shocked at the coverage of the Stieglitz vs. Abraham II outcome. True, Abraham losing by TKO4 was a surprising upset in a fight where virtually no one favored Robert Stieglitz, even though the latter German was fighting before his hometown crowd. Even so, what left me stunned was how the coverage made it sound as if Abraham was fairly pummeled and whipped into submission, and that this alone was responsible for the stoppage. The assertion is so blatantly wrong that I wonder how many of the people making it actually bothered to watch the four rounds of the fight!
Stieglitz Turned Dirty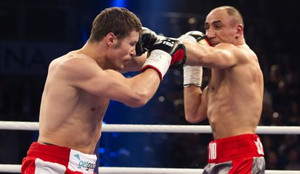 As I predicted, Abraham started the fight busier than is his usual want, no doubt more comfortable and familiar with Stieglitz after cleanly defeating him in their previous encounter. That was the limit of his adjustments for the rematch: getting busier sooner. Stieglitz's adjustments for Abraham, such as they were, were initially limited to adopting the 1-2-clinch school of boxing, with some head butting thrown in for good measure.
Every time Stieglitz clinched Abraham, he planted his head on Abraham's left shoulder. Sometimes he openly head-butted the Armenian-German on the way in, and sometimes he just brushed Abraham's left brow with the side of his head. The latter is a grazing blow, and easy to miss if you've never had it done to you.
The referee even warned Stieglitz for head-butting in the 2nd, but lucky for the Russo-German that he didn't have to keep using his skull as a bludgeon. The damage was already done by then.
Abraham's problems started when his eye rapidly swelled shut in the second. The eye might not have swelled shut and busted open as a direct and immediate result of the head butt, so I'm not claiming the verdict was in error. Technically it was correct.
However, I fail to see why so many are attributing Abraham's busted-up left eye to Stieglitz's fists, when those fists barely touched Abraham's face until after the eye swelled up and after it had sustained to more than four minutes of continuous fouling from Stieglitz. It was only after Abraham was rendered half-blind in the middle of the 2nd that Stieglitz stopped with the 1-2-clinch-head butt act and started throwing serious leather.
So What Does That Mean For Abraham?
On the one hand, I can't help but feel sorry for Arthur Abraham, but on the other I think it's karma. Abraham is the guy who toughed it out with a sickeningly shattered jaw against Edison Miranda, and now he gets stopped on cuts and head butts in a routine, contracted rematch. To make matters worse, the only guy who was cited for fouling in the fight was Abraham himself, who lost a point for rabbit punching in the 3rd. Yet this is the guy who got himself shamefully disqualified against Andre Dirrell, possibly ruining that fighter in the process.
Even though it is not contractually obliged, circumstances favor a rubber match. Both fighters have a good fan following in Germany, and the story thus far only makes a third encounter even juicier. Neither fighter has a bigger payday on the immediate horizon, and Abraham must be itching for revenge and a chance to get the WBO strap back, so the only reason a third engagement might not happen is if Stieglitz and Co. exercise a little discretion and gets while the getting is good.
After all, a European champion making a succession of easy defenses while avoiding all serious opposition is nothing new. Robert Stieglitz has already done that very thing once.
Comments
comments