Dmitry Bivol made his fifth successful defense of the WBA light heavyweight title against Joe Smith Jr tonight at the Turning Stone Resort & Casino in Verona N.Y., winning via unanimous decision. Bivol extends his undefeated record to 16-0 while Smith drops to 24-3, and loses his second fight since recording back-to-back wins over Andzej Fonfara and Bernard Hopkins in 2016. All three judges ruled in favour of Bivol 118-110, 119-109 and 119-109.
Bivol continues to make his case as one of the dominant fighters in the light heavyweight division with the win over Smith, a fighter known for his toughness and punching power. Bivol never really let Smith into this fight. Bivol worked smartly behind his jab, threw beautiful combinations and simply landed the cleaner shots.
The first round began as many envisioned with Smith looking for the knockout and applying pressure while Bivol looked to box and stay just out of range. Bivol was starting to pull away by the third round by applying his own pressure remaining on the inside to avoid Smith's overhand right. Joe did not have too many moments throughout the fight and his successes were fleeting. However, Smith did tag Bivol with a flush right hand that caught his attention in the third and forced the champion to clinch.
The Russian had Smith in trouble in the seventh round when he uncorked a left hook that badly wobbled his overmatched opponent. Smith proved to be quite resilient by not going down and withstood a series of left and right hands by the champion to make it to the next stanza. Things got weird when the referee warned Smith after he body-slammed Bivol about a minute into the ninth round. Smith should have been deducted a point for the maneuver.
Smith finally got to Bivol with that patented overhand right in the tenth round. Bivol was unmistakably hurt and on wobbly legs, needing the support of the ropes to make it back to his corner. Bivol was still dazed in the next round but Smith was unable to put him away and the champion managed to survive.

Joe Smith Jr. ROCKS Bivol at the Bell pic.twitter.com/FKNLjHQ7FU

— 🇨🇦Seymour Costello🏀 (@DFSBBallGuy) March 10, 2019
Then Smith did the unthinkable by attempting to box Bivol instead of attempting to take him out in the twelfth round. The tactic nearly backfired when Bivol hurt him with a right hand and nearly finished him off, but time ran out.
CompuBox stats only affirmed Bivol's brilliance with Smith landing only 39 punches out of 395 while the champion connected on 208 of 714 overall punches. Bivol was equally effective with the jab, going 101 of 511 and power punches at 107 of 203.
"Of course, this was not an easy fight," said Bivol. "I trained hard, but Joe Smith fought hard and he has strong hands."
Smith was taken to a local hospital following the fight as a precautionary measure. The 29-year old Smith was hoping to erase the memory of a dismal lopsided points loss to Sullivan Barrera nearly two years ago but failed again in just his second major step up in competition.
Bivol is ready to take on the other champions at 175 for supremacy but that could be tricky as all three – IBF titlist Artur Beterbiev, WBO champion Sergey Kovalev and WBC titleholder Oleksandr Gvozdyk are managed by different promotors.
A move down to super middleweight to face WBC champion Calum Smith would not be out of the question for the ambitious Bivol, who is looking to remain active this year.
Undercard Results
Maurice Hooker dominates Mikkel Lespierre to retain title
Hooker nearly lost his title tonight on the scales by struggling to make weight. Those problems seemingly disappeared when Hooker (26-0-3, 17 KOs) climbed into the ring and put on a boxing clinic to defeat unknown challenger Mikkel Lespierre (21-1-1, 10 KOs) by a wide unanimous decision to retain his WBO junior welterweight title. Hooker won virtually every round on the scorecards with all three judges ruling in favor of the Dallas native with marks of 120-107, 119-108 and 118-109.
Hooker fought a very intelligent fight and was in control from beginning to end. He consistently connected on combinations and kept the fight in the middle of the ring. Hooker really started to load up in Round five when he appeared to put Lespierre down with a right hand. The referee ruled it a slip, but many saw it as a legitimate knockdown.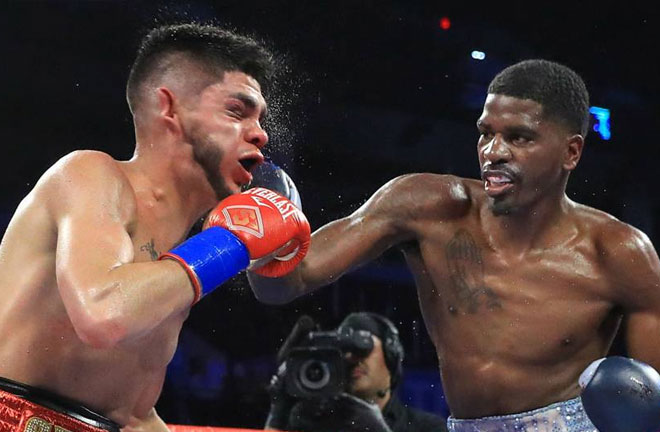 Hooker dropped Lespierre later in Round 9 after connecting with an overhand right and sharp left to the body. Lespierre gamely rose to his feet and still managed to finish the round by trading with Hooker. Hooker continued to be the aggressor throughout the championship rounds even with the fight well in hand. Lespierre did not pressure Hooker enough and failed miserably to backup his pre-fight trash talk.
Given Hooker's struggle in making weight, one must wonder if he should vacate the belt and move up to 147. A move up to welterweight would not be bad idea given his size and length.
Callum Johnson too much for Seanie Monaghan
Callum Johnson (18-1, 13 KOs) got back to his winning ways defeating challenger Seanie Monaghan (29-3, 17 KOs) by TKO at 0:23 of the third round. It was an excellent bounce back win for Johnson, who suffered the first loss of his career last time out by fourth round knockout against IBF ruler Artur Beterbiev in October. Johnson now finds himself back in the mix of a stacked light heavyweight division with the win.

Callum Johnson bullied Monaghan in his own backyard and proved again that his power is legit. Dark horse in the Light-Heavyweight division.
pic.twitter.com/3UFZ2P1sl4

— Gary William® (@_GaryWilliam_) March 10, 2019
Johnson's edge in power was evident in the opening round as he nailed Monaghan with hard jabs to the head and body. Monaghan's face was busted up by the second round and he was bleeding quite a bit from the horrendous beating that he was beginning to take. Johnson dropped him in the same round with a hard-counter right. Monaghan showed tremendous fortitude in beating the count, but Johnson put him right back down with a few more hard shots. The referee somehow allowed the fight to continue but probably should have halted the action then.
Johnson went back on the attack in the third round continuing to land hard jabs as Monaghan attempted to retreat from the barrage. Johnson succeeds in trapping his opponent in a corner and unleashes more power shots upon Monaghan, who is no longer returning fire. The referee finally steps in and halts the contest awarding Johnson the stoppage. This is likely the end for the 37-year old Monaghan, but Johnson appears to have a bright future and could be the next opponent for tonight's main event victor.
Russian Sergey Kuzmin defeated Joey Dawejko via majority decision (95-95, 96-94, 96-94) to remain undefeated in heavyweight action tonight. It was a closer fight than many expected but Kuzman pounded out the win with the harder and cleaner shots. Give Dawejko credit for making it an interesting fight on just two weeks' notice. Highly touted amateur prospect Otha Jones III had a rough pro debut but still managed to outpoint a game Giorgi Gelashvili by scores of 59-55, 58-55 and 58-55 in a lightweight bout.