What to Make of the Klitschko Brothers Reign Over the Heavyweight Division
Most boxing fans consider the heavyweight division to be mired in the doldrums, tuning in only in the hopes that someone will dethrone reigning kingpins Wladimir and Vitali Klitschko. However, both fighters should be what boxing craves. After all, how long has the drama of a "Great White Hope" captured the imagination of boxing? That hope has been realized, yet it yields no drama and only complaints. As these complaints mount and the hopes that someone – anyone – will come along and topple these guys, one must ask if the well-behaved, upright and hardworking Klitschko brothers deserve their bad rep.
The first thing to realize is that the Klitschkos are not unpopular everywhere. Over in Germany and Russia, the brothers have a popular following. Tens of thousands crowd stadiums to see them fight over in Central and Eastern Europe. It is only in the English-speaking world that those two have a problem, but that is a big problem since it is in the the U.S. and the U.K. where much of boxing's real money is to be made.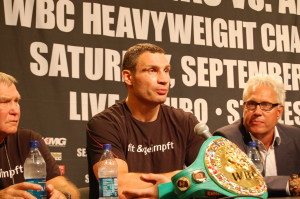 There are three reasons why the Klitschkos are so unpopular outside of their traditional stomping grounds. First is that they dominate too much. Compare them to the last dominant-yet-unpopular heavyweight champion, Larry Holmes. Holmes got knocked down and had fights that were real contests. People tune in to see action, and if your fight is a foregone conclusion it had better be by exciting knockout. The Klitschkos fail to deliver on this point with a fair degree of consistency. What separates Vitali's style from Wladimir's is that Vitali is actually willing to follow up and risk a little to knock out a wobbled opponent. Both place safety before all other considerations. It wins fights, but damn is it a yawner.
Another thing is that the Klitschkos really aren't that good. Part of this is illustrated in the state of the division they rule, which isn't much to speak of. The only belt outside the control of the Klitschko brothers for the last few years has been the WBA strap, which has been tussled over by John Ruiz, Nikolai Valuev and Ruslan Chagaev. Chagaev was spanked by Klitschko the Younger, Valuev was desperate to price himself out of a showdown with Team Klistschko, and there is little doubt that either brother could whomp the plodding John Ruiz.
The best wins for Wladimir Klitschko were over an undersized, overachieving Chris Byrd, a guy who managed to hang in there and make big brother Vitali quit on his stool. Both Klitschko resumes are marked by wins over "name" opponents who were essentially limited and out-gunned (Juan Carlos Gomez or Chagaev) or talented, but under-motivated losers (Kirk Johnson or Hasim Rahman). Byrd is literally the only guy either Klitschko has beaten who bounced back and withstood the test of time.
The most telling part of the Klitschko's combined record are the losses. Lennox Lewis, half out-of-shape and ready for a bout with Kirk Johnson, still managed to wickedly bust up big brother Vitali. Viltali quit to Byrd because he threw his shoulder out, and retired for a while because of his propensity to get hurt. Wladimir's response to defeats at the hands of Corrie Sanders and Lamon Brewster was to adopt a super-cautious style that exposes him to zero risks, 100 percent of the time.
The result is that while both fighters win a lot, neither really dominates in the way you want a dominant fighter to do so. So yes, the brothers work hard and should enjoy their success, but it does not change the fact that they are boring as hell to watch. For that, they have only themselves to blame.
Also, remember that the aforementioned Larry Holmes didn't lose to anybody, let alone nobodies, until the end of his career. He fought smart, but he also fought hard and went to war if that is what it took. Holmes might not have been charismatic, but he was fun to watch and he dominated in a way neither of the Klitschkos can imagine doing. This is why Holmes is revered today. I doubt anyone will be singing the praises of the Klitschkos after they retire.