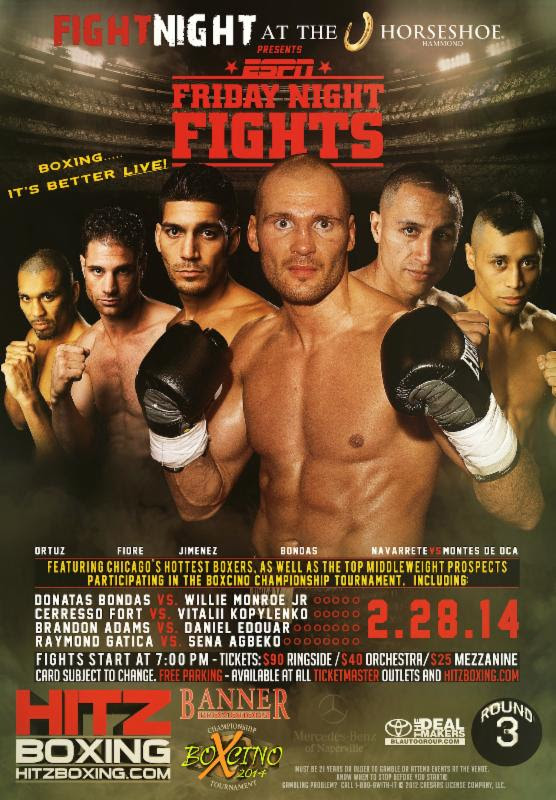 Chicago based middleweight contender Donatas Bondorovas wrapped up training on Monday in preparation for the first round of ESPN's "Boxcino 2014" this Friday night at the Horseshoe Casino in Hammond, Indiana.
"I'm very excited about competing in the middleweight tournament" Bondorovas, 18-4-1 (6KO's), a native Lithuania. "This provides a great opportunity for me to show how good I am."'
In the first round, with each of the four bouts scheduled for six rounds, Bondorovas will face off with Ithaca, New York's Willie Monroe Jr.,
15-1-0 (6KO's).
"This is a terrific opportunity for Donatas, he had the disappointing fight against Bryan Vera last March and I know he feels that this is an opportunity for redemption," said Bobby Hitz of Hitz Boxing.
On March 29, 2013, Bondorovas challenged Vera in a scheduled ten round clash telecast on ESPN Friday Night Fights. Winning the fight through seven, Bondorovas' opportunity at victory was halted as the referee mistakenly believed he could not continue from a cut resulting from a clash of heads in the previous round.
"I'd love a rematch with Vera to prove I'm the better fighter," said Bondorovas. "But he's fighting at super middleweight now and I would like to stay at middleweight or even move down to junior middleweight in the future." Vera is rematching former world champion Julio Cesar Chavez Jr. this Saturday, MARCH 1 in the super middleweight division.
About his upcoming fight against Monroe, Bondorovas stated, "I've watched some of him on YouTube. I watched his style and I'm confident I can beat him. With it being only six rounds I'll need to start quickly and fight every second of each round."
The clash against Monroe will be Bondorovas' tenth bout in Chicago where he is undefeated, most recently winning a shutout decision over Skyler Thompson on September 13, 2013 at the Horseshoe Casino.
Monroe enters the battle riding a five bout-winning streak which includes four starts in 2013.
Advance tickets for ESPN Friday Night Fights, are available online through www.Ticketmaster.com. Doors on the evening of the event will open at 7:00 p.m. CT.