Chavez Jr. vs. Duddy – the Battle at the Alamo
On June 26 in San Antonio, Texas, John Duddy and Julio Cesar Chavez Jr. will square off in a Middleweight battle, which will most likely be a very entertaining, offensive and toe-to-toe contest. This is a very important and potentially career changing fight for both fighters because whoever comes on top has a very good chance of being in a Middleweight title fight. Expect both fighters to use their signature aggressive styles, laying it all on the line for a potential title fight.
"Ireland's" John Duddy
29-1 (18 KO's)
Derry, Northern Ireland
Height: 5'11"
Reach: 74"
Last 5 fights:  After suffering a devastating and unexpected loss to Billy Lyell in April of 2009, Duddy has come back with a vengeance, rolling over Michi Munoz and Juan Astorga and winning a split decision battle over Michael Medina on the undercard of the Pacquiao/Clottey fight.  Duddy has been fighting well and this upcoming fight against Chavez will be a great opportunity for him to prove that he's not being given easy fights and being protected by Top Rank.
Julio Cesar Chavez Jr.
41-0-1 (30 KO's)
Culiacan, Sinaloa, Mexico
Height: 6'0"
Reach: 74"
Last 5 fights: Chavez has had solid results in his last 5 fights, including 2 fights for the WBC Latino light middleweight title in which he earned victories over Jason LeHoullier and Luciano Leonel Cuello. He also looked more dominant in his 2008 rematch against Matt Vanda after winning a very controversial split decision over him earlier that year.
Chavez Jr. vs. Duddy Preview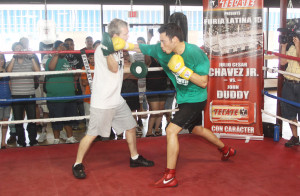 Get your popcorn ready; this is going to be an all out war and an exciting fight for the spectators. Both men are coming into this fight knowing that it is one of the biggest of their careers. Both want to use this as a stepping-stone to bigger and better things in the boxing world, such as a potential clash for the Middleweight title.
The influence of the crowd: This fight will be in San Antonio in which the crowd will be mostly pro Chavez. This is not what John Duddy is used to. He is used to fighting in and around New York where he is very popular and always has a strong fan base supporting him from the moment he enters the ring to the sound of bagpipes resonating throughout the arena. This pro-Chavez crowd may help Chavez step up his game in the heated offensive exchanges.
Styles: Both fighters are extremely offensive minded and like to fight on the inside. They both like to press the action and both have a tendency to get somewhat lethargic when it comes to their defense so expect a great deal of punches to be landed. Judging by his most recent fights, Duddy has improved his defense and is less apt to leaving his head completely open like he has in the past .
What's on the line: It seems quite obvious what this Battle at the Alamo is all about. It seems like a calculated effort to put Julio Cesar Chavez Jr. in a position to land a big money fight with a fighter such as Sergio Martinez or, on an even larger scale, Miguel Cotto. To start, Duddy has recently defeated 3 mediocre fighters of Mexican descent. This may be a coincidence but there is a chance that Top Rank did this in an effort to eventually set up the fight with Chavez and allow for an overwhelmingly pro Chavez, pro Mexican crowd, which may influence the decision of the judges.
Chavez comes from legendary boxing blood, he is young (24), and is now coached by the legendary Freddie Roach who has a knack for turning incomplete fighters into total forces to be reckoned with. The next reasonable step for Chavez is a to fight a solid contender such as Duddy. This will potentially set Chavez up for a title fight or a fight with Miguel Cotto.
From what I've noticed, Duddy has improved a lot in the past year in terms of his overall boxing skills. He went from an offensive, attacking fighter with an iron chin but no defense and an exposed head, to an offensive, aggressive fighter with more patience and more defensive skill than he had in previous fights. This will be no walk in the park for Chavez and although the goal is to use Duddy as a stepping stone, the young Chavez may have his hands full with a fighter as similar in style and skill as John Duddy is.
Chavez Jr. vs. Duddy Prediction
This is a tough one to call. Both men's résumé's are filled with fights against much less skilled opponents and have similar styles and are both in this fight for the same reason. However, I see Duddy coming away with the victory in this fight. Both fighters will obviously press the action, but the exchanges will mostly go Duddy's way.
John Duddy by Split Decision Victory
Comments
comments