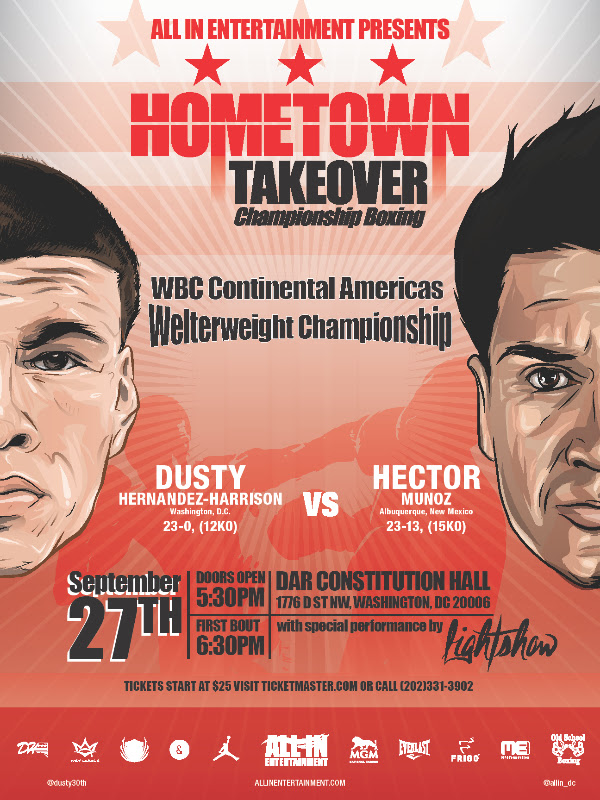 It has been over a year since Southeast Washington, D.C. Welterweight prospect, Dusty Hernandez-Harrison, has fought in front of his hometown fans in the Nation's Capital. His long-awaited return will come on Saturday, September 27, when promoter All In Entertainment presents "Hometown Takeover" at DAR Constitution Hall. Hernandez-Harrison will be headlining the show against Hector Munoz of Albuquerque, NM in a 10-round Welterweight matchup.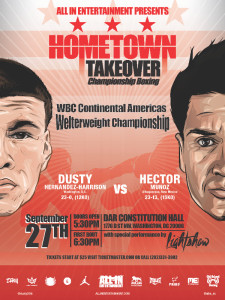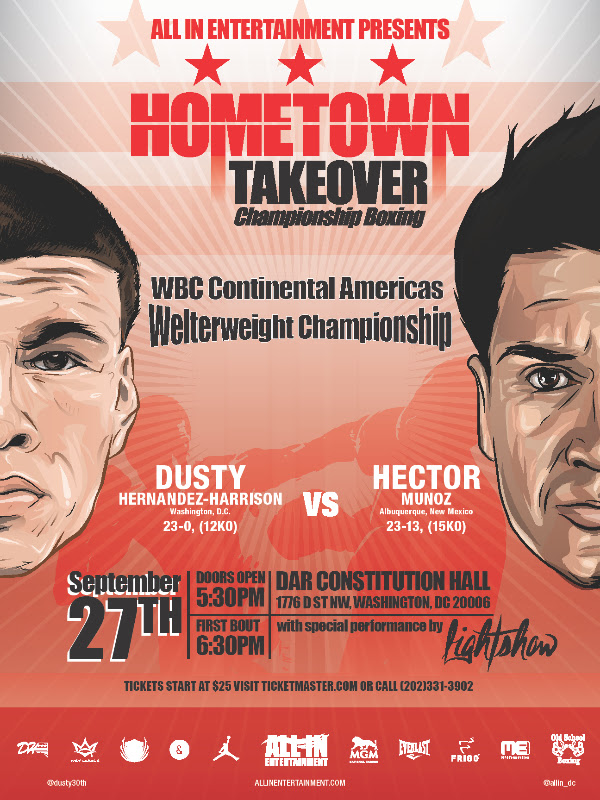 Hernandez-Harrison (23-0, 12KO's), the current WBC Youth Welterweight Champion, fought almost exclusively in Washington, D.C. to start his career. Following a stellar performance in his hometown in May 2013, Dusty spent the last 15 months strategically honing his craft on the road against all levels of opposition and in various venues throughout the United States. The 20 year old WBC Youth Welterweight Champion relishes the opportunity to once again display his skills in front of his hometown fans.
"Knowing that I will be fighting in my hometown for another belt has really given me extra motivation in training camp," Hernandez-Harrison said. "I know Jeff had a detailed plan for me to see as many different looks as possible in and out of the ring and it worked. But it feels great to be fighting at home again," Dusty added. "I would like to thank the WBC for giving me the opportunity to fight for a Championship in Washington, D.C."
"I am so happy that my son will be fighting for a title in his hometown," Buddy Harrison, Hernandez-Harrison's father and trainer, said. "This is like a dream come true, which I said before in November when Dusty won the Youth Title at Madison Square Garden. Both are dreams come true."
Hector Munoz (23-13-1, 15KOs), a former WBC USNBC Champion, is a seasoned veteran who faced some of the very best fighters in the Welterweight and Super Welterweight divisions. This fight has a personal element for Munoz as Hernandez-Harrison defeated his stable mate, Josh Torres, in 2013 at Madison Square Garden to win the WBC Youth Welterweight Championship.
"We are in the gym every day and we will be ready for a war," said Munoz, who has 15 knockouts in his 23 victories. "I hope he doesn't run all night; let's give the fans what they want. Josh has shared his first hand view of the kid's strengths and weaknesses, and I plan to expose those weakness in a big way," added Munoz.
The undercard will be loaded with local rising talent, including undefeated Larry Recio, Mykal Fox, Marquel Johns and south paw Brandon Quarles.
"Dusty comes back to Washington, D.C. following an eight bout National tour that had him on both coasts and many cities in between. That ring education and development and Dusty's work ethic and training regimen, have prepared him for this Championship Bout in front of his hometown fans," Fried explained.