Can "Fast" Eddie Chambers box circles around former WBO heavyweight champ Sergei Liakhovich in front of his hometown crowd?
On January 21, 2012, the Asylum Arena in Philadelphia, PA will be the site of the first segment of NBC Sports Network Fight Night which will feature a ten round heavyweight bout between "Fast" Eddie Chambers and former WBO heavyweight champion Sergei Liakhovich in the main event.
This fight features "Fast" Eddie, who uses his elusive boxing skills to jab and counterpunch his way to most of his victories, while the other guy, Sergei "White Wolf" Liakhovich, is a straight-forward boxer puncher who likes to give as good as he takes. However, after an extended break from the sport and a loss in his return, some feel that Liakhovich's all-action boxing style has left him past his best.
Both of these fighters definitely need a win in this fight to stay relevant near the top of the division, so will elusiveness or aggressiveness win the day on January 21, 2012?
Tale of the Tape
"Fast" Eddie Chambers is 29 years old with a great professional boxing record consisting of 35 wins, 2 losses, and 18 of his victories came by way of knockout.  He stands at 6 feet 1 inch tall, with a 75 inch reach, fighting out of the orthodox stance.
Sergei "White Wolf" Liakhovich is 35 years old with a decent professional boxing record consisting of 25 wins, 4 losses, and 16 of his victories came by way of knockout.  He stands at 6 feet 4 inches tall, with a 74 and one half inch reach, and he also fights out of the orthodox stance.
Eddie Chambers vs. Sergei Liakhovich Preview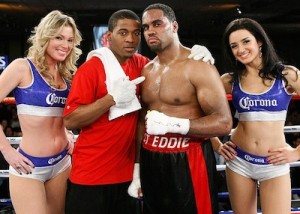 "Fast" Eddie Chambers represents the city of brotherly love, Philadelphia, PA.  Chambers is known for having fast hands and good footwork, along with solid counterpunching and defensive skills.
"Fast" Eddie started his professional boxing career in 2000 at the age of 18, and gradually rose to the top of the division, becoming one of the premiere American heavyweight hopes to win back a major heavyweight title.
Early in Chambers' professional boxing career, he was able to cruise to a lot of his victories simply because he had unbelievable speed for a heavyweight and he just made heavyweights look like they were punching in slow motion. As his career progressed, Chambers started to take on top competition and once again his fast hands proved to be a decisive tool in his favor, as he went on to wins over good fighters such as Derric Rossi (twice), Dominick Guinn, Calvin Brock, and "the Nigerian Nightmare" Samuel Peter.
Chambers suffered his first professional loss in 2008 against Russian Alexander Povetkin, with the winner getting a shot at heavyweight champion Wladimir Klitschko, although Povetkin turned down his opportunity. Chambers began that fight strongly, but Povetkin took over in the second half of the contest.
Chambers would eventually get his shot against Klitschko in March of 2010, and he was viciously knocked out in the final round of that fight.
Sergei "White Wolf" Liakhovich is the former WBO heavyweight champion.  Born in Vitebsk, Belarus, Liakhovich is known for being a blood and guts fighter who produces great fights for boxing fans whenever he steps into the ring.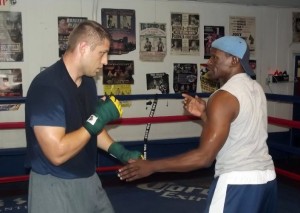 Liakhovich had an excellent amateur boxing career as he had 160 amateur fights and he won 145 of them.  Sergei represented his country of Belarus in the 1996 Olympics and won bronze at the 1997 World Championships.
After his amateur career, Liakhovich turned professional in 1998 and he won his first sixteen professional fights before losing his first match to a B fighter in American heavyweight contender Maurice Harris via ninth round knockout back in June of 2002.
Liakhovich's best win is over Lamon Brewster in a fight where he got up off of the canvas to win the WBO heavyweight title back in April of 2006. The fight against Brewster was one of the most crowd-pleasing fights of the 2000's, and one of the best heavyweight fights in recent memory.
Liakhovich's other losses have come against Shannon Briggs, Nikolay Valuev, and in his last fight, Robert Helenius, where he was stopped by Helenius in the ninth round.
Now the roads of Chambers and Liakhovich meet and only one will emerge that much closer to another chance at heavyweight glory.
Chambers vs. Liakhovich Prediction
Liakhovich is coming off a ninth round stoppage in his last fight in August of this year and "Fast" Eddie has not fought in almost a year.
This fight, however, is easy to break down as Chambers is a great boxer and he will use the whole ring to box by using his good jab, and taking advantage of counter-punching and combination opportunities on Liakhovich.  Liakhovich will try and pressure Chambers into a brawl which could make for a great TV fight, and I hope that a fight does break out, and Chambers rallies behind his hometown crowd.
I feel Liakhovich will be scrambling the whole night as Chambers will stack up round after round in his favor. The match is only scheduled for ten rounds, so my gut feeling is that Chambers will have enough in the tank to play it safe and stay behind his jab, keeping Liakhovich and his attack at bay.
In conclusion, I feel that "Fast" Eddie cruises to an easy victory over a fighter in Liakhovich who has plenty of heart but may be past his best.
Prediction:  Eddie Chambers by unanimous decision victory.
Comments
comments