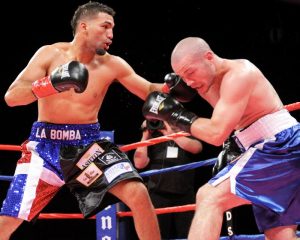 On the undercard of Gennady Golovkin's March title defense in Monaco against Nobuhiro Ishida were a pair of fights that both settled some open questions in boxing, and set the stage for a major showdown. Rising super middleweight Edwin Rodriguez defeated fellow undefeated Ezequiel Osvaldo Maderna in what was his first substantial test; while Denis Grachev edged undefeated Hungarinan stylist and veteran Zsolt Erdei, and in so doing proved he really was all that when he gave Lucian Bute a very hard time back in November 2012.
The winners of those undercard 168 and 175 fights sought a further prize, however, namely the guarantee of a dance night with each other. And that is just what Rodriguez and Grachev are getting: a catchweight 171.5 lbs match in Monaco on July 13.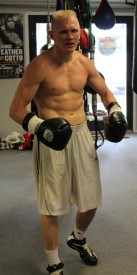 Denis Grachev (13-1-1, 8 KOs)
6'1″ tall, 69″ reach, 30 years old
Russian
Former NABF Light Heavyweight Champion

Grachev's numbers don't suggest much, but anyone paying attention to the 168 and 175 lbs picture in the last year knows this man's mettle. In his first big outing, Grachev went to Montreal and roughed up Lucian Bute in that guy's own backyard. The fight was closer than the scorecards might suggest, and let's not forget that Grachev had to make a 169 lbs catchweight for the fight. His last outing was against Erdei, a man with a long reign as WBO light heavyweight titlist to his name, plus a cruiserweight world title to boot. If Erdei's resume wasn't stellar, his technical skills were undeniable, as was his consistency. Known alternately as "The Pirate" and "Drago's Son," Grachev is a tough, strong swarmer.
Edwin Rodriguez (23-0, 15 KOs)
6'0″ tall, 76″ reach, 28 years old
Dominican Republicer
USBA Super Middleweight Champion

Despite his victory over Maderna, another rising fighter from the Argentine boxing machine, just exactly how far Rodriguez might go in his career remains anyone's guess. He has good technique, coming from a decent (if unspectacular) amateur career, and good power to go with it. Looking at Rodriguez, it is hard to find any real weaknesses, but that good just be because his biggest tests have been up against the likes of Don George and Maderna. On the other hand, we can see very clearly that he isn't outstanding in any particular way, and thus the doubts continue. Rodriguez is clearly for real, but the question is just how real?
Analysis
Basically what we have here is a classic mauler vs. matador match-up. On paper, Rodriguez's sound fundamentals, general quality, and substantial reach advantage should be enough to hold Grachev at bay. If La Bomba can establish his jab and go forward, Grachev will have no answers and be in for a long, painful night.
Yet Grachev has shown no fear of trying to swarm skilled boxers before. Erdei was a world class technician (if on the bottom tiers of the Top 10), and Lucian Bute a fast, powerful boxer-puncher. It's hard to see Rodriguez out-foxing Grachev where Erdei could not, and intimidating him where Bute could not.
Preview
My take on this is that once Grachev times Rodriguez's jab, he is going to start coming in and hurting the guy. It's hard to see the Pirate just walking by a stick like La Bomba's, as it is extraordinarily rangy and stiff to boot. However, those long arms will work against Rodriguez once Grachev gets into his range, and it's not like Rodriguez has ever shown the kind of glowing move-and-counter ability that would be necessary to turn Grachev's aggression fully against him. If Rodriguez stops going forward, he's in trouble, and I see trouble for him against Grachev.
Prediction: Denis Grachev UD10 Edwin Rodriguez