Valero Found Dead in Prison Cell, Admitted to Murdering Wife
Whether they be athletes and public figures or otherwise, the people who are most adept at displaying raw emotion and ferocity for a purpose are often the same ones who are least able to control their aggression when it's not called for. Edwin Valero, the two-division titleholder with an undefeated record and 27 knockouts in 27 wins is the latest and most gruesome case in point. After being arrested for the murder of his wife the night prior, he was found dead in his jail cell early Monday morning after having hanged himself with his sweatpants.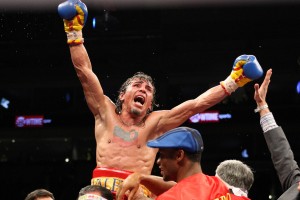 It's hard to make sense out of the tragedy that has taken place. By all accounts, Valero was a man out of control, dealing with an alcohol problem and sending his wife to the hospital with severe injuries from the beatings he gave her at home. After seemingly escaping all forms of punishment and/or corrective treatment except for a shorter than expected stint in an alcohol rehab center, things finally got to the point of no return. What continually fueled Valero's rage and what led him to commit his heinous crimes are of course not known.
Following the first breaking story of the weekend, that Valero was in jail after admitting to killing his wife in a hotel room, stabbing her to death, the next piece of news was nonetheless jarring if slightly less shocking. Valero was dead, hanging himself in his prison cell. Apparently the severity of his own crimes and the aftermath that would follow were too much for him to bear. Of course, it's not our place at this time to speculate about what else was going on in his head and in his life. The stark reality of his actions speaks loud enough.
(See ESPN's report of the story here)
For the boxing world, it ends the career of one of the more intriguing fighters in the sport. The all-action brawler who knocked out all of his opponents, picked up straps in two weight divisions and clamored for a chance at pound for pound kingpin Manny Pacquiao was dynamic and entertaining. His career was all the more mysterious however due to being unable to obtain a license to fight in the United States, stemming from a cerebral hemorrhage suffered in a motorcycle crash in 2001.
For Edwin Valero, the man, of course the picture is even bleaker. The 28 year old seemingly had the world at his fingertips. In the ring, his fists wielded the power and excitement that catapulted him out of poverty and into the global spotlight as an undefeated champion. But the actions those hands committed outside of the ring are what Valero will be remembered for now. His young wife, and himself, both dead.
Comments
comments