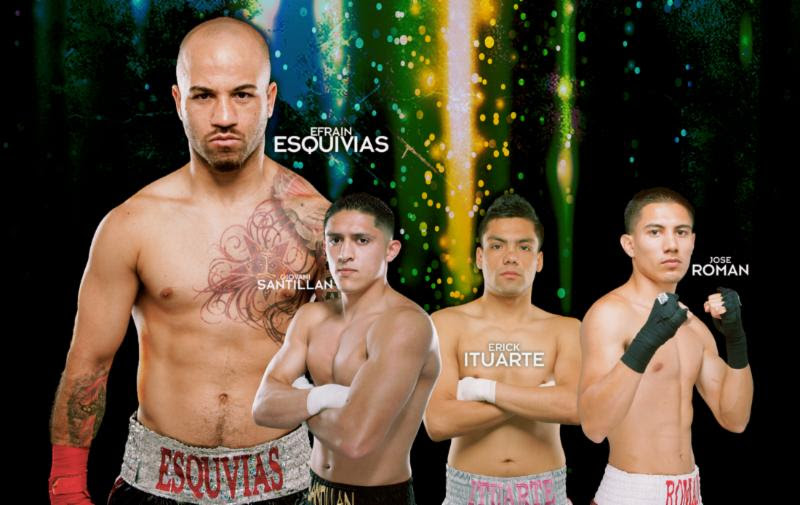 Thompson Boxing Promotions presents one of its finest shows of the year when it features top super bantamweight contender Efrain Esquivias (17-2-1, 10 KOs) of Carson, Calif. and undefeated junior welterweight prospect Giovani Santillan (11-0, 7 KOs) of San Diego in separate 8-round bouts on Friday, April 25, from the Doubletree Hotel in Ontario, Calif.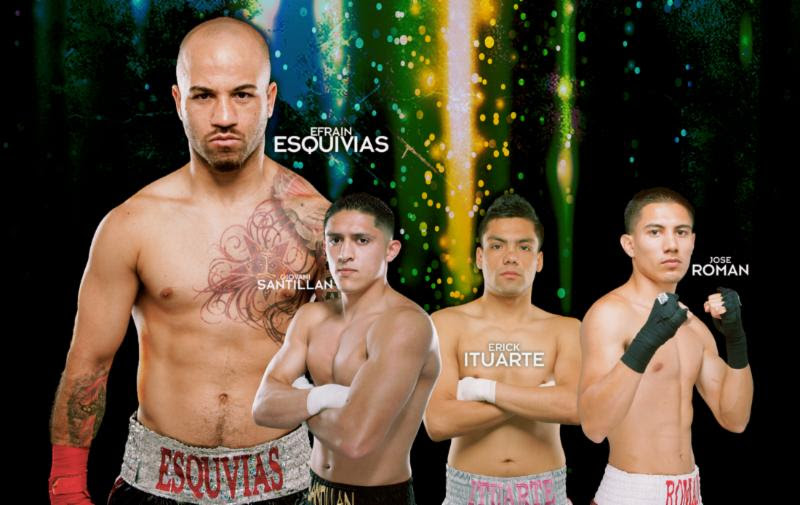 Esquivias faces Mexican veteran Ruben Tamayo (22-5-3, 15 KOs), while Santillan battles the tough and undefeated Daniyar Hanyk (10-0, 4 KOs) of Ukraine. This will be Santillan's toughest challenge to date.
Additionally, "Locked n' Loaded" showcases highly heralded lightweight prospect Jose Roman (15-1-1, 11 KOs) of Garden Grove, Calif. in an 8-round fight against an opponent to be named later.
Esquivias is riding high after his ninth round stoppage of Mexican legend and sure fire Hall of Famer Rafael Marquez in September.
Throughout the fight, Esquivias looked like the better fighter, often landing short, powerful rights that stunned the more experienced Marquez. Esquivias absorbed Marquez's power punches, and on a number of occasions, countered nicely with solid combinations to the head and body.
"I grind out wins and that's what happened against Marquez," said the 30-year-old Esquivias. "I could feel his punches getting weaker as the fight wore on and I capitalized on that in the ninth round. I was landing straight rights all night long so when I connected in the ninth, I knew I hurt him enough to get a knockout win."
As for Santillan, the San Diego native is looking to build on an impressive 2013 campaign that saw him win five fights, three by way of knockout.
"I know that Daniyar is a quality opponent and this will be a tough fight for me, but I'm ready to start facing better competition," Santillan said.
In his last fight (November), Santillan took care of business early against Michael Balasi of Hawaii. After an exploratory first round, Santillan charged Balasi in the second. He pressured Balasi into the ropes and unloaded a flurry of punches that dropped Balasi for good. Santillan's second round knockout sealed his reputation as one of the hottest young welterweights in the sport.
"I continue to work and train hard and all of the preparation is paying off," said the 22-year-old Santillan. "When I signed with Thompson Boxing, they told me I would be busy. I'm starting to build momentum and I'm excited to fight for the first time this April."
In his previous fight, Roman showed why he is considered one of the lightweight division's brightest talents by picking apart the hard-hitting Hector Miguel Zuniga of Tijuana, Mex.
Roman won a six-round unanimous decision with scores 60-53, 60-53 and 58-55. Roman was able to fight on the inside and out with equal ease, and, in the fourth, he connected with a right hook that put Zuniga on his wallet.
Roman displayed superior hand speed, excellent instincts and savvy defense. His most effective combination, a double left hook to the head and body, landed flush more often than not. Roman threw such tight and sharp left hooks that Zuniga rarely saw them coming.
"That's one of my go to punches," said Roman, who fought for the first time as a Thompson Boxing Promotions fighter in November. "The left hook to the body is such a great equalizer because it tends to stop a forward punching boxer dead in his tracks."
Other prospects on the card include undefeated featherweight Erick Ituarte (6-0, 1 KO) of Santa Ana, Calif. in a 4-round fight against an opponent to be named later.
In what might be the most intriguing fight of the night, junior lightweight Mario Amador (5-0, 3 KOs) of Texas faces fellow unbeaten prospect Carlos Valenzuela (6-0, 3 KOs) of Mexico in a 4-round bout. Both fighters are facing the toughest challenge of their young careers. All of Valenzuela's wins have come against opponents with losing records and Amador has one win over an opponent with a winning record.
Another prospect to watch is undefeated super bantamweight Fernando Samaniego (6-0, 3 KOs) of Phoenix. He meets Francisco Camacho (2-4, 1 KO) of Mexico in a 4-round fight.
Hard-hitting middleweight Rudy Puga (4-0, 4 KOs) of Salinas, Calif. leads off the night in the 4-round opener. An opponent will be announced at a later date.