Who should be the favorite for the August 27 Marcos Maidana and Robert Guerrero fight?
The HP Pavilion in San Jose, California will be the site where yet another surefire war will take place in the 140 pound weight division as Robert "the Ghost" Guerrero will look to build up steam and put a stamp on his arrival to super-stardom when he challenges the always game Marcos "El Chino" Maidana for the "regular" WBA light welterweight title.
This fight will bring two warriors together who love to give the boxing fans what they want: blood, guts, and glory. Maidana is suddenly at sort of a crossroads in his career, while Guerrero's stock can only go up and big things will happen in the future if the Ghost can win against Maidana.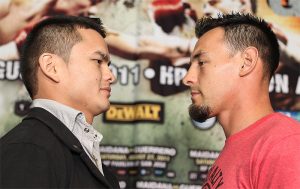 Maidana is known for his aggressive straight-forward style in which he walks his opponents down in hopes of breaking their will as the fight goes on.  Guerrero has great boxing skills and can fight his opponents on the inside and the outside at a controlled pace, while throwing great combinations which can also wear down his opponents.
Maidana's and Guerrero's styles should add up to a magnificent fight, but which fighter should be favored to win this anticipated bout?
Robert Guerrero has been stepping up his competition level lately and he has been successful in these fights by using his technical skills and controlled aggressive style to overwhelm his opposition.  In my opinion, some of the guys he has faced recently such as Vicente Escobedo and Michael Katsidis, though tough, were simply tailor-made for Guerrero given that they will stand right in front of you. Guerrero was able to out-quick and out-skill those opponents to successfully cruise to unanimous decision victories in those fights.
Maidana, on the other hand, has struggled in his last two fights against two boxers who can box you on the outside, move, and counterpunch well.  When El Chino faced off against Amir Khan in December of last year, Khan outclassed Maidana for most of the fight by simply staying on the outside and sticking Maidana with good jabs and counterpunches as Maidana was stalking him.  Although Maidana caught Khan late in the fight with a big shot, Khan had piled up enough early rounds and he was able to weather the Maidana storm to win the fight.
In his last fight, he faced off against Erik "El Terrible" Morales and he received a much tougher challenge than he, and most pundits, were expecting.  Morales successfully counterpunched Maidana and used his hard-nosed, technical boxing, to make it a rough and tumble outing.  The only difference in the fight which Maidana lost to Khan and the fight that he won against Morales, is that Morales engaged Maidana more than Khan did which created more opportunities for Maidana to land his own big shots.
Guerrero will have the speed and technical advantages, while Maidana only knows one way of boxing and that is coming straight-forward, trying to take you head off and wearing his opponent down in the process. While he may seem undermanned in some attributes, his power is the game changer, and it has been more than enough against most of his opponents.
Guerrero though should also be able to take advantage of the defensive skills that Maidana lacks.  When Maidana comes forward and applies pressure to his opponents, he continues to leave himself open for eye-catching shots that can easily be seen by judges.
So Who's the Favorite, Guerrero or Maidana?

This is going to be a great fight, and both of these fighters are aggressive and they both like to engage.
Who should be favored to win the fight?
I feel that "The Ghost" Robert Guerrero should be favored to win the fight, given that his style is a little more controlled than Maidana's, and Guerrero should be able to successfully counterpunch given Maidana's relentless but reckless attack. But do not be surprised if Maidana is able to put enough pressure on Guerrero, like he did in the Morales fight, to pull off the victory given that there will be a lot of times in the fight where these two fighters will stand in front of each other and fight.
I love both of these all-action fighters, so boxing fans, let's just sit back and enjoy what should be one of the best fights of 2011.
Comments
comments