Ellie Scotney says she has rediscovered her love for boxing under trainer Shane McGuigan, ahead of her fourth professional fight on Saturday night.
Scotney (3-0) looks to win her first title when she challenges Jorgelina Guanini (9-3-2, 1 KO) for the vacant WBC intercontinental super bantamweight belt on the undercard of Daniel Jacobs' clash with John Ryder.
The 23-year-old won her first fight under McGuigan's stewardship in October after parting ways with Adam Booth, beating Eva Cantos on points and the Catford native credits her new surroundings for providing her with a new lease of life.
"There's people from the debut and then world champions and you've got a mix throughout," Scotney told proboxing-fans.com at Wednesday's media workout.
"I've learnt from every single one of them. the energy in there is so contagious and honestly I've fallen back in love with boxing again.
"So, it's a great place to be for learning as well as outside of boxing."
Asked what the biggest thing she's learnt from being in the gym, Scotney added: "I think a lot of stuff, mentally and physically.
"I'm learning to punch with intent now and I'm learning the style that's going to suit me especially down the longer stretch of the fight."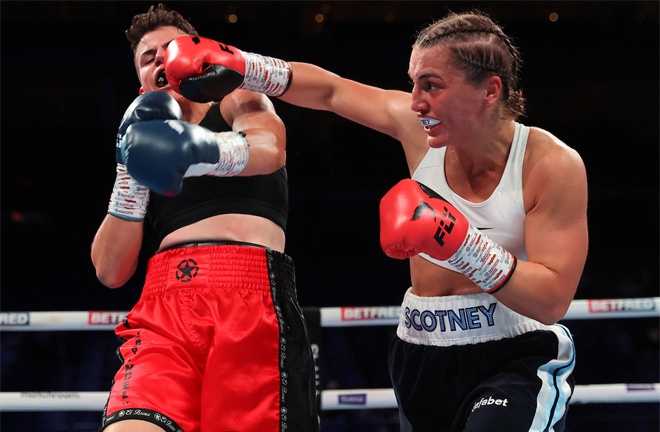 Guanini, 29, reigned as IBF super flyweight champion from 2018-2019, but has lost her last two fights, including to Rachel Ball over 10 rounds in November 2020.
Scotney insists she wanted a bout which would test her, even as early as her fourth bout.
"I just feel like I want fights that ask questions of myself.
View this post on Instagram
"It's the best way to know when you get to the top that you've ticked many boxes along the way and this is a step I need to take.
"I think her best performances have been at the lower weights and obviously she's had the same amount of time as me to prepare for this fight, so yeah there's going to be a lot of questions asked of myself [on] Saturday, but I'm buzzing to give the answers."
Watch the full interview with Ellie Scotney below: