Hall of Fame trainer Emanuel Steward predicts a world title for his newest Kronk Gym-boxer, super middleweight sensation Adonis "Superman" Stevenson, who defends his International Boxing Federation ("IBF") Inter-Continental belt Saturday night in Montreal, in the 12-round main event that is also an IBF voluntary eliminator for the No. 2 position, against former NABF champion Jesus "El Martillo" Gonzales (27-1, 14 KOs).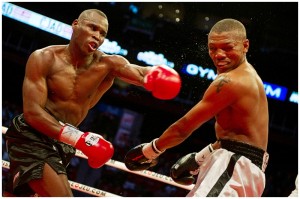 Rated in the top 15 of the four major governing bodies, as high as No. 7 by the World Boxing Association ("WBA"), the dangerous Stevenson (16-1, 13 KOs) is also the reigning North American Boxing Association ("NABA") and North American Boxing Organization ("NABO") and International Boxing Federation ("IBF") Inter-Continental super middleweight champion. After this week's action, "Superman" will quickly switch his sights to become the No. 1 rated and mandatory challenger to IBF super middleweight champion Lucian Bute.
Stevenson vs. Gonzalez headlines a Quebec star-studded "Fast & Furious Boxing Series" event, presented by Mise-O-Jeu and Videotron, at the famed Bell Centre.
Steward is in Austria training WBA/IBF/WBO heavyweight champion Wladimir Klitschko for his March 3 title defense against Jean Marc Mormeck in Germany. However, Emanuel will be working Stevenson's corner this Saturday evening, passing up an opportunity to watch WBC heavyweight titlist Vitali Klitschko fight Dereck Chisora, also in Germany, on the same night.
"Adonis' training camp (in Detroit) has been phenomenal," reported Steward, who trained Stevenson at the Kronk Gym until recently leaving for Austria. "Of all the great world champions who've trained over the years at Kronk, including Sugar Ray Leonard before and after the 1976 Olympics, Adonis has created the most excitement. Chad Dawson trained there for one fight and he had some tough workouts with (world middleweight contender) Andy Lee. Adonis and Andy have had electric workouts, like Ali-Frazier fights.
"Adonis Stevenson has unbelievable punching power, focus and intensity. His intensity is the same in the first and last round, which is unusual, and he runs every morning and evening. One night I looked out my window and saw somebody running in a blizzard. It was Adonis. He lived 2-3 miles away and it was a Sunday. He said he was bored and came over to watch boxing tapes. I've had many world champions but his punching power and intensity is not normal. I'm very excited about Adonis and I can't see any 168-pounder not having a very tough time against him. He will definitely be world champion the first opportunity he gets.
"I also believe he has one of the best boxing promoters in the world. I know how Yvon Michel moves his fighters and how well he treats them."
The Officials for the Stevenson/Gonzales IBF title eliminator are:
Supervisor:   Vaughan LaPrade, Richmond, Virginia, USA
Referee:         Marlon Wright, Saint Laurent, Quebec, Canada
Judges:          Herb Santos, Reno, Nevada, USA,  Sylvan LeBlanc, Blainville, Quebec, Canada, John Parish, Oak Par, Michigan, USA
Tickets, starting at $60.00, are available to purchase at the Bell Center, at www.evenko.ca, or GYM's office (514-383-0666).