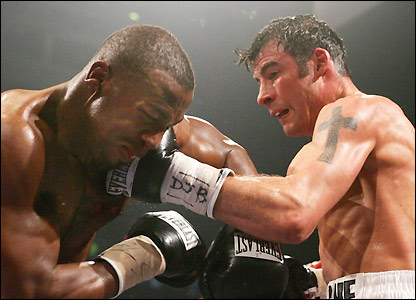 On August 30th, the 75th anniversary of one of the most fiercely contested and controversial Heavyweight championship fights of the 20th Century passed quietly by. On that night in 1937, Tommy Farr, from Clydach Vale, Wales, known as 'The Tonypandy Terror' and at 24, already a veteran of more than 200 fights, took on Joe Louis at Yankee Stadium, New York City.
People still talk about this fight – how they stayed up through the night, listening to it on the radio, how loudspeakers were set up in public halls for crowds to assemble and how it had been spoken of in Wales for years afterwards. Its anniversary has inspired this article.
For a small nation of 3 million or so, Wales has provided many more boxing legends than seems proportionate. The reasons for this may be material for another article, one day. But here, in ascending order, are my 5 picks for the greatest performances by Welshmen in the ring.
5. Joe Louis v Tommy Farr
World Heavyweight Championship
Yankee Stadium, August 30, 1937
It may seem strange to place a defeat on the list, but Tommy Farr's tilt at the Heavyweight Championship is such a legendary event in the pantheon of Welsh sport that it had to be on there somewhere.  Ring Magazine's 1937 'Fight of the Year' saw Farr enter the ring as a massive betting underdog against the 'Brown Bomber' who had taken the World Title from James J. Braddock two months before.
What followed was a brutal battle in which the fearless Farr defied all expectations by taking the fight to Louis, who held superiority in reach, weight and strength. Coming off a string of knockout and stoppage victories in his previous fights, Louis struggled to cope with Farr's water-tight defense and ferocious counter attacks. He was forced to box most of the fight on the back foot, behind the jab and admitted afterwards to being hurt several times during the contest.
At the final bell, the referee Arthur Donovan raised Farr's hand and when the decision was announced minutes later as a slim points decision in Louis' favor, the crowd of 32,000 booed. Many people in and around boxing thought Farr had been robbed, contributing to the British belief for many years to come that to beat an American champion on home soil, you had to knock him out.
It certainly wasn't one-way-traffic however. Afterwards Tommy famously said his face had looked like a "dug up road" due to the damage inflicted by Louis' stinging jab. Louis said, "Tommy fooled me, he's one game, tough fellow."  For years afterwards Farr joked "whenever I hear the name Joe Louis, my nose starts to bleed."
4. Howard Winstone v Baby Luis
Featherweight Contest
Empire Pool, Wembley, London, December 1, 1964
From the fighting village of Merthyr Tydfil came Howard Winstone, 'the Welsh Wizard', a beautiful technician whose tendency to hold his elbows low when throwing hooks led to accusations of 'slapping' (much like Joe Calzaghe). What could not be denied however were the speed or accuracy of his attacks. He formed a legendary partnership with trainer Eddie Thomas that led to World Title glory in 1968, but the fight chosen for this list is not a title fight but probably Winstone's most impressive performance, when he entered the ring as reigning British champion against the highly rated Cuban, Baby Luis.
Luis was the only fighter to have defeated the man who would later become Winstone's nemesis, the legendary Vicente Saldivar and came into the fight as the favourite. Winston defied both the odds and public opinion to put on a masterclass of stick-and-move, winning every round to project himself onto the world stage. After the fight, Luis' trainer, Angelo Dundee, commented, "If I could find a boxer as good as Howard Winstone, I would make millions. He's the nearest thing I have ever seen to the great Willie Pep."
3. Daniel Jimenez v Robbie Regan
WBO Bantamweight Title
Welsh Institute of Sport, Cardiff, April 26, 1996
Robbie Regan, from Cefn Forest, is a name little remembered outside of Wales. For a brief period, in the mid-90s however, he looked destined to become a world star. He vacated the IBF interim Flyweight title due to frustrations at not being given a shot at the real championship, choosing instead to step up and challenge Jiminez. It was a risky move and much like the other names on this list so far, he was given little hope by commentators who feared the Puerto-Rican's natural strength at the weight would be too much for him. As the fight began, Regan was a 10/1 underdog. But he became the first Welshman to win the World Bantamweight Championship with a show of real class and determination.
A thundering left hook floored Jiminez in the eighth and Regan continued to pile on the pressure, to win a unanimous decision in a hugely entertaining fight. Unfortunately, a unification battle with IBF champion Wayne McCullogh had to be scrapped as Regan succumbed to glandular fever, eventually having to vacate the title due to inactivity for the same reason. He attempted a comeback two years later, only to fail an MRI scan and lose his license to box. Sadly for Robbie Regan, his most glorious night in the ring proved also to be his last.
2. Jimmy Wilde v Young Zulu Kid
World Flyweight Title
Windsor, Ontario, Canada, December 4, 1920
The one that started it all – Wales' first World Champion and indeed the first recognized Flyweight Champion in history. In the days before boxing had organized itself properly, Jimmy Wilde emerged from a scrum of fighters to become the original Flyweight champion. In a career of 133 wins, with 99 knockouts (and only 4 defeats) it is difficult to pick out one fight, but his first defense against the bizarrely named Young Zulu Kid, (really an Italian American called Giuseppe Di Melfi) is widely regarded as one of his finest nights. The kid was a tough fighter himself but 'the ghost with a hammer in his hand' produced a completely dominant display to batter the challenger to submission in 11 rounds and be universally recognized as World Champion.
1. Joe Calzaghe v Jeff Lacy
WBO, IBF and Ring Magazine Super-Middleweight Championship
MEN Arena, Manchester, March 4, 2006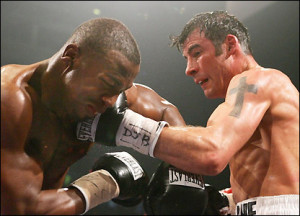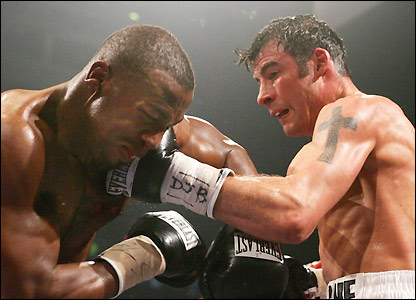 It is easy today to forget the hype with which Jeff Lacy came into this unification match, billed as 'Judgement Day', with Newbridge's Joe Calzaghe. Injuries and defeats have seen "Left Hook's" career slowly disintegrate since then, yet on this night he was the overwhelming betting favorite, even in Britain. One promoter described him as 'the savior of boxing', another as 'a miniature Mike Tyson'. Considered to be an awesome puncher and an unbeaten champion on the rise, he was contrasted with Calzaghe who had faced personal problems and was coming into the contest after several mediocre and uninspiring defenses.
From the first bell to the last, however, Calzaghe handled his man with ease, making him look like an unwieldy amateur. He rose to the occasion to win every single round and make a mess of Lacy's face in the process. His in and out movement was too much for Lacy and his rapier-fast hands slashed at the American with his trademark 'slappy' hooks. Lacy was in trouble regularly from the third round onwards and was finally put down for the first time in his career in the 12th. He got up and clung on until the bitter end, but cut a battered and forlorn figure. "Not bad for a slapper!" Calzaghe said at the beginning of his post-fight interview.
The judges' scorecards reflected Joe's unbelievable performance.  119-105, 119-107 and 119-107 told the story of a three way shut-out. Sugar Ray Leonard commented on Calzaghe's display by saying, "Within two rounds I was a Calzaghe supporter, I stood up in front of the TV shouting, 'Wow, look at this guy'! The performance he produced was amazing. It was Joe's great accomplishment, to reach that level, to scale that peak."
In one night Joe Calzaghe elevated himself from the status of regular world champion to boxing legend. And in a reflection of the beauty and cruelty of boxing, in doing that he also destroyed the confidence and career of his opponent.
Apologies go to Peerless Jim Driscoll, Colin Jones and Steve Robinson, all of whom very nearly made it onto this list.