On January 21, Erik Morales continues his second career by making the first defense of his (dubious) WBC Light Welterweight Championship in fight-mad Houston. His opponent is Danny "Swift" Garcia, a real dark horse of a challenger. Garcia might be little-known, but he is a bright and rising prospect in a match-up that pits a hungry, young lion against an old one. Title reigns like the one Morales is enjoying now rarely last long if the champ mixes it up with a live opponent, so Garcia brings with him real upset potential.

Danny Garcia (22-0, 14 KOs)
5'9″ tall, 69″ reach, 23 years old
American
Danny "Swift" Garcia is a man to watch. Coming from the Philadelphia school and a solid amateur background, Garcia has 120 fights and a 2006 US national championship under his belt. He is quick and has good fundamentals, and unlike a lot of young fighters today, Garcia is comfortable fighting on his back heel. He's a legitimate top 10 junior welterweight fighter.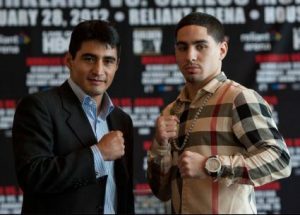 Erik Morales (52-7, 36 KOs)
5'8″ tall, 72″ reach, 35 years old
Mexican
Current (and dubious) WBC Light Welterweight Champion; former super bantamweight, featherweight and super featherweight champion
At this stage of his career, Erik Morales is reminiscent of the 175-pound and 190-pound version of Tommy Hearns. His opponents are too big to be phased by El Terrible's power now, so the Mexican gladiator must instead fall back on his considerable skill and talent as a boxer. Morales also remains as durable at 140 lbs as he was at 126 lbs, as evidenced by his fight with Marcos Maidana.
The main problem for Morales is that he has yet to win a big fight at light welterweight. His much-lauded fight with Maidana was a loss, and he captured his current crown over the body of a tomato can, and only after it had been stripped away from Timothy Bradley on the flimsiest of pretenses.
Morales vs. Garcia Preview
Morales is the favorite of conventional wisdom for two reasons in this fight: Danny Garcia isn't well-known outside of diehard fight fans and has yet to tackle anything beyond the gatekeeper level, and the natural presumption is that Morales wouldn't fight him if Garcia weren't there to be taken. When Garcia beat Holt, he became the WBC's #2 contender, not their #1 and mandatory challenger, so this fight is one of Morales's choosing.
However, the conventional wisdom is wrong, and Garcia has serious upset potential. Maidana vs. Morales was very close, but Morales got his eye smashed and swollen shut in Round 2, and it was only a minor miracle that the Mexican wasn't busted open like an overripe tomato. If Garcia isn't as powerful or experienced as Maidana, he has a better technical base and is much hungrier.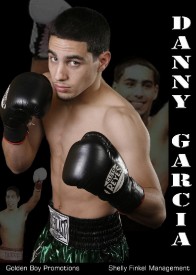 If Garcia were a better body puncher, I would give him better than even odds of pulling out a win. As it is, he has the novice's tendency to headhunt too much, and that will hurt him in this match-up.
Morales vs. Garcia Prediction & Analysis

I expect Garcia will come on and force the action, but in a methodical rather than furious style. Morales will use his reach and skill to blunt that assault, sharpshooting and counter-punching from medium range. El Terrible is obviously no stranger to warfare, so having a young lion in his face won't fluster him in the slightest. He will ably sting Garcia and bag rounds with his cleaner, more accurate punching.
However, I don't expect Morales to seize and keep the momentum. If Garcia finds himself losing an exchange or badly stung, I expect him to back off. If Morales follows, he'll eat a stiff jab in the face, and too many of those will close an eye or open a cut. Basically, I see Morales putting the punctuation mark on most exchanges of the fight, but I don't see him capitalizing on them.
If Garcia were more of a combination puncher or had a better body attack, he could break down Morales over the long haul. Even a man of Morales's fortitude will falter in the face of a sustained body snatching mounted by an energetic 23 year old with the right stuff, good power and quick hands. However, Garcia hasn't shown us the right tools for that, so Morales ought to out-finesse him. If Garcia wins, it will be on cuts.
Prediction: Erik Morales SD12
Comments
comments