2004 U.S. Olympian Jason "Big Six" Estrada made a strong statement in tonight's main event, knocking out veteran "Diamond" Dominique Alexander in the second round, at the Rhode Island Convention Center.
Estrada (18-4, 5 KOs), fighting out of Providence, showed more power than he had in the past against veteran Alexander (22-14-1, 10 KOs).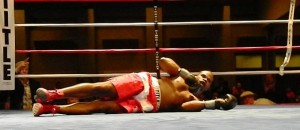 Healthy for the first time in years, after undergoing surgery to his elbow and ankle, Estrada delivered pain instead of suffering from it.  "I felt good and knew that I was in good shape," Jason said after the fight.  "The big difference was the time between my last fight, December.  That's the big thing, staying active.  I was lifting weights a lot with my father and it showed tonight.  I hit him with a short right and left as he was going down.  He was a tough kid who kept trying."
Popular cruiserweight Rich Gingras (11-2, 7 KOs), one of the stars of The Contender IV, dropped Adam Harris (10-5, 7 KOs) with a left hook to the body for an exciting second-round knockout in the co-feature.  An obviously pained Harris went down on one knee but was unable to beat the count. Gingras was fighting for the first time in 2-1/2 years.
Junior middleweight Dustin Reinhold (5-2, 2 KOs) won all four rounds from a game Jose Angel "Yayo" Ortiz (4-7-1, 1 KO).  Super middleweight Joe Gardner (8-4-1, 1 KO) won a unanimous four-round decision against Rameil Shelton (0-4) in a spirited contest.  Hometown favorite Kali Reis (4-1-1, 2 KOs) pitched a shutout against pro-debuting Marva Dash in a four-round junior middleweight bout.
Complete Results:
HEAVYWEIGHTS
Jason Estrada (18-4, 5 KOs), Providence, RI        WKO2 (1:49)        Dominique Alexander (22-14-1, 10 KOs), Topeka, KS
Rich Gingras (11-2, 7 KOs), Providence, RI WKO2 (1:03) Adam Harris (10-5, 7 KOs), Worcester, MA
SUPER MIDDLEWEIGHTS
Joe Gardner (8-4-1, 1 KO), Woonsocket, RI WDEC4 (40-36, 39-37, 39-37) Rameil Shelton (0-4), Providence, RI
JUNIOR MIDDLEWEIGHTS
Dustin Reinhold (5-2, 2 KOs), Fall River, MA WDEC4 (40-36, 40-36, 40-36) Jose Angel Ortiz (4-7-1, 1 KO), Springfield, MA
FEMALE JUNIOR MIDDLEWEIGHTS
Kali Reiss (4-1-1, 2 KOs), Providence, RI         WDEC4 (40-36, 40-36, 40-36)            Marva Dash (0-1), Bridgeport, CT