Tijuana featherweight Omar Estrella (13-3-2, 8KOs) finished up late last week his latest assignment as the chief sparring partner of three-time world champion Humberto "Zorrita" Soto (54-7-2, 32KOs) as the current WBC lightweight champ prepares for his Saturday, March 5th match up against Fidel Monterrosa of Colombia.  The ten round bout will be televised in Mexico by Televisa.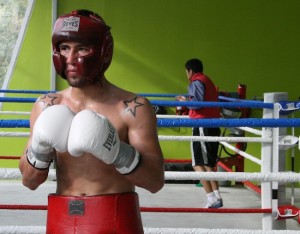 "I learned a lot from the work that I did with Humberto," Estrella said.  "Soto is a very strong fighter and with a lot of experience and facing him three times a week, I learned a lot.  I want to thank Soto's team for the opportunity because beside him being a great fighter, he is also a great person."
Estrella is no stranger in helping world class fighters with their preparation as he has also participated in the training camps of Erik "Terrible" Morales and three-time welterweight champ Antonio Margarito when the "Tijuana Tornado" begins his training in Tijuana.
"I have had the good luck in working with some great champions," Estrella said.  "From each one of them I have learned something and I hope those lessons help me in my career."
Omar Estrella is next slated to perform at the end of March in a fight card presented by his promoter, Box Latino.  In his last bout in December of last year, Estrella impressively stopped the experienced David "Guico" Galindo (9-9-1, 4KOs) in four quick rounds.
"I am ready, I have been in the gym for months with my trainer 'Jibaro' Perez," he said.  "I want to go after a regional title this year and give my career all my best."