Chris Eubank won handily by scores of 114-112, 115-112 and 117-109 according to ringside judges. The third score was a bit wide but no less underscored his dominance. The 29-year old Eubank also picked up the IBO super middleweight title with the win over the weekend.
It was a vindication of sorts for Eubank, who had under performed against elite opponents in the past and was visibly elated by the results.
"Now I'm going for all the other belts in the super middleweight division. I knew he was going to use his boxing ability. I was working on my jab. He's a very slick southpaw. The game plan worked, smart pressure. I didn't get too much ahead of myself. I dominated pretty much every single round. I believe I proved the doubters wrong tonight."
In his first contest under the tutelage of trainer Nate Vasquez, Eubank Jr showed more patience as he stalked his opponent for much of the fight. It was also a messy, roughhouse brawl at times, complete with head clashes and much clinching.
DeGale landed his trademark lefts early and looked fast on his feet as the longer and rangier fighter. Eubank Jr was relying on single shots from his right hand, one of which did land midway through, forcing DeGale to cling. A clash of heads appeared to open a cut around DeGale's left eye toward the end of the opening stanza.
Eubank Jr got out fast in the second round buckling DeGale's legs with a booming right hand. He rocked him again with a left and had DeGale slumped in the corner but was unable to finish him as the round closed.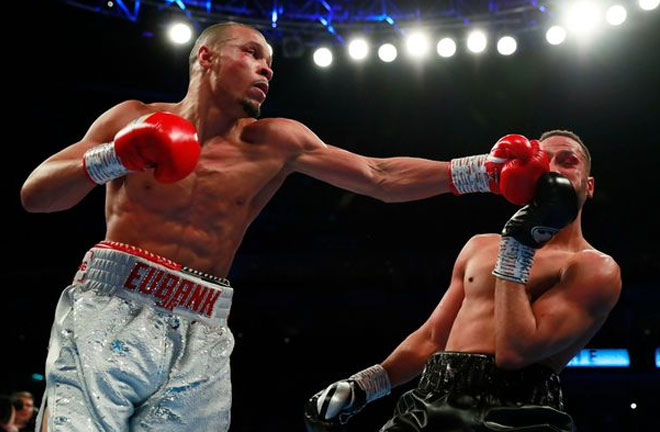 Eubank Jr failed to build upon the momentum from the early knockdown in the third but there was plenty of jawing between the two fighters. DeGale fought back in the fourth, landing several single shots and causing a cut on Eubank Jr's right eye but that moment was fleeting as he was reluctant to engage for much of the contest.
Eubank Jr landed the more significant punches throughout the mid-rounds and mixed shots to the head and body to leave DeGale open for a power shot. Even when DeGale would make it a close round in the beginning, Eubank Jr would re-establish control by unleashing a flurry to take the round.
Eubank Jr nearly closed the show in the tenth with a looping left hook that wobbled DeGale at the knees. A series of wild right and left hands failed to land before an overhead right to the head made DeGale put a glove to the mat for another knockdown.
Eubank Jr had the fight well in hand, landing his signature uppercut on two occasions in the eleventh. Then it got bizarre when he picked DeGale up and slammed him to the canvas after the two fighters became entangled in a clinch resulting in a one-point deduction. At this point, Eubank's corner needed to calm him down. And they would.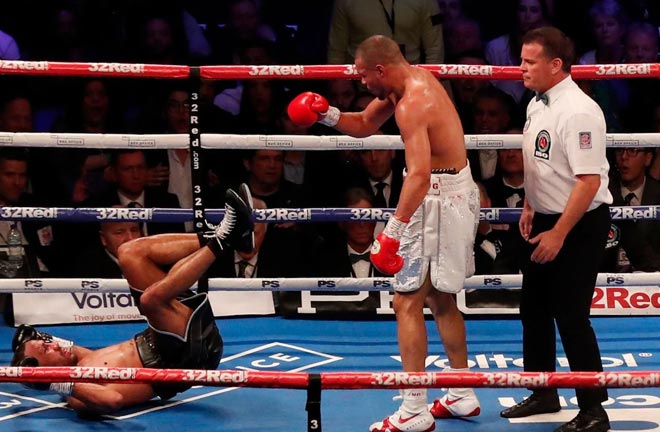 You had to give Eubank Jr credit in going for the knockout in the final round even with the fight well in hand. A big left hook rocked DeGale but this one would go to the scorecards.
With the win, Eubank Jr improved to 28-2 with 21 KOs while DeGale fell to 25-3-1 with 15 KOs. The surprising points win ends a bitter seven-year rivalry and will almost surely send the loser careening into retirement given the fight build-up.
Chris finally emerged from his father's shadow tonight. Chris Eubank Sr., himself a two-time world champion and British boxing legend was 'petrified' that his son would lose but had nothing to worry about in the end.
Eubank Jr showed renewed focus and refined skill in out boxing and out brawling the more experienced and better skilled DeGale. He now finds himself with a key win and in the thick of things within a loaded 168-pound division.