Scouting Report on Rising Prospects Ready to Break Out:
This is my shortlist of three exceptional prospects to watch this year and beyond. My picks are based upon their amateur pedigree, skill sets, professional record and potential to become future world champions. Of course this list is not exhaustive but rather an optimistic take on some of the sport's up and coming stars.
Errol Spence Jr.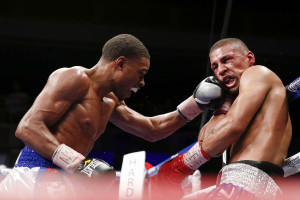 The talented southpaw did not start boxing until he was nearly 16 after excelling in basketball and football.  Spence recalls, "I loved it right away, though, and I knew it was my sport. The rest is history."
Spence would find early success as a top amateur winning a world championship in 2008 followed by three consecutive National Championships. Spence went on to win the 2012 Olympic Trials and advanced to the quarterfinals at the London Games before finally tasting defeat.
The hard-hitting Texan has plowed through everyone in his path since turning pro in November 2012. Spence displays an exciting fan-friendly mix of precision punching and come forward aggression. Spence has withering power in both hands and an uncanny ability to seamlessly switch his attacks to the head and body with devastating effect. He has good, not great hand speed and solid overall boxing skills. Spence  doesn't just knock out opponents, he literally chops them down like a lumberjack hacking away at a redwood.
His mild manner disguises the relentless destroyer that he becomes inside of the squared circle. One knock against Spence is that he lacks head movement which became an easy target in the Chris van Heerden fight. He took the shots well but it left me with lingering questions about the durability of that chin against a legit puncher. Spence also has a tendency to load up on his punches which leaves him open to be countered.
"The Truth" is nonetheless primed to make a big splash in the crowded 147-pound weight division in 2016. I do not think that it is premature to mention his name in the same breath as Thurman, Porter, Brook, Garcia and Bradley.
Spence is more than capable of beating them all but I particularly fancy a potential barn burner against "One Time" given their ongoing feud and Mayweather connection. The Floridian is known for his punching power but has no real inside fighting ability to speak of which plays heavily to one of Spence's main strengths. This is certainly a high-risk, high-reward fight for the still developing Spence but it is also a seemingly irresistible opportunity to see if he is indeed the goods.
Antoine Douglas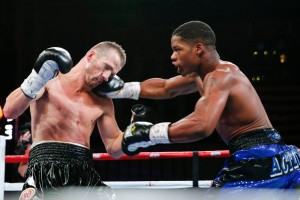 It's hard not to like undefeated middleweight prospect Antoine "Action" Douglas. Antoine is a born fighter with a compelling narrative of personal tragedy and ultimate triumph. He was born prematurely to a drug addict mother and ushered from one abusive home to the next along with his older brother, Devon and two other siblings.
The Virginia native found refuge in boxing after a cousin introduced him and his sister Tyrieshia, to the sport at age 10. Determined to escape poverty, Antoine dedicated himself to succeeding in the ring and classroom and accomplished both. He became a decorated amateur once competing for the World Cup in Russia in 2011 before making the 2012 Olympic Trials with his sister –a first in U.S. amateur boxing. Antoine's academic exploits were just as impressive as he graduated with honors from high school.
Antoine made his highly anticipated professional debut in October 2012. By his fifth pro fight, Douglas had already appeared on Friday Night Fights twice. The only blemish on his otherwise perfect ledger was a draw against Michel Soro on ShoBox's 200th episode, which saw him build an early lead on the scorecards only to watch it evaporate in the later stanzas. Last time out, "Action" completely outclassed Les Sherrington on ShoBox.
At just 23, his precocious development as a fighter is strikingly evident. Antoine lets the fight come to him, waiting for opportunities to present themselves, and then taking advantage. The Virginian is sharp and poised, and shows patience far beyond his professional ring experience.
He has all of the important intangibles desired in a top contender – speed, technique, footwork and defense. The one significant thing that Antoine lacks is true one-punch knockout power but it is almost negligible when juxtaposed against the many things that he does well.
The highly versatile middleweight will have many lucrative fight offers if he continues his winning ways. The scary thing is that Antoine probably hasn't yet realized his full potential, which is bad news for future opponents.
That said, I think he is at least a year away from fighting for a world title so let's not throw him into the frying pan just yet with the upper echelon of the division. I think Douglas is quite ready for a step up against fighters such as Chris Eubank Jr. and Daniel Geale as he looks to become a Top 10 Middleweight in 2016.
Artur Beterbiev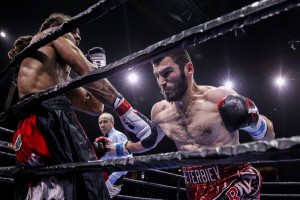 Montreal-based Russian light heavyweight contender Artur Beterbiev has become one of boxing's fastest rising stars. Ironically, his hometown of Khasavyurt is better known as a wrestling hub, and Beterbiev would try his hand at wrestling before a chance encounter would change his life's path as recorded in an interview with The Ring in 2014. "To keep me away from the streets when I was 10 years old, my brothers brought me to my first boxing gym." The now 30-year old slugger (9-0, 9 Kos) never forgot that fateful day.
Beterbiev found great success in the amateur ranks at both light heavyweight and heavyweight. He would defeat future unified light heavyweight champion Sergey Kovalev in the semi-finals en route to winning silver at the 2007 World Championships. Beterbiev also captured a pair of gold medals at the 2006 and 2010 European Championships. However, he would fall just short of capturing Olympic gold while representing Russia in both 2008 and 2012.
Beterbiev relocated to boxing hotbed Montreal, where he launched his pro career in 2013. One of his victories came against ex-champ Tavoris Cloud in what was supposed to be a major test. What ensued was a comprehensive beat down as Beterbiev battered an outmatched Cloud from pillar to post before sending him face first to the canvas with two unanswered left hooks prompting the referee to halt the fight at 38 seconds into the 2nd round. Frankly, Cloud looked like a shell of his former self but the utter way in which he was destroyed was no less impressive.
With only 27 rounds of professional fighting experience and victories over three name opponents with winning records, Beterbiev is certainly on the fast track toward title contention. He is an outstanding technical fighter with crippling power in both hands. Beterbiev controls range very well and uses movement to turn opponents and walk them into his power punches. His defense is underrated but the Russian displays good head movement and knows how to cover up properly.
Beterbiev is set to return to action in March or April against an unnamed opponent following a shoulder injury that knocked him out of a title elimination bout back in November. Assuming that Beterbiev returns to form, we can expect him to eventually secure the mandatory spot for Sergey's IBF strap.
A clash with "The Krusher" would be an intriguing fight considering Beterbiev's prior wins over his fellow countryman in the amateurs. Whether this gives him any real psychological advantage is mere speculation.
My personal wager is that Beterbiev needs a bit more pruning against solid top 10 contenders like Andrzej Fonfara and Eleider Alvarez. Artur Beterbiev is without a doubt the real deal and an immediate threat to anyone not named Kovalev or Stevenson at 175 pounds.