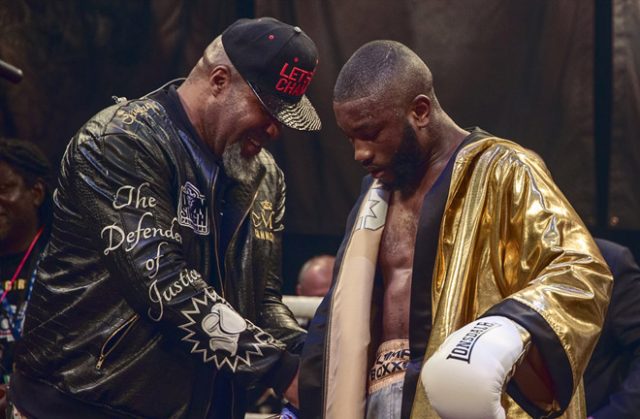 "Nathan Heaney vacated and he ran. Let's be clear on that. We were going to go for the title, I've been in that position for a while, we had offers knocked back before Ultimate Boxxer and then Nathan won the title and I got put in as the mandatory."
'The Punching Preacher' is, to all extents, an oxymoron. Derrick Osaze is used to the intrigue that comes with his two distinct strings to life. "I was in a supermarket and some guy shouted 'it's the Punching Preacher' at me", he began: telling me how people continue on that path of curiosity and often ask him the same questions. 
I wanted to delve deeper with the 26-year-old and explore both avenues in a way he's never discussed before. We began our conversation by touching on the impact of Coronavirus and how his church has adapted to the restrictions on faith gatherings.
"Luckily for my church we already had those online platforms existent before lockdown and we've streamed our services live for a few years now. We're still able to achieve the same goal and mission, and connect with people, despite the circumstances.
"Just because we're not able to meet up physically doesn't mean the community ceases to exist: I work in the youth church and a lot of them are on Instagram so we've been going live on there two or three times a week."
Within his work with the church there has always been a focus on youth engagement. Specifically a youth pastor at God's Vineyard Ministries in Nottingham Osaze has used those experiences to establish a side project of his own.
AIM Youth was officially set up in 2018, having been a brain child of Osaze's for a decade, and he outlined how it all began:
"AIM stands for Aspire, Inspire and Motivate and what we do is look to get young people achieving their potential. When I was 16 I was part of the NCS (National Citizen Service) and needed some voluntary hours to complete the course.
"But, I wasn't really interested in the options they were giving us so I'd walked down to the local football club and got involved. Throughout that time I was able to understand my passion really stems from helping young people maximize their potential."
Over these first eighteen months AIM has gone into schools to 'provide a platform of alternative education' with a range of workshops and behaviour mentoring from small groups to whole school assemblies. Of the three stated values, 'aspire, inspire and motivate', it was intriguing to hear Osaze reflect on what he feels is missing most from the children of today.
"I think aspiration is what people are missing these days. They don't have those big dreams: when I was a kid and you asked my friends what they wanted to do they'd say Prime Minister, astronaut, things like that.
"I did a careers day at a primary school a few months back and they had to dress up as what they wanted to be and that's when I learned of a new career path… influencers."
Having known Derrick for a couple of years it's noticeable just how much more relaxed he becomes when talking about that intrinsic desire to maximise the potential of young people in society.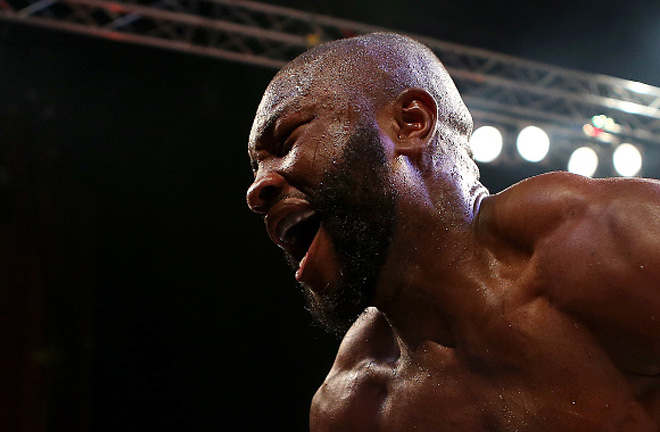 It goes back to his experiences growing up, just 15 years ago, and the huge reduction of support available even in that short timeframe.
"I remember growing up with lots of different youth clubs being around for kids to turn too. I look around and there's hardly any options for them these days.
"I'd love to get things like that off the ground again because having that structure and opportunities is what ensures kids these days are really able to set goals and chase them. I feel like, through my lifetime, there have been so many cuts to the services available to the youth of today."
Hand in hand with those cuts to public funding, across a whole range of public sectors, comes a change in expectations.
As society becomes increasingly fast-paced and technology-centric there is less time to cultivate positive headspace and time, truly, to yourself. This is yet another aspect that the Nottinghamshire fighter feels is over-complicating experiences of growing up.
"There's so much pressure on young people to grow up too fast on one end of the spectrum that it doesn't really allow that imagination to run free.
"You have to be able to enjoy being young and just let things happen because otherwise you get to 30 and all of a sudden you're at the stage where now they're trying to embrace that youthful side of life.
"Society is asking us to do everything the wrong way round and expecting us to be a wise head when we're 10, 11-years-old when we just need to take things a little bit slower."
With every element Derrick discussed it always came back to "finding the right balance" – a phrase repeated so often you could print it on t-shirts. And boxing is that balance for the middleweight, it is his time to clear those thoughts and get down to business.
The biggest moment of his career, so far, and the moment his arm was raised as Ultimate Boxxer champion. As the decision was announced there was no immediate ecstasy – that kicked in about three, four minutes afterwards – but a look of serenity. Of sheer content and completion.
"I'd be lying if I didn't say I was so confident, not only before the tournament, but going into that decision. I was just certain my hand was getting raised because I knew I'd won the fight and even when they announced one judge had it as a draw, I don't know how, I didn't flinch. I feel like when my hand was raised it was just confirmation of what I already knew in my heart and in my head.
"Inside my brain it was a 360 of all those emotions, the pain, the sweat, the tears and I'd had a few injuries going into that tournament: I wasn't certain I was going to box because I'd popped my hamstring in Fuerteventura."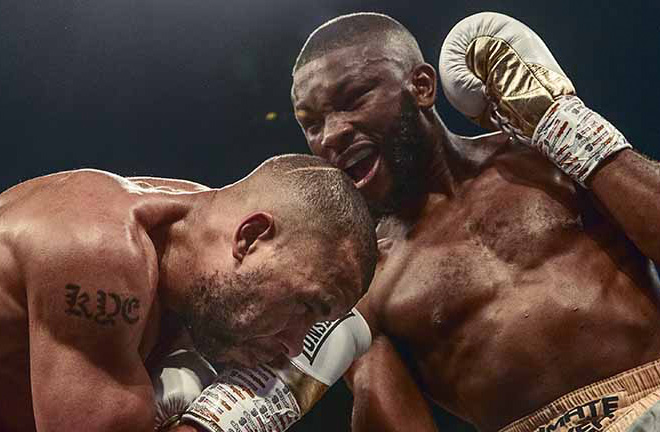 If you didn't know better you'd assume the world was working against him in those weeks beforehand. A "popped hamstring" was the biggest of a number of niggles to be cast upon him.
Indeed odds, as well as circumstances, weren't in his favour: 28-1 Osaze opened at but come the night of the tournament he'd sharped in to around 7/2 and they kept tumbling on the night.
Despite those trying times in the build-up, Osaze's faith never relented and it made victory even sweeter.
"You go through these things and it tests you but, on the whole, the camp I'd had had gone well. In my mind I was so certain I was going to win the tournament and that nothing could stop me.
"I didn't care who was in the tournament until I went down for the press day and I'd seen some of the faces when I got there and just thought 'oh, okay, that's what we're up against.' They are not individual performances that I'll look back on and be ecstatic about but, obviously, put all three together on one night and I don't think I could ask for much more."
That night, last May, at the O2's Indigo Arena, saw him beat Tey Lynn Jones, Kieron Conway and Grant Dennis. On paper you'd suggest the three toughest names in the draw. Conway has since fought for the British title at Super-Welterweight but it's the contest Osaze could most envisage happening again down the line.
"I could have boxed a bit better [against him] but the game plan was working and he is a very good opponent, let's be honest. I could see his confidence diminishing with each round and I knew it would be a good, tough fight.
"I won the first and the last round but he did come back into it during the second round. I probably started a bit too fast in that, but I never thought I wasn't in control of the fight. A lot of people would tell you Conway is suited to the longer distance but I'm happy to prove them wrong a second time."
With time frames impossible to provide during this prolonged spell of uncertainty, Osaze was keen to reiterate his desire to chase and collect belts, as opposed to names.
However, there was one name that cropped up and, in honesty, it's the first time I'd heard the 26-year-old talk with the hostility and aggression you might typically associate with a frustrated fighter.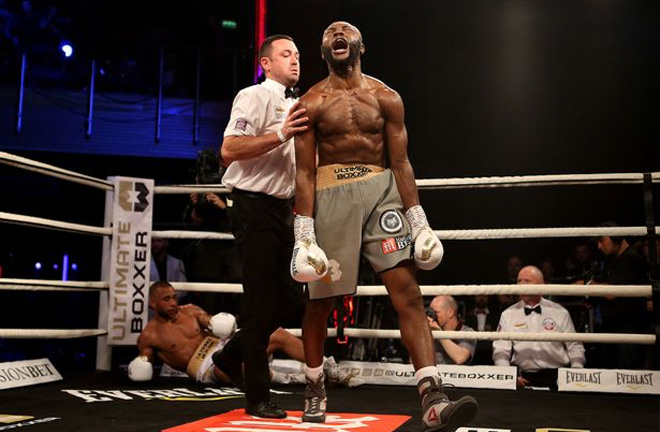 Mandated to fight Nathan Heaney for the Midlands Area title in the autumn of last year I was keen to know if that was a title he was still eager to contest.
"I've always said Ultimate Boxxer shouldn't be a fast-track to those bigger titles. I stand by that, but I think if we're being honest that Midlands title is something that happens if we can get in line for a bigger title, an eliminator of some sorts.
"It's a title I'd have hoped to have got my hands on, I have beaten two former Area champions, so truthfully I'd hope for the English title when boxing does resume but I'm happy to fight anyone."
For a man who so often is softly spoken and the very embodiment of warmth and friendliness this was a noticeable change in tone. 
"I'm not one to single out names because lots of people say they want to fight and when it comes down to making the contests it turns out they're lying.
"I don't usually say things, you know that, and Nathan Heaney is just one of a handful of guys. I've got no issue with him personally but I'd seen his promoters saying he was reigning Midlands champion." Derrick lambasted. 
"[But,] he'd vacated rather than face me as his mandatory and that annoyed me. It was a fight we wanted and I don't chase fights with people, it's about the belt, but that agitated me."
And lots of people may well look at Derrick Osaze and think 'why fight him?' because in a middleweight scene packed full of talent there are always options around. Osaze flips the question, though, and issues a challenge to those calling for tougher fights whenever boxing is back on the agenda:
"I would fight me. I've only had 10 fights, I'm not some crazy cash cow asking for stupid money, what's scary? Clearly something must be because people are saying they want these fights but won't step up to the plate."