"It was a harder path [to take], to leave Frank [Warren] earlier in my career, but I've learned a lot more and it all seems worth it now."
English Welterweight champion Ekow Essuman has had his name bounce back more often than not when it comes to pursuing bigger challenges.
Having won the title in 2018, against Andy Keates, the 31-year-old has defended the belt on two occasions but has found himself fair easier to ignore than to fight, when it comes to more prestigious belts. With Frank Warren snapping up the 'Silent Assassin' it should only be a matter of time before those fights materialise. 
Talking to ProBoxingFans in the week he signed with Queensberry Promotions, Essuman outlined his delight to back on terms with Warren.
"I feel like my journey so far has been rewarding, but it's got to that point where we want to step up to the next level and to showcase my skills to a wider audience, signing with Frank was a natural step.
"I'm ecstatic to be back with him because it gives me that exposure and expertise that I'm going to need going forward."
After an accomplished amateur career saw Essuman rack up wins over the likes of Tommy Langford and Anthony Fowler, the Botswanan turned pro in December 2016 and was snapped up by Frank Warren after just one pro fight.
Things didn't pan out as planned for the duo, Ekow only fought once on a Queensberry promoted show, but the Welterweight refused to dwell on the past.
"Signing with Warren has been a result of me going away and grabbing the opportunities that come my way. Those performances against Andy [Keates], Tyrone Nurse and Curtis Felix were good statements and Frank obviously knows a bit of what I'm about.
"It's alright calling people out but, really, I needed to get myself in that position where I had the right to call people out. And I knew that without a belt, without a profile, people wouldn't look twice at me." Ekow continued.
"I had to get myself into the position where I had that leverage and something they want: titles. I've done the first step, English champion, and got some good fights but we're ready to push on for the British [title] now."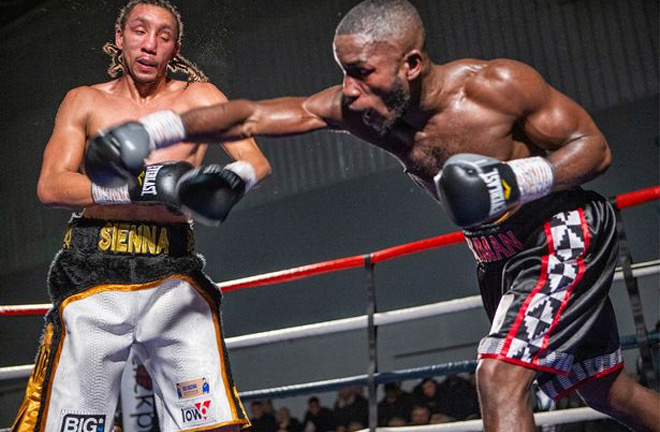 Indeed it is his fight with Tyrone Nurse, his first defense, which Essuman highlights as being an acute learning experience in his career. Nurse – a year younger but 33 professional fights more experienced – arrived in Nottingham on a three fight slump and with something of a point to prove.
"Against Tyrone Nurse, I'll be honest, I had been preparing for a completely different Tyrone Nurse to the one that turned up. I'd set a good pace against Andy Keates [in the fight beforehand] but other than that it was quite scrappy so we were going for something a bit different against Tyrone.
"When I got in there you could feel his experience in the way he moved so I had to think on my feet and adapt to that challenge. I learned loads from that, to be fair, it proved in my head that I can adapt when things aren't going as expected and I can grind out a win."
Whilst many fighters might stubbornly stick to Plan A in the hope that it would prove dividends, Essuman's confidence in changing tact stem from head coach Barrington Brown's meticulous workings.
"It's funny you use the phrase 'forensic' when talking about Barrington.
"I remember in the build-up to the Andy Keates fight he was having me do all sorts of funny things and one day he's come in and told me a shot sequence to work on and just said 'yeah, you know what, that's going to be the money shot' and, sure enough, it was the sequence that finished the fight.
"He has a clairvoyant way of predicting fights and you're never quite sure why it worked but you just trust what Barrington says."
Barrington Brown leads the team at DCT Boxing Academy and, with it, spearheads the renaissance of boxing out of Nottingham.
Since the days of Carl Froch it seems that the city has been perennially underappreciated by those in boxing circles but, at long last, that perception looks set to change.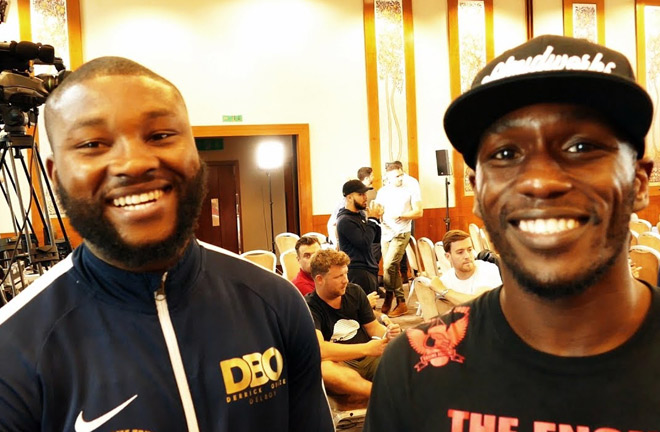 "I think Nottingham has plenty of talent coming through: myself, Derrick Osaze and Leigh Wood are obviously the higher profile names. Delmar Thomas looks like he's going to be the real deal and you've got Ezra Taylor, Chad Sudgen all from around the area and starting to build reputations.
"With Frank making those signings, like you say, from under-appreciated fighting towns and cities it's an exciting time to be involved."
Now that the former Team GB fighter has inked a promotional contract with Queensberry Promotions there are a host of in-stable fights to be made.
Chris Jenkins, British champion, is at present scheduled to defend the belt against Johnny Garton on July 11th and that's a fight, and title, Essuman is keen to make happen.
"I would love to fight Chris [Jenkins] and with that British eliminator against Liam Taylor being mandated I should be able to force my way into that position sooner rather than later.
"It doesn't matter who holds the belt when it's my turn because it's what I'm after and I'm determined to win. To be honest it was frustrating that Conor Benn got put into the mandatory position but that's not something I can change except to keep those frustrations in the locker and save them for when we meet in the ring." Essuman explained.
"The welterweight scene is full of names there's that real depth that means I can be confident there's fights out there. To get to the top of that division domestically will mean an awful lot more knowing how much competition there is at 147lbs because you're going to have to beat some seriously talented fighters to win the belts."