"I always tell people that when my mum was pregnant that wasn't me kicking it was me punching!"
George Rincon was always destined to box. First entering a boxing gym at the age of six and owning his first pair of gloves before he was even born it is no wonder this is the career path he took.
"I actually started fighting at the age of eight, but I was already training when I was like six or seven." Rincon told proboxing-fans.com.
"My dad did fight a little bit when he was younger, just a couple of fights as an amateur, I only know that because he told me when he found out his father had fought as a pro.
"My grandfather fought back in the '50s professionally in Mexico, my father fought a little bit in the amateurs but he stopped to focus on me and my brother."
It was his father, who boxed for fun, who had decided he wanted his son to box. This was evident when Rincon's dad had purchased his unborn child his first pair of gloves.
"Yeah, he did. I still have them too, they have a little duct tape on them but I still have them."
Both George and his brother Alex were taken to the boxing gym by their father at young ages.
"We're about three-and-a-half years apart [in age], obviously I was the first one to start boxing and my brother was always coming with us to the gym.
"It's really good to have a brother to work alongside with. Especially if we're on the same card it's good to work hard together.
"We're always in the gym together and working so it's good to have someone to be on the journey with."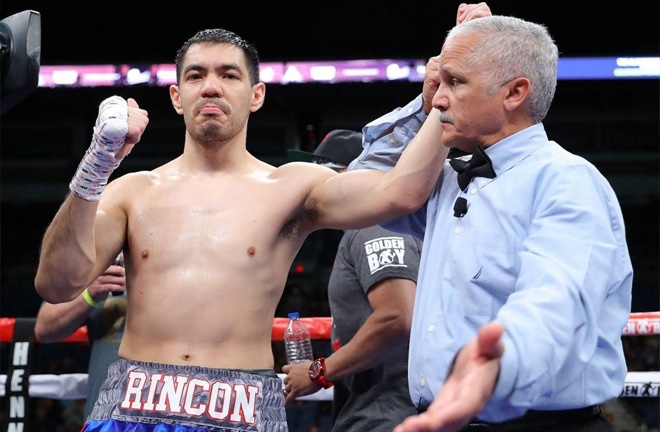 The 29-year-old had a stellar amateur career with an estimated 230 fights claiming over 200 wins.
"I was blessed to be a part of Team USA and fight internationally in a couple of fights. I made it to the Olympic trials, I unfortunately came up a little short.
"I won numerous titles, I fought a lot of great fighters coming up."
George Rincon's record currently stands at 10-0, with his brother Alex boasting a record of 8-0 as both brothers look to build on their unbeaten records towards world titles.
The next step for George will be March 20 on the undercard to two fighters Rincon knows very well, Vergil Ortiz Jr and Maurice Hooker.
Check out the full interview below: