"Lennox [Lewis] is an enigma. You could never figure him out."
Harold 'Shadow' Knight is a one-time Super-Lightweight World title challenger. Some would say he was unlucky to have had his career cut short, but there were bigger things at play for 'Shadow' to realise his destiny.
Knight went on to become the only man to have coached Lennox Lewis from his professional debut until his retirement.
"I started boxing way back in 1973 as a nine-year-old. One of my older brothers introduced me, you know how it is you always want to be like your older brothers.
"I was forced into retirement. My last fight was April 1988, against Rocky Lockridge for the IBF World Super-Featherweight title in one of the last 15-rounders.
"I took a couple of months off from boxing. I was due to box again in April, but an abnormality was detected in the CAT scan.
"It showed something that I was born with on my brain."
'Shadow' was a man who was left embroiled in disbelief and rage, as he had competed in 20 professional bouts and 160 amateur fights with this abnormality, yet it was only now, 180 fights deep, an issue.
"I was so bitter, so angry, so hurt. I didn't have anything to do with boxing. I didn't watch boxing, I didn't listen to boxing, I didn't want anything to do with boxing.
"But, boxing has been in my blood. I truly believe God was showing me that I could still be in boxing, but in a different aspect, as a coach, as a teacher, as a trainer.
"He closed that door for me [as a professional boxer] in 1988 and I started with Lennox [Lewis] in January 1990."
When Knight first relocated to England it wasn't actually to train Lewis, it was to try and continue his fighting career.
"At the time Lennox Lewis' first trainer was my mentor and teacher, John Davenport.
"I was looking to go to the UK, I was hoping they [the British Boxing Board of Control] hadn't heard of me as I was trying to get licensed over there.
"But, low and behold they were well aware of me fighting for the World title and my situation. That came to a roadblock and then the opportunity came to me to assist John Davenport.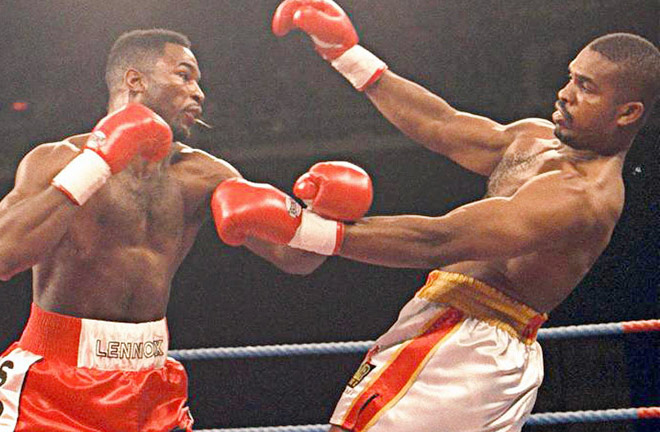 "The job was actually offered to another coach who taught me, Albert Mills, he actually declined the offer.
"He kept asking me and I didn't want anything to do with boxing, but I decided I might as well give it a shot. That's when I moved to England, January 1990."
Knight would be a welcomed addition to 'Team Lewis,' as they prepared for the debut of the best British Heavyweight who had yet to be seen. Lewis' debut would be against Al Malcolm, a 24-fight journeyman. Lennox closed the show stopping Al inside round two.
"Lennox honestly was and still is… he's a sage now, he is one of the greatest I would say to ever lace the gloves up, he was a student of the game.
"He was always willing to learn, he was definitely all for it.
"He knew that John Davenport needed help. At the time Frank Maloney had other fighters so me being a former fighter and still a fighter at heart I was one of these hands-on kind of trainers.
"But, he was all for it and I appreciate it, still even today."
Lennox Lewis was a man born in London to Jamaican parents who spent his years growing up in Canada. Upon turning professional this left the British public confused whether to support him or not, was he 'one of their own?'
"At first people from the UK or England did not accept Lennox, because he was born there, but he represented Canada in the Olympics.
"Then he went back to the UK to start his professional career, but people really didn't know how to accept him or want to accept him.
"It made his ass work harder. It made him want to be the best. It made him want to be one of the greatest.
"It made him, when all eyes were against him, to show them what he was made of, the fortitude.
"To come from nothing to achieve something when all eyes are against you. When all the chips are down to never give up. The self-perseverance, that work ethic.
"That made him want to be one of the best ever and as you can see, it's in the history books, he's one of the greatest Heavyweight Champions ever."
Somebody who played a big role in Lewis becoming one of the finest Heavyweights was the well respected, much loved, some would say genius, Emanuel Steward.
"I've known Emanuel since I was 13-years-old, so I knew what he could do, I loved Emanuel. Him and Lennox, oh man, when they hooked up history was written.
"Yes they were, [a match made in heaven]. Lennox is one of these guys that was always keen to learn, learn, learn. Obviously, with Emanuel Steward, he was a professor.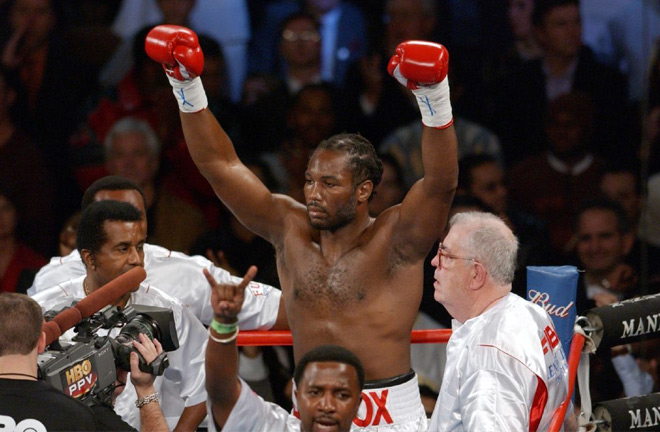 "When Emanuel came aboard after the first Oliver McCall loss, in which Emanuel trained Oliver McCall to beat us, Frank Maloney and myself we grabbed Emanuel [after the fight] and said, 'hey, you're coming with us!'"
Knight continued reminiscing about Steward, "Manny, he was not only a great teacher, a great person… a great cook too!… a great mentor and he produced, I think, over 25 World champions basically from scratch. He was a psychologist, he wasn't just teaching boxing he was teaching life.
"When he came aboard with Lennox I think I was happier than Lennox. That was definitely a relationship that was meant to be and history speaks for itself."
In a career of 44 fights, 41 wins, 32 by stoppages and being the one man who was there by Lewis' side throughout this journey Harold Knight certainly has his fair share of memories and stories. The one that stands out is the British title win over Gary Mason in March 1991.
"One of the best memories is the Gary Mason fight. That was Lennox's coming out fight right there. [Lennox] was the European champion after beating Jean-Maurice Chanet.
"But, Gary Mason was the British champion and he was one tough son of a gun, God bless his soul. He was knocking everybody out, I believe all of his fights were won by knockout when he fought Lennox, [editor's note: Mason had won 32 fights via KO, TKO or retired his opponent out of 35 bouts before facing Lewis.]
"That was my favourite not only fight but one of my special moments with Lennox Lewis because, in that situation, I'll never forget. Before the fight, the dressing rooms were right next to each other and you could hear Gary Mason playing 'Mama Said Knock You Out' by LL Cool J."
Lennox showed the British public that he was a formidable force in the division that night and moved away from the domestic scene to rule the world scene. But, it was more than a good victory for Knight, that evening Lennox demonstrated his compassion and humanity.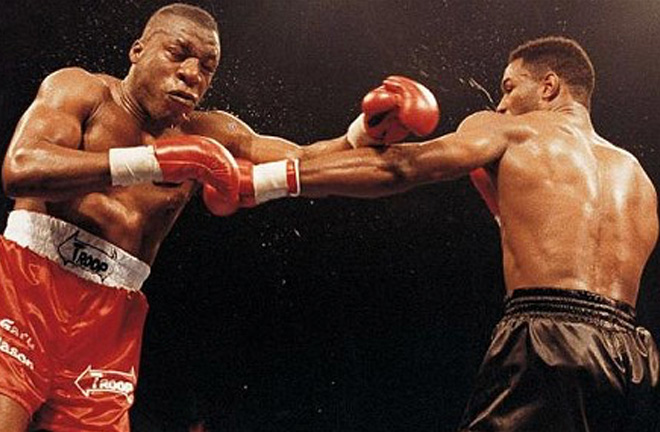 "In that fight, Lennox showed what he was about, and what was to come in his career. He stopped Gary Mason with the jab, Mason's eye was blown up from the jab. Lennox won that fight with the jab.
"We went back to the dressing room and we're in our dressing room and unfortunately this is the other side of boxing you come out losing and a lot of people abandon you.
"We went up to Gary Mason's dressing room John Davenport and Lennox Lewis went over, not to console him but, to let him know that it was a great fight, he was a great person and to keep his head up. On that humane side of it, that was a great part for me.
"Let me tell you something, he's one of the smartest guys. That's what makes him great, that makes him great."
For Lennox, he did suffer two losses in his career, both avenged, once to Oliver McCall and then to Hasim Rahman.
How does a fighter deal with a loss? Can a fighter prepare for a loss? Knight reveals it was an eventuality that Lewis was ready for.
"Lennox always said that one day there was going to be a time when he would come up short. I could never really understand that but it made a lot of sense because he said just as well as you can bask in the glory of winning he said you also have to, when that time comes, to accept that defeat.
"When he said that, not only saying that but demonstrated that, when we lost to Oliver McCall it was in Wembley Stadium with home advantage per se and we lost the title."
The defeated champion chose not to shy away and dwell on this loss. Lewis was back out in the public eye, not to celebrate but to send a message to everybody, I am still here this loss will not define me.
"The next day we were out and about, Lennox loved Chinese food, he took the whole team out. He was still in the public signing autographs, greeting the people, not hiding me personally I would have.
"His lip was all bust up too, we were out in town. I'm not saying he was happy with that loss but he kept his head up to the point of saying, 'hey, the only way I can learn from this loss is to accept it and learn what not to do. I'm going to come back better.'
"The greatest fighters lost but what makes the mark of a great champion, and person, is what you do when you come back. It's not lying down when you get put down but getting up and how you come back. That right there he didn't just talk it but he walked it."
Lewis did come back from his losses, reclaiming the WBC World title against his nemesis McCall, before adding the IBF and IBO World titles to his growing list of accolades.
There would be one more loss, to Rahman, before Lennox reached the pinnacle of his career. The goal he had set out to do. Defeat and dominate the best in the division. Lewis conquered his one-time sparring partner, Mike Tyson.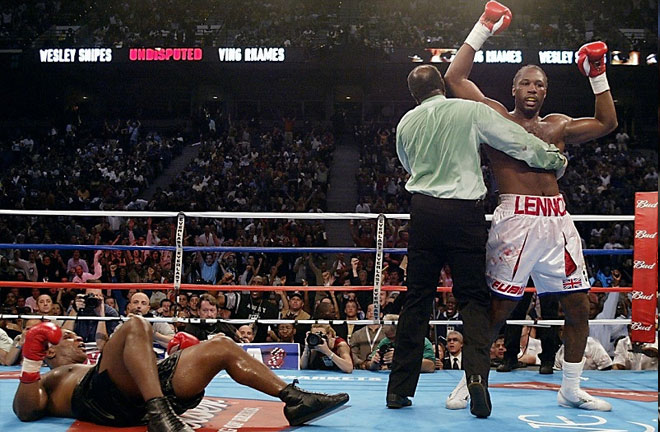 "After the Mike Tyson fight he went to the mountain top, obviously he and Mike Tyson go way back as kids. One of his coaches used to take him to the Catskills and they used to spar and spar some good, tough rounds.
"After Lennox beat Mike Tyson in Memphis, Tennessee Lennox felt he had achieved everything because before that he had beat Evander Holyfield, he had avenged his two losses against the two guys, Hasim Rahman and Oliver McCall, by knockouts.
"His ultimate goal was to beat Mike Tyson and once he did that, flawlessly."
Lennox did go on to have one more bout which was yet another fight that went down in the history books. Lewis defeated Vitali Klitschko in one of the more memorable Heavyweight battles of the last 20 years.
It was however supposed to be Kirk Johnson in the opposing corner and Lewis only proceeded to fight Klitschko because Lennox was co-promoting the show.
Harold Knight can be proud to have been a part of a special journey. A journey which he will remember for the rest of his life. A journey which was his destiny.
"After all these years, I've been with Lennox since 1989, over 30 years associated with Lennox Lewis. I'm one of his last coaches that is still here alive.
"I started with him and I was fortunate to still be on the train when it came to the last stop with him. I just want to thank him and his mum for being a part of history, man. A part of his legacy.
"I'm honoured and grateful. God had something better for me after I was forced into retirement. There were other things planned for me, I just didn't know what it was but this is what was planned for me."