Commonwealth Light Heavyweight Champion & British Title Challenger Tony Bellew Talks His Past and Future, and Shares Opinions on Some of the Big Boxing Headlines:
"I'm a boxer puncher with improving defense. Charismatic. A hard worker…". Ask Commonwealth Light Heavyweight champion Tony Bellew to briefly describe himself and the words fly out as quickly and directly as his left hook. The likeable 27 year old Liverpudlian, 14-0 with 9 KOs, is hard at work preparing for his next bout on Frank Warren's upcoming 30th anniversary show in his hometown of Liverpool. So hard at work that there is no let up in training during the interview. Bellew's answers are accompanied by the thud of the heavy bag.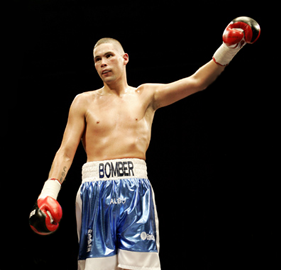 So how did Bellew find his way into boxing? "I began as a kickboxer at a very young age. It soon became clear my real talent lay in punching. My coach advised me to try boxing and I've stuck with it ever since". After claiming 3 ABA national titles at heavyweight and international honors when representing England, Bellew left the amateur game and joined up with trainer Anthony Farnell in Manchester.
Over the last 3 years the unbeaten "Bomber" has become one of the most exciting fighters to watch in British boxing. If you go by the nickname "Bomber", you better be able to back it up. So far that hasn't proved a problem for Bellew who has power in abundance. Since joining the professional ranks Bellew has produced some spectacular knockouts as he has climbed the ladder. "I'm a massive puncher" he says. " I've never trained a day specifically on power in my life. Its natural 1 punch power".
Perhaps Bellews most impressive win to date is a one round blow out of Jindrich Velecky. What makes the victory more impressive is the fact that Velecky had taken current WBO Super Middleweight champion Robert Steiglitz the distance in his previous bout. After powering to 14 straight wins, Bellew was initially scheduled to take on Danny McIntosh for the vacant British Light Heavyweight title on December 11th.
As hard as Bellew hits in the ring, he is also very capable of landing verbal blows outside of it. After McIntosh claimed his summer holiday was, "Ruined by a load of scousers in tracksuits," Bellew replied, "After his comment about Scousers in tracksuits, I'm one scouser in a tracksuit that can't wait to get his hands on him". The pair became engaged in a war of words until frustratingly for Bellew – and the fans – the match fell through. Bellew has a good idea why.
"McIntosh just doesn't fancy it. I'm not angry about it, just disappointed he pulled out after all the talking he did". The pullout has left Bellew without an opponent for the show. As the fight is virtually in Bellew's backyard he is keen to get an opponent finalized. "Hopefully the British title will still be involved. We'll see".
Bellew's last outing was a Commonwealth title defense against Prizefighter competitor Bob Ajisafe. With the then British, European and Commonwealth champion Nathan Cleverly summarizing for Sky TV, Bellew produced a lackluster display in front of his domestic rival. It appeared he may have been too keen to look good and impress in what was a big showcase fight for him. With the possibility of his next fight being for the British title and in front of thousands of his home fans, is there a worry the same may happen again?
"No, no no. That wont be a problem. I've learned and I'll be switched on from round 1. I've fought at Everton Park with 500 of my own fans there before and won the Commonwealth title on a big show in Liverpool and it didn't affect me. I wouldn't even say I was too eager to please, I just got caught up in the moment. The first 3 rounds were so easy I just tried to take him out". It was a night of firsts for Bellew. His first Commonwealth title defense, the first time he had been 12 rounds and the first time he found himself on the canvas.
"I made a mistake being caught square on. I wasn't hurt or embarrassed by being on the floor, I was embarrassed by having made the mistake," he says. "On the positive side, I got 12 rounds in and I'm glad it happened now instead of in a big fight with a banger and being down on the floor panicking. In sparring I've taken flush shots from David Haye and not been dropped and Frankie Gavin's hit me harder in the gym. It was a knockdown though."
There can't be another light heavyweight in the world who trains as hard as Bellew and is so keen to improve and make the most of their talents. Bellew is fanatical about his training and can be heard shouting, "Big men don't train like this! Featherweights train like this!" as he starts another round on the heavy bag.
"I'm working really hard on my defense. I study the great defensive fighters like James Toney and Floyd Mayweather. My boxing work is done here at Arnie's and twice a week I go to Finch Farm to do strength and conditioning work with Everton football club. As well as running I also do a lot of ladder drills and plyometrics to help my explosive power and I'm really interested in biomechanics. Lots of fighters throw a punch and whether the punch lands or misses it just finishes there. I'm working on returning the punch. A punch should start and end in the toes."
There is a fine line between confident and cocky and although Bellew is very sure of his own ability, he also has very realistic targets. Bellew wants to reach the very top and has a plan to get there. "Obviously I want the British title next. After that I'd love to win the European. Gabriel Campillo (who faces Thierry Karl for the vacant belt early next year) is a really good fighter. He really beat Shumenov twice but got robbed once. After the European title I'll be looking at people like Karo Murat or maybe the American Yusaf Mack and then a world title, I'd love to fight Shumenov."
Bellew's take no prisoners approach to the sport, and his sheer power, ensure he already represents a dangerous outing for any European based Light Heavyweight and as long as there are no unexpected hiccups along the way, he should be pushing for meaningful fights at world level within the next 18 months. One thing is for sure, his march to the top will be well worth watching.
BELLEW'S BOMBS
As well as being exciting in the ring, "Bomber" can also be relied on to provide straightforward and entertaining views on anything to do with boxing. In the first of what could become a regular series, Bellew gives his opinions on some of boxing's current talking points. The interview took place the week prior to Glen Johnson's meeting with Allan Green.
JAMES TONEY'S MMA DEBUT; Pathetic. I can defend a takedown better than that. At least I know how to sprawl.
HOPKINS GETTING A SHOT AT JEAN PASCAL; I fancy Hopkins, Too seasoned.
DID MARGARITO KNOW ABOUT THE HAND WRAPS?; Margarito knew. Only a blind man wouldn't and even then I'd be skeptical.
UPCOMING FIGHTS; I fancy Williams to stop Martinez, I also fancy Pac Man to stop Margarito in about 8 to 10 or maybe quicker!
THE SUPER SIX TOURNAMENT; I fancy Andre Ward to win it and I've been talking about him for a long time. He's a star. Allan Green shouldn't be in it and Glenn Johnson will beat him. The whole country should be proud of Carl Froch. I have total respect for him. If he had signed with Warren he'd be a global star by now.