"I had thirteen amateur fights and only won three! I didn't care if I won or lost like I said I just wanted to make friends. I didn't have big dreams. I didn't care if I won or lost because I had no aspirations of becoming a world champion.
"I just went there [the gym] to be part of a group, we travelled on the bus together and we would all train together.
"They didn't understand it with me because I didn't care but they did care if they won or lost. I was the butt of the joke in the gym because I would still carry on coming and keep persisting.
"Again it wasn't to become a champion, I thought that's where my mates were. At times I went to a fight and thought I hope my opponent doesn't turn up. That's just how it was."
Johnny Nelson didn't care for trophies or titles, he didn't even care for wins, Nelson just wanted friends. Seeking popularity, it was the Wincobank gym where Johnny headed to. Over the years he would make friends and share the gym with the likes of Prince Naseem Hamed, Herol Graham and Kell Brook.
"I didn't actually want to fight. I just went there [the Wincobank gym] to make friends.
"The school I went to, there was a certain group from the rough side of Sheffield we got picked to go to a posh catholic school, the majority of us, we weren't well to do kids so by the time I had finished school the mates that I had, they were rich kids so they would go off to university or to work for their fathers.
"I wasn't a brainiac at school so I had to start again.
"I had my friends that lived on my doorstep but you didn't really socialise with them that much because you had kind of stuck with your school mates.
"So once I had finished I thought I need to start again here, do something I can get attached to and it was just to make friends, I didn't want to box.
With the late, Brendan Ingle it was more than a friend that Nelson got, he found a man who was special. Ingle guided many fighters inside the ring, but it was outside of the ring where he shone brightly.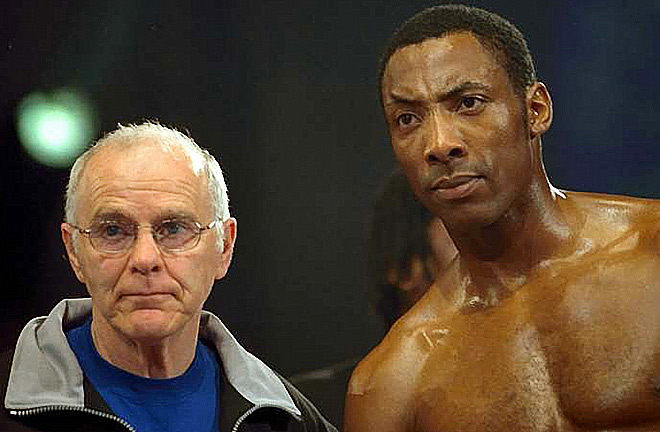 "Without Brendan Ingle, there would be no Johnny Nelson.
"Without Brendan I wouldn't have boxed, from the first day I set foot in that gym I knew I couldn't have boxed if I had walked into any other gym.
"I remember when I was in school and my mum sent me to London to get a job and I went to a gym there and these guys were in there battering each other and I thought 'no way, I ain't doing that man!'
"Brendan's style of training, his way of teaching, suited me.
"Brendan is not just a boxing coach he is a life coach and he moulded me.
"He told me 'Johnny you won't become good until you're in your 30's.' He said this when I was a teen and at the time I thought I don't want to be boxing when I'm 30-odd.
"Brendan coached me, he schooled me, he was my friend, I trusted him and he is one person I will always respect.
"Everybody has that one mentor, that person that guided them, Mike Tyson had Cus D'Amato, David Beckham had Alex Ferguson."
'The Entertainer', as Nelson was nicknamed, didn't discover self-belief for a long time. A poor amateur record followed by five losses in his first 11 professional bouts, it seemed the journeyman route may be the best option if Johnny was going to proceed with his boxing career.
Suddenly nine wins in his next nine bouts, including seven stoppages, Nelson found himself fighting for the WBC Cruiserweight World title against Carlos De Leon and Johnny had home advantage facing the champion in Sheffield.
However, it wasn't to be a successful evening for the 'Steel City' fighter.
"I looked at De Leon's record and at one point he was the best Cruiserweight in the world and I thought he is top drawer, I am going to get exposed here and that is how I fought, negatively, not realising that I can do it. So the mind is a very strong tool. The one thing I learnt from boxing is that your mind is your biggest opponent, not the man you're fighting.
"So I boxed De Leon and drew and I can understand the frustration of folk because they saw a young man throw away the opportunity to change his life and still the penny hadn't dropped.
"But once that had happened everybody had turned against me it hurt that much that all of a sudden I felt I had to prove something to myself and to those people that turned against me because my friendships changed overnight.
"People who were all over me during the build-up to that fight didn't want to know.
"This was human nature at its worst and I thought; 'Wow this hurts' so that affected me and made me want to achieve.
"That was the beginning of the turn around for me. I didn't realise it would take almost nine years after that to get the World title."
The penny would drop, many would think years too late. Nelson wasn't your average boxer who believed in himself even after amateur trophies and earning a World title shot in the paid ranks.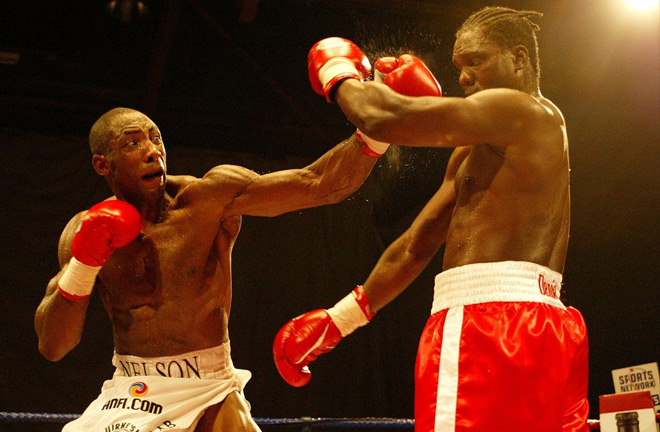 "I had won titles and I actually didn't think I was that good, I just thought everybody else was crap! I had no self-belief.
"I just thought they were rubbish and that I was lucky to get in the ring with people that can't box that well, that was what I actually thought that's the honest truth.
"When it came to boxing for the World title, I was panicking thinking I am going to get exposed here, everybody is going to realise I am a fraud, they will see I can't really fight and the guys I have been beating are crap.
"Not thinking about the other side like the glass is half full, I am actually not bad so when I fought De Leon for a World title in Sheffield I can understand people's frustrations, because they saw I had the ability when I didn't see it.
"I didn't perform, because I panicked thinking I am going to embarrass myself in front of people here and get knocked out. In thinking like that, I was completely negative."
Thankfully for Johnny, he did go on to achieve his share of greatness within boxing and Brendan was right, it would be from 30-years-old that Nelson would reign in the 175lb division.
After his draw against De Leon, it was the power of the mind that had let Johnny down. Now it was different, now his mindset had changed, his mind was his most powerful tool.
"To me, the reason why I know that I was different from most of the successful guys in the gym was that once I had won the World title, I didn't become complacent.
"I wanted more, I thought right now I have achieved that but it wasn't enough, I thought, is that it? I want more than this, this isn't it.
"Each time I boxed I didn't think I could get complacent then I realised I had the same mentality, not the same ability, but the same mentality of your Ali's, Frazier's, all the successful fighters that managed to win titles and unify titles and still fight and put on performances of top-level because you got to think to yourself it's very hard to motivate yourself once you have climbed that mountain.
"To me, I had got it, I thought I knew I won the title but it's not enough, I was still hungry and then the belief started to come.
"I thought I'm different and each time I won I never ever was complacent, I always had that hunters mentality.
"I find with a lot of fighters they win a title because that's their dream, but once they get it they usually lose it in the first or second defence because their drive, ambition and desire is no longer there because they have got what they want.
"When I got the World title it still wasn't what I wanted, I wanted more I didn't know what it was, but I wanted more and that's what drove me on."
The puncher turned pundit went on to become World champion winning the title in 1993 before losing the title and having a spell at Heavyweight. The losses at heavyweight started to tally up so a move back down in weight and a restart button was pushed.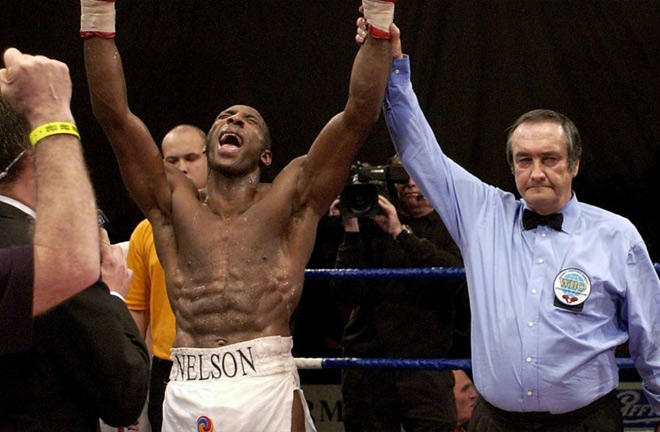 It wasn't until 1999, when Nelson reclaimed a World championship belt, but it was until 2005 and retirement, before relinquishing the title.
Johnny became the longest-reigning Cruiserweight World champion ever. A second record held by Nelson was that he had the most World title defences in Cruiserweight history, a record that was matched by Marco Huck.
"Creating that record is something I didn't even think about until I had retired, it wasn't a big deal to me.
"They made a big deal out of Marco Huck matching my record and that's when it came to light, but looking at Huck I thought this ain't real, this guy has only boxed on his own doorstep, that's BS.
"The record was a bigger deal to everybody else rather than it was to me because even when I won all those defences I still wanted more it wasn't enough for me."
Even in retirement, Nelson held the same powerful mindset he had accrued in his career. The winning mentality. The desire to be better than the man in front of you. The former champion decided to come out of retirement and challenge Huck. It wasn't the usual case of a fighter missing the punches but a story of pride.
"He [Huck] got offered about £600,000 and still kept moving the goalposts and kept saying he wanted this, he wanted that.
"I thought it was an excellent story because both fighters have created a record.
"Why not put both fighters in the ring with the record at stake, I never lost it in the ring, he achieved it in the ring when he invited me out to Germany.
"I told him the truth, I told him that he has done well but he is not really a champion because champions are able to box all over the world and come back, he never boxed outside of Germany and they didn't take to kindly to my words.
"It was a great story also because of my age and his age at the time it's intriguing because they are thinking a young Johnny Nelson would've dealt with Marco Huck. But how will an aged Nelson deal with him?
"I didn't want to come back for a career and I made that very clear and I think that's what might have been a stumbling block to any promoter who expressed an interest in the fight.
"I just wanted to come back for that fight."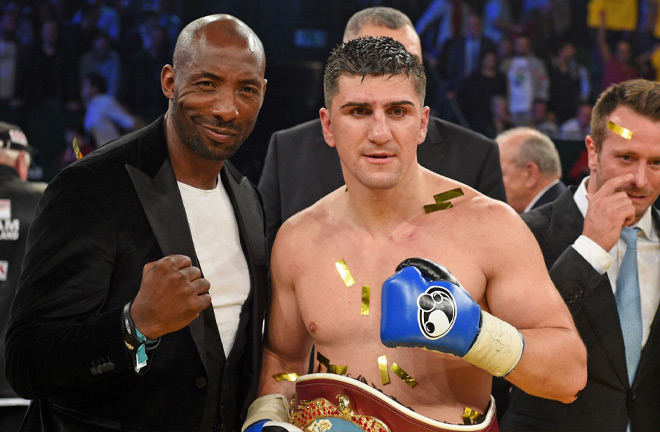 "I didn't want a warm-up fight. I didn't want to pick that fight and have a few more I just wanted that fight, because it takes long enough to get it out of your system it would have taken me six to eight months to get myself back into fight condition.
"I knew I was fit, but then there's fight fit. My 50% fitness is probably Huck's 100% fitness, but when I boxed my 100% fitness, I was never matched because I knew I was fit and knew I could do it and that was the secret to my success.
"So I said give me six months to get fit and we are on and the fight was almost done, but Marco Huck kept moving the goalposts and his former promoters said to me 'look, Johnny, he doesn't want to fight you.
"You're either going to make him look bad and he wins or you win and his career is over because of your age.'
"It would have been an excellent story, but what did he do, he went and boxed in America for around $300,000 and lost. I thought 'more fool you.'"
Aside from Huck, there was one more that got away. Juan Carlos Gomez, who challenged Vitali Klitschko for the WBC Heavyweight World title in 2009, was the dream fight for Johnny.
Gomez had successfully fought for the Cruiserweight version of the WBC World championship 11 times before vacating to move up to the Heavyweight division.
"I would have liked to have unified the World title, for me I would have like to have boxed, people won't know this guy, Juan Carlos Gomez, this guy was a Cuban, he was unbelievably brilliant, he was the WBC champion when I was WBO champion.
"It's a fight I would have loved to have had, because I thought he was a really good fighter and I would have beaten him and beaten him well."