Toney has choice words for Randy Couture, the Klitschkos, David Haye and more
The always quotable James Toney, a future Hall of Fame boxer who has fought from middleweight to heavyweight, now has a multi-fight agreement with the UFC, and will be debuting at UFC 118 against MMA legend Randy Couture on August 28. In this exclusive interview from ProBoxing-Fans.com, Toney talks about the switch to MMA, his future plans for his career in the UFC and in boxing, why there's no catchweight for his fight against Couture and much more. This is a can't miss interview from Toney that all boxing and UFC fans have to check out.
—-[Full Interview Transcript – Explicit language]—-
Thanks for taking the time to join us today James. I hear you were just in the ring working on some new moves this morning. What were you working on?
James Toney: Takedown moves, how to defend from the guard and all of that. Making some progress, learning some new moves… I'll be alright.
What originally inspired the move from the ring to the Octagon?
JT: The main thing is I couldn't get a fight, I'm the champion (Toney holds the IBA heavyweight belt) and I can't even get a unification fight with the Klitschko sisters or David Haye. I was seeing everything popping off in the UFC with everybody fighting each other, and I thought, oh man, let me try this. Then I heard Dana White say that MMA fighters were better than boxers. I said oooh! Pump those brakes, baby. I came in there and here we are.
Have you ever done any MMA training prior to your new agreement with the UFC?
JT: This is my first time doing any MMA stuff, and I love it. I feel good in the gym.
What's been the hardest aspect of making the switch into an MMA fighter and is anything tripping you up?
JT: Nothing's tripping me up, I'm an athlete and if you're an athlete you can master anything. I'm the best fighter in the world. The most danger for me is wrestling, I ain't a wrestler. That's the hardest thing, is all of the moves.
You're 41 years old and you'll be 42 years old by fight night, and you've been a boxer essentially all of your life. So what makes this the right time to make the move to MMA?
JT: Like I just said, I'm the best fighter in the world and I can't even fight in my own sport. So I'm coming to the MMA world where they think MMA is better, so here we are. Hey, I'm not here to say MMA sucks, I'm here to make a statement for boxing. I like MMA, I've never been a hater, I'm not one of the boxers that's hating on it. I love the sport and I think it's good for everybody. It's good for the sport because they make the best fights and boxing can use that, you know that. OK, I'm going to interview you right now…
Bring it on…
JT: When was the last time you were interested in a fight?
Heavyweight division? It's been a looong time..
JT: Alright, any division in boxing…
Mosley-Mayweather had me going for a bit, I was hyped for that.
JT: But what was your honest opinion about the entire card?
The whole card sucked.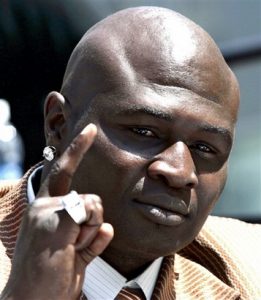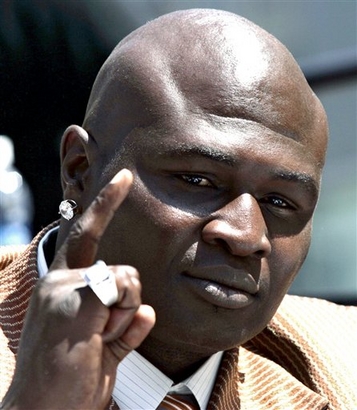 JT:  Thank you! Thank you very fucking much! In MMA, you get the whole card filled with great fights, and if you've watched an MMA fight you see during the prelims everybody's asses are in the seats. In boxing aint nobody is in their seats. The UFC puts together great fights, Rashad and Rampage and all of that. And here we are, with big fights and you get to the fight and you're disappointed.
That's what I'm trying to do… but with these Klitschko sisters, they're bad for the sport. David Gay is bad for the sport. Bob Arum he's still doing his thing… I love Bob, he's a great guy. But he's playing protecting the pussy. He's putting a PPV card with [Julio Cesar Chavez Jr.] against John Duddy, a class B and class C fighter together. You never see that in MMA. The other night, Chris the Crippler Leben, [Stephan] Bonnar, the whole time everybody was getting loud. That doesn't happen in boxing anymore.
Alright, so speaking of MMA fighters that you like, what do you think about the quality of boxing in MMA right now? Do you think there's anybody out there that could transition successfully to the top levels of boxing if they wanted to, whether that's somebody like Anderson Silva, BJ Penn or Georges St. Pierre…
JT: Nah. They don't have the full skill set. But you know what, for MMA they're excellent. Silva, St. Pierre, BJ Penn who's a friend of mine, they do a great job. But coming to the boxing game? That would be a big mistake.
You've always been a slick boxer with great defensive skills, is that what you're going to be planning on doing in there in Octagon, slipping all those strikes?
JT: Oh you know that, that's my game. I'll ground and pound, knock 'em out. I'm not going nowhere, I'm not running from nobody. Never have and never will. I'm going to be the first man to hold the UFC Heavyweight championship and the [IBA] boxing heavyweight championship.
Alright so you're taking on all comers in both sports then. How many fights do you have in your UFC agreement?
JT: Three… Everybody said I'm done with boxing… I'm not done with boxing. We're going to do both. I plan on destroying everybody I fight. I'm pissed off because they're knocking on me, but they're not doing nothing but making me mad, making me hungrier, making me strong, making me busy.
So we have a mean, focused James Toney right now?
JT: Yes sir.
Of course you're known as "Lights Out", now you get to put on those tiny MMA gloves. Can you feel the difference in your power as you've been sparring and training?
JT: Oh man! I told my man, careful, we're going to jail after August 28th for murder.
What do you have to say to all of the people out there who said that the UFC shouldn't sign you, that you're just a sideshow in MMA and all of that?
JT: God bless 'em, you know what I'm saying. You'll find out for yourself if I'm a sideshow. The only sideshow there was, that was Kimbo. The other sideshow is between my legs, they can see that if they want to.
There's been a lot of talk about the catchweight for the fight, can you talk about that and what it is?
JT: Aint no catchweight. I'm the heavyweight champion of the world in boxing. I aint making weight for them. If they wanted a catchweight they shouldn't have even signed the fight. Just letting the world know you're scared.
So you're coming in as a heavyweight?
JT: That's what I'm doing, I'm in great shape like I was for Holyfield, I'll be spectacular when you see me you'll think I'm a bodybuilder like Mr. Olympia.
The Holyfield fight was way back in 2003 and I think you were down to what 217, 218 or so in that fight, that's what you're planning on coming in as for this match?
JT: Actually I was 212, it's been a couple of years. Trust me, you'll be happy. You'll be happy when you see it.
Do you think Couture will stand and trade with you at all, to test you out and prove it to himself?
JT: Randy aint got no balls. He's ball-less. He's gonna try to take me down and he's going to get knocked out.
What's your plan B if Couture takes you down to the mat?
JT:  If he takes me down, he'll be knocked out on the ground. Aint nobody ever been knocked out with the other guy on their back before, he'll be the first one.
What's your ultimate goal in the UFC? You've mentioned wanting to win the heavyweight belt and winning both the boxing and UFC belt at the same time…
JT: At the same god damn time, you know what I'm saying?