"The crowd was hostile when I was going out. They were all screaming at me, telling me I was going to die, and spitting at me. But after the fight was all finished, they were all around me asking for pictures. It was mad!"
For his first time fighting abroad as a professional, Welsh flyweight Jay Harris chose a baptism of fire. But an opportunity to fight fearsome Mexican knockout artist Julio Cesar Martinez Aguilar in Texas for a world title was too good an opportunity to turn down.
Martinez had already dispatched fellow Welsh talent Andrew Selby, former world champion Cristofer Rosales   and Charlie Edwards, although Edwards was given a No Decision reprieve following a late bodyshot when he was on the canvas.
There was no fairytale ending for Jay either, as he found himself on the wrong end of a unanimous decision, but the nature of his display won over those who had doubts about his pedigree, as he announced himself on the world stage as a very much live contender.
"It was an excellent fight," Harris told proboxing-fans.com.
"I've watched the fight back a couple of times and you could see how frustrated he was and I think that played a lot into my hands as well.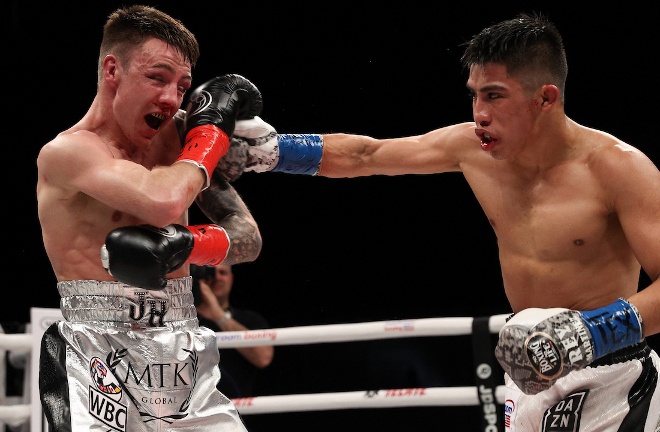 "The best way I could describe his power was that it wasn't really like a knockout shot, he couldn't knock me out, but on both hands every shot hurt.
"I think that's what breaks down a lot of other boxers but I was quite durable I think.
"It was one of the best experiences I've ever had in boxing. Being amongst the likes of Mikey Garcia and Jessie Vargas.
"It was completely different to anything I've done before, the set up was brilliant. We went out there a week before and everybody treated us really well.
"Everything was done for us and then it really sunk in when all the head-to-heads started happening. It was such a surreal experience."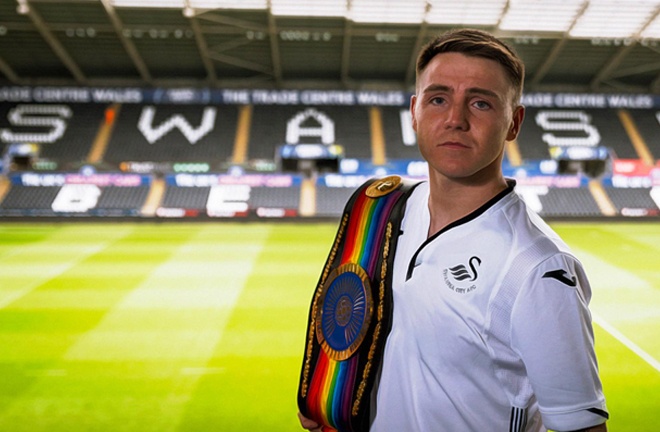 The step up was a huge one for the boy who started off his professional career seven years ago at a Welsh Leisure Centre for a purse of £100.
His career has had plenty of tough moments with the 30-year-old admitting he had considered turning his back on the sport after struggling to get fights.
"I was pretty close on jacking it in," Harris added.
"When I won the Commonwealth title I pretty much got put on the shelf for months. I have no idea why.
"Gary (Lockett – his manager) didn't know. No one knew. Gary was nagging to get me on and there was nothing.
"They would just say they were sorting stuff out and then weeks and then months went by and nothing."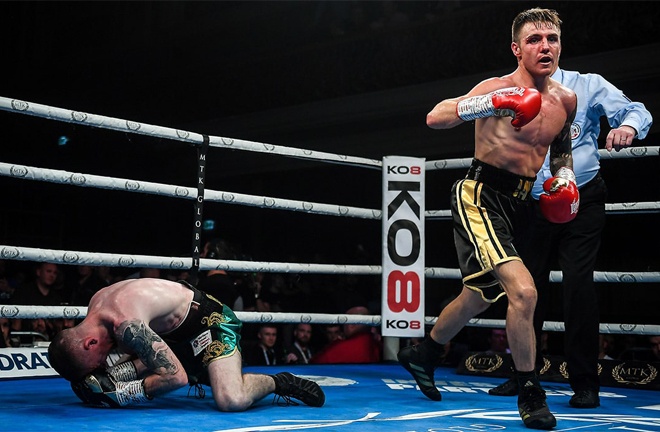 More inactivity followed, but he finally got the fresh start he needed when he signed a promotional deal with MTK Global. Within a space of a year he was fighting for the vacant EBU European Fly Title – a decision win against tough Spaniard Angel Moreno – and then putting on a brutal display to knock out and retire Irish Olympian Paddy Barnes in Belfast.
In his own corner, as always, is his dad and trainer Peter, a former British featherweight champion.
The father/coach relationship historically in boxing is a complicated one, that often ends in acrimony, but that's clearly not something Harris is worried about.
"He's been with me since I was 12," Harris explained.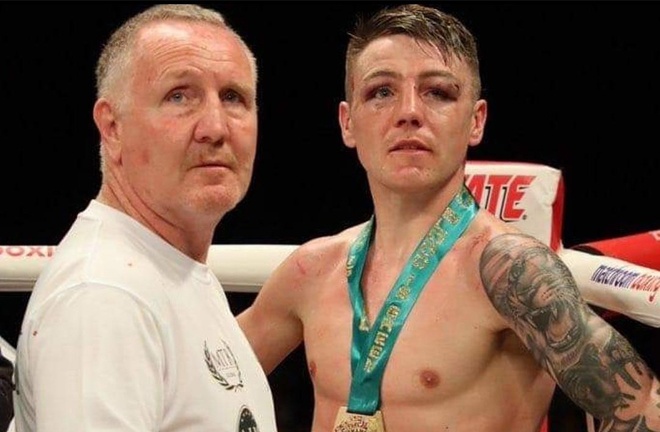 "Obviously we butt heads on a few things but I can't really fault him. He's done it all himself as a pro and he doesn't want me to make the same mistakes as when he was training. He is strict in that way, but it's worked so far and it's got me where I have.
"Dad's words are 'he'd rather be in the corner than sitting on the sidelines.' He has more control over what can happen. He can give me advice when I come back.
"The main problem for him is that his life is on hold as much as mine. He can't really book stuff and go away with my mother and that until he knows when I'm fighting."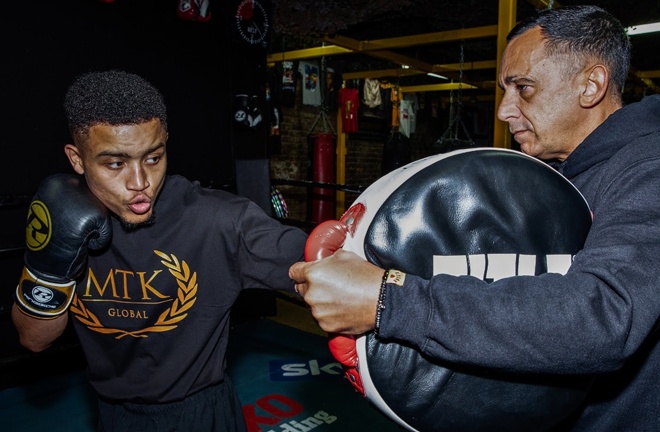 Next up for Jay is a tough Commonwealth title defence against Marcel Braithwaite behind closed doors in Wakefield on October 18th.
Speaking about the challenge of the Liverpool man, Harris explained: "He's not a bad fighter to be honest. He had a great fight with Sunny Edwards.
"He knocked him down in the seventh round. It was a good shot as well.  It's a good one to get back out to I think.
"We got told it could be a keep busy fight but to be honest I didn't want one. I wanted a proper fight and that's what I've got.
"Hopefully, after that I can challenge for the bigger titles then, the world scene.
"That's what I'm hoping for but I just leave that to Lee Eaton (MTK Global)  and Gary (Lockett). They will guide me in the right direction anyway."
A prospective fight that has created a lot of interest on social media is a showdown with Sunny Edwards.
"Loads of people have been asking me about that – there is a possibility – we both have the same management.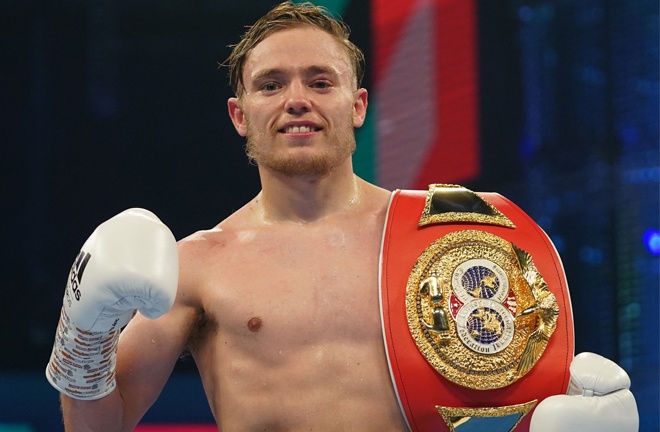 "We do get on quite well as it goes. We do keep in contact on social media and we always have a chat, but I think there's a potential fight down the line," he said.
One silver lining of fighting for the world title in Texas is that he's finally found himself in a position to quit his job working in a Swansea Amazon warehouse.
In true Jay Harris style, he doesn't have a bad word to say about the retail giant, despite it regularly courting  bad press. A gentleman out of the ring, but an absolute terror in it.
"The job was really easy – I couldn't really complain so I don't understand why they get so much stick sometimes!
"I have got a full time sponsor on board now who is paying me every week to box, but Amazon were really good to me to be fair.
"Whenever I had a fight they would let me swap my shifts around and they gave the time off for the world title fight. It was good for them because it was a bit of publicity."
His former employer's slogan is 'Work hard. Have fun. Make history.' Only the third eludes him, but you wouldn't bet against him pulling it off.
Written by Matt Aplin. Follow Matt on Twitter (@southpawko1)