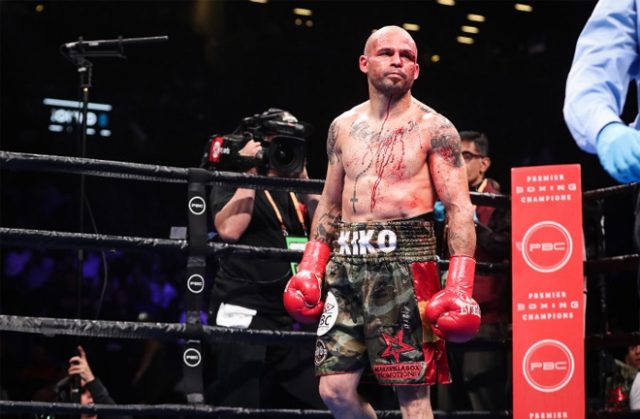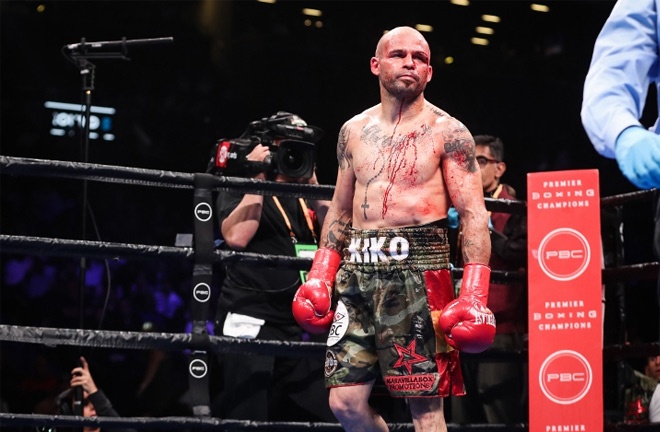 La Sensación, Kiko Martinez has quite the resume when compared to even the very best who have entered the squared circle.
Nine European title fights alongside seven world championship bouts littering Martinez's 52 professional fight resume is a testament to just that.
Champions such as; Carl Frampton, Gary Russell Jr, Leo Santa Cruz, Scott Quigg and Josh Warrington consume the Spaniards boxrec profile, painting a picture that the former super bantamweight world champion is ready and willing to jump into the cauldron with very little hesitation.
Kiko was just 22 when arriving on Irish shores in 2007 to take on 'Dublin's Number One Son' Bernard Dunne.
The Irishman was 24-0 when crossing the path of Kiko Martinez, Dunne having never lost in Dublin as an amateur or professional and was on a meticulous path towards a world title.
Martinez was up against it to say the very least at The Point in Dublin on a raucous summer evening.
With a full head of hair and a record of 16-0, a young Kiko Martinez was set to make his mark on the sport claiming his first European title.
"It was a dream for me the whole experience. I was walking out in Dublin to thousands of screaming Irishman, the atmosphere was incredible. I was down as a 60-1 underdog! I turned up and smashed him to pieces in his own backyard inside a round." Kiko Martinez gleefully continued in an exclusive interview for proboxing-fans.com.
"The feeling was indescribable, I have never felt such an emotion. I suppose you have to experience something like that for yourself to have any idea."
Martinez would go on to lose his European crown the next year to Rendall Munroe on British soil, again falling short in a rematch a year later.
However, the name of Kiko Martinez now meant something in the super bantamweight division despite the two defeats.
Martinez's path saw another reign as European champion with victories in Ireland, France and Spain.
The next stop would be Belfast to square off against a prime Carl Frampton, a dance that would take place twice.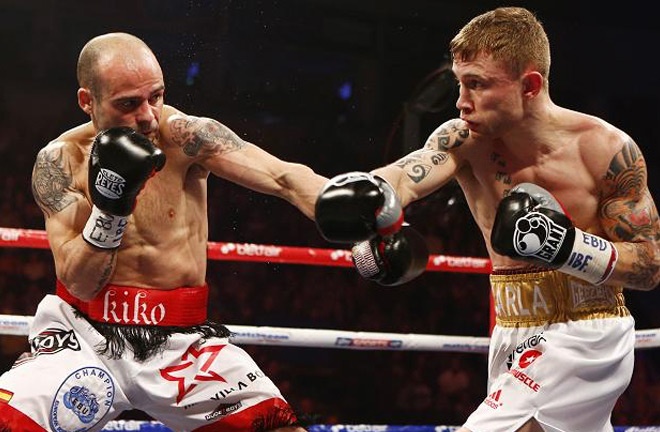 "The best fights I have ever had are against Carl Frampton. Those two fights were very mentally and physically exhausting. It was the best I have ever trained also, and still they were my toughest fights. Frampton is the best man I have shared the ring with."
Kiko was to lose by a 9th round TKO on his first voyage to Belfast, what was to follow however was what Kiko Martinez had always been waiting for. Within two fights he would be crowned champion of the world.
"I had just won the WBC Latino title in Argentina a few weeks before my world title fight. I was actually meant to be defending my title in Santa Pola, but during that time I received a call to fight in America for the world title against Jhonatan Romero with just six weeks notice.
"For me this was going to be the biggest test in my life. I remember thinking that, 'this is a great opportunity to test myself against the very best,' I couldn't wait to find out how good I was compared to these champions.
"My form was very good at the time and I said, 'yes,' almost immediately. It was great for me to get this opportunity and we of course all know the result."
The result was an impressive sixth round stoppage against an undefeated Jhonatan Romero in Atlantic City. Martinez would make two defences of his IBF Super Bantamweight Title.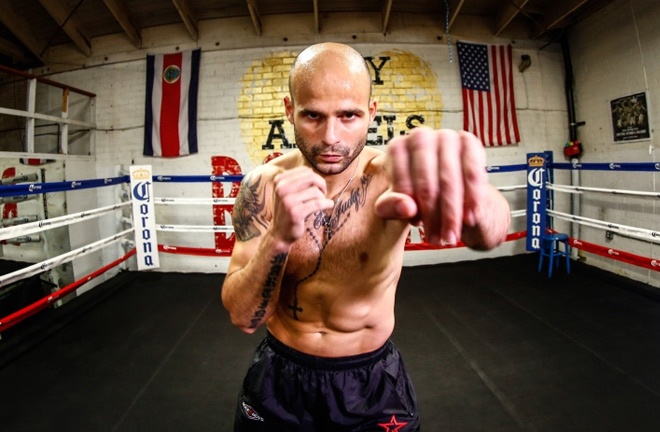 Firstly in his native Elche and an impressive halting of Hozumi Hasegawa in Japan followed. It was the stuff dreams were made of when just a teenager in Spain.
"I started at 13 years of age just as a way to defend myself. I lived in a small town where there were a few bullies and bad people, someone even shot one of my animals once!
"I was usually out and about on my own and had to defend myself all the time, boxing just fit perfectly into my life. I was never a natural boxer though! I had to work very hard to become good at it. I had to drag myself up many times and just try and find a way to constantly improve." The Spaniard continued.
"I'm very competitive by nature. I'm pretty good at most sports like football, but I stuck with boxing because at a young age I just knew deep down that if I stuck with it I could become a champion. I have always enjoyed fighting, I knew this was the path for me.
"There was never any doubt even when I would really fail in the gym. I knew I could make something of myself in boxing."
Martinez moved the conversation towards the state of the sport in his beloved region, a topic that tends to take the same direction.
"There are no real boxing roots here in Alicante. No pool of fighters in this area really, it has never been a very big sport here. All the things we have managed to achieve in Alicante have been done with an incredible amount of effort and hard-work.
"I personally came into boxing just by chance, most people like kick-boxing or MMA. Boxing is definitely a minority sport here."
Kiko has certainly woken up the sport not just in Alicante, but for the entire nation. The mere mention of the name 'Kiko' to anybody within Spanish boxing is always received with respect and admiration.
The people of Spain are well aware that he carried the flag for Spanish boxing alone for well over a decade during a time of severe decline for the sport.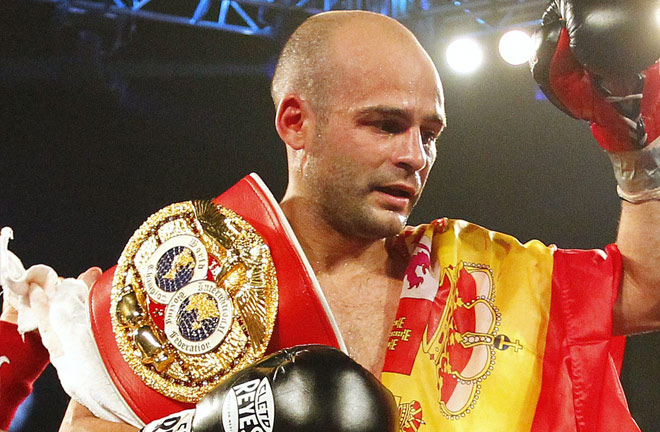 The professional and fearless profile created by the Spaniard already appears to be serving him well in his new role as trainer and educator to those looking to emulate the man himself.
"I have already started training some kids in the region. I have been teaching my young nephew, he has just been selected by the Spanish national team to compete in the European championships in Montenegro.
"There are a few kids from Elche I am training in the amateurs who could have good futures in the sport too. I am slowly making the transition from active professional to trainer, but it's something really for the future. I am planning the career move already, but I still want to fight for the time being.
"You know I really love and enjoy this business. I want to leave fighting whilst I am still enjoying  myself, I am not interested in leaving the sport damaged and not all there anymore. I am 34-years-old now and I am not going to hang around forever, maybe a year or two more in the ring for me.
"I want to start enjoying my family more and look after my general health too. I have become very aware of who I am, I know mentally I will always think as a winner and be competitive, but my body will not keep up.
"I'm not stupid, I know very well that I have a year two left to compete inside the ring. It's nature."
The record, journey and fearlessness of Kiko Martinez's career can only be admired. Willing to jump in with the world's very best has served him admirably despite falling short in many of his toughest tests.
His final words during our chat further embodied the spirit of Alicante's greatest assassin.
"I don't have any respect for a lot of these guys. Obviously there are so many great fighters and champions who I have shared the ring with, I have a lot of respect for a lot of people in the industry.
"However, there are some fighters out there lying to the public, having poor fights, charging the public to fight absolutely nobody for many of these fights.
"For me when a fighter is resorting to such tactics to sell I lie to the public about how good he is, that career is over in my opinion from the moment any fighter chooses to do such a thing. The fighter knows deep down he is a liar, It's not good for boxing that type of thing."
Follow Adam on Twitter @Adam4cSports