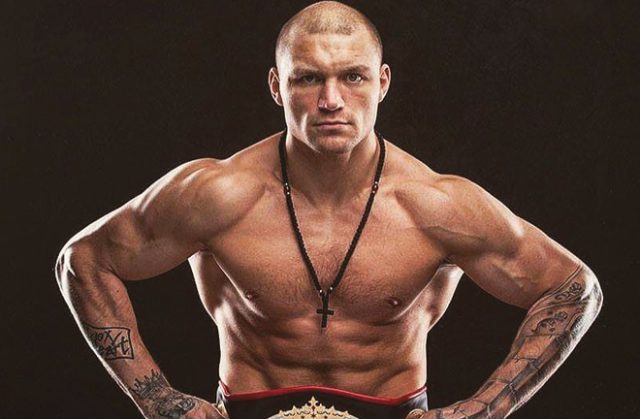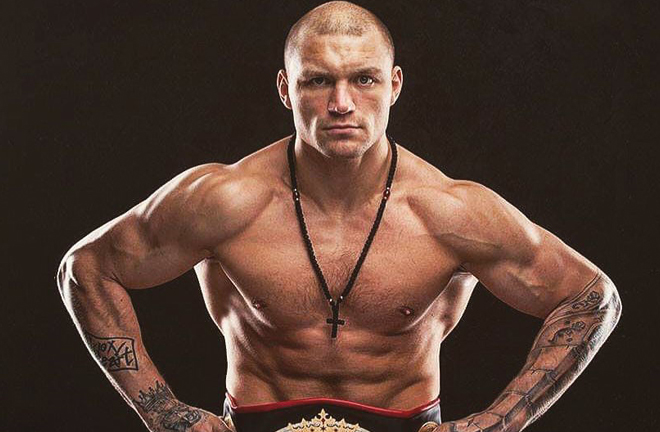 The story of athletes turning to the pugilist craft after decades in far different sporting disciplines are now familiar tales. NFL, NBA and even former English football professionals have gone on to have more than adequate careers in boxing, some of these tales even lead to the pinnacle of the sport.
Current WBO European Light-Heavyweight champion Ricards Bolotniks' (16-5-1) story adds a brand new flavour to the concept of sport switching.
Like many young Latvian boys, the passion is ice hockey, the national sport of Latvia, the country taking great pride in those who make it all the way to the NHL from the proud far north eastern European nation.
"From a young child, like most kids I loved running around and playing sports.
"My first sport was ice hockey when I was eight years old. I wasn't very technically gifted though, I was a very aggressive player and I kept fighting in the matches. It got to stage where that was my role in the team, just to fight!
"It turned into zero hockey and one hundred percent fighting.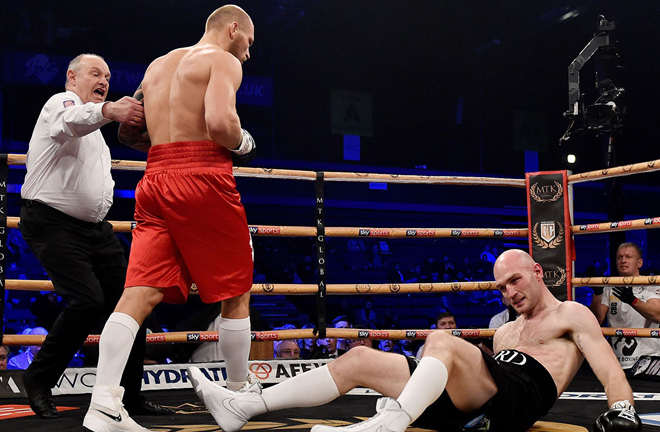 "I was putting on ice skates to go and have a fight, it slowly started to make sense to me that I was in the wrong sport. But I didn't actually start boxing until I was 23."
Despite Bolotniks' Goon persona on the ice, he was playing alongside some of Latvia's future ice hockey stars. Many of Bolotnik's team mates in-fact nearly make up the entirety of the National team on this present day.
An aptitude certainly existing in some form, unbeknown to a young lion slowly coming of age.
"I was just going to the gym as a hobby at first. At the time Maris Briedis was getting huge, I saw him on the TV and told my mother I wanted to be like Briedis.
"I can't believe it sometimes! He asked me to spar many years ago and we have worked together ever since.
"We now have the same coach and work alongside each other, it's brilliant for me. I'm inspired constantly."
Having first stumbled across Bolotniks in his hometown of Riga, the capital of Latvia. It was a last minute trip to soak in the inaugural World Boxing Super Series (WBSS) cruiserweight semi-final between hometown hero Mairis Briedis and Ukrainian pound-for-pound star Oleksandr Usyk.
Barely knowing anything of the other Latvian fighters taking undercard slots in their home nation, it was Bolotniks who peaked my interest at the weigh-in.
With a cheeky smile, mischievous demeanour and an impressive war cry to boot, as the Latvian displayed his chiselled yet stocky physique to a packed house at Arena Riga, ahead of a cruiserweight bout with Danish contender Micki Nielsen (24-1 at the time).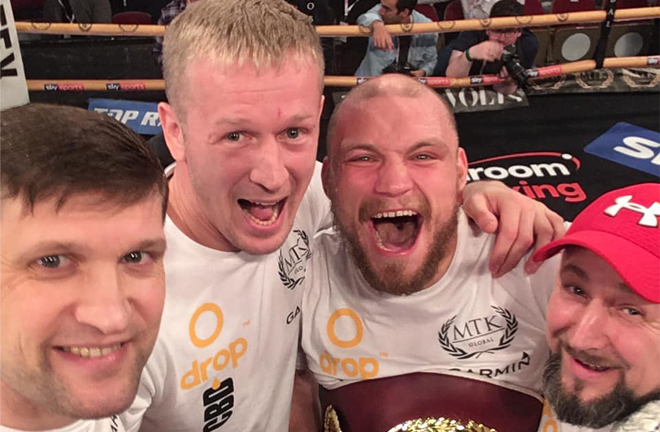 The Latvian's record stood at just 10-3-1 on a bitterly cold January evening in 2018, Nielsen the clear favourite in a fight expected to teeter the Dane towards some sort of a title shot.
Nielsen added the fourth defeat to Bolotniks' increasingly demure record.
Upon losing a closely contested split decision defeat, I considered Bolotniks to be unlucky on the night, personally giving him the nod, as did the majority of reporters sat ringside alongside me.
"The Nielsen fight was actually after quite a long break!" Ricards tells me in amazement as he recalled the last years of his career sat at the Olympic Centre in Riga.
Raising his hands to air, Bolokniks continued: "Everyone thought I won that fight! Everyone who has eyes that work!
"I hadn't been in the ring for well over a year. It was a pretty tough period actually.
"I had three separate operations on my biceps, [laughs] which I'm sure you know are pretty essential to boxing.
"I lost a close fight, but my career took off after that. I had a good knockout win again in Riga two months later, then we flew off to South Africa to face Thabiso Mchunu.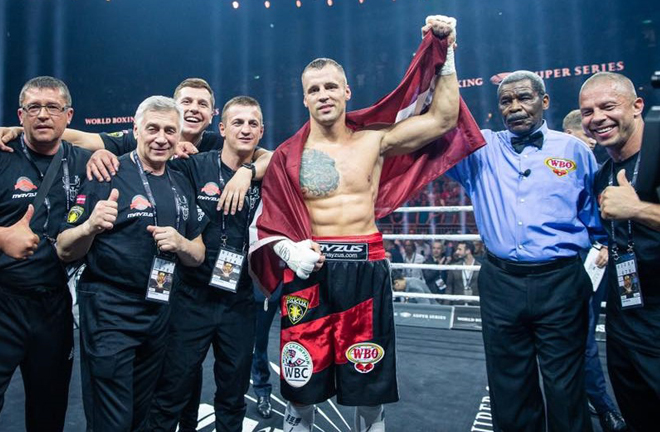 "I lost the fight, but all the time I was learning, learning to be a different type of fighter on a different day.
"What I'm trying to say is that anything can happen in a fight, you need to be adaptable, ready for anything.
"After South Africa it was decided that I would move down to light heavyweight, where it's going pretty well for me," Bolotniks said grinning in the same manner as he did on the scales serenaded by David Diamante during his introduction to 'The Lion.'
A rebuilding process began. LNK Boxing who coincidently have struck a partnership deal with management powerhouse, MTK Global, began turning Bolotniks out on home soil whilst he adapted to his new weight.
Four fights later on the ever popular LNK Fight Night series and another undercard appearance on the WBSS, which included hotly contested bouts against relatively average opposition in Patrick Mendy (18-13-3) and Gasan Gasanov (16-7-1), Bolotniks found himself pitted against the highly regarded Russian; Sergey Ekimov (18-0) last October.
A calculated, yet at times slow contest saw the Latvian get the unanimous decision win over Ekimov, leading Bolotniks to an emphatic first round knockout victory over Northern Irishman, Steven Ward (12-0) in the first round of the MTK Golden Contract live on Sky Sports.
"It's funny. Everything was being offered at once.
"I had accepted the Ekimov fight already, I was headlining the show which the promoters had invested a lot into.
"It was a big show from top to bottom, with me in the biggest fight of my career fighting in front of my own people.
"Then, as I'm midway through camp there was talk of me going into this tournament in the UK.
"We then got the offer to participate. What could I do? I didn't want to pull out of the Ekimov fight and let everyone down. But then, this was a massive opportunity.
"We rolled the dice, accepted and had to deal with Ekimov. I had to be a little cautious because I had this big opportunity waiting for me, but Ekimov didn't make it very easy to have a proper fight."
The 30-year-old claimed the WBO European strap in his destruction of Ward, booking a spot in the semi-finals to take place in the UK.
During the Coronavirus pandemic, the baltic nation of Latvia has enjoyed a less turbulent time compared to most across Europe.
Virus rates have been low, and the scenes of lockdown have not really come into effect. Live sport being one of the very few parts of normality that have been disrupted.
However for Bolotniks, 'The Lion' would not be as fortunate as his countrymen back home.
The MTK Golden Contract semi-final set for March was abandoned on fight week, as the UK along with most of Europe proceeded with states of emergency.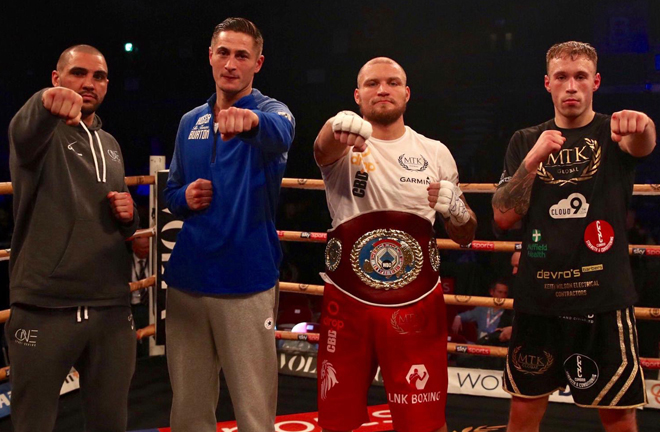 The last four is awaiting a new date with Bolotniks joined by Hosea Burton, Liam Conroy and Serge Michel, as the quartet chase a shot at glory and a two-year MTK deal.
"It was a sad moment. If it was in a soap opera you would see me with a tear on my cheek.
"Obviously though, I'm a man and could I handle it.
"But, my coach and family all put a lot of effort to get me ready, it was very disappointing for everyone involved.
"Then I had to deal with getting back home. Europe was literally shutting down as I was in England.
"It's usually just a nice easy two hour flight home, but I had to travel to three different countries to get home.
"We flew London to Germany, then from Germany to Estonia.
"In Estonia me and my coach drove from Estonia to Latvia. Then I had to quarantine for 14 days.
"I've got back into things quite quickly though, I'm keeping fit and healthy. Gym is open, so that's good.
"The coronavirus is bad, but you got to keep your chin up.
"Focusing on family and friends. It's very weird this whole thing. Some believe it, some don't.
"To those who don't I think they should put some gloves on and join me in the ring. I'm pretty sure I can make them believe it! You like that?" Ricards ending his message with a cackle.
It's been quite the journey for Bolotniks, starting as young ice hockey enforcer leading him on the unlikely path to a lofty 12th position in the WBO rankings.
Having covered all his bouts since his defeat to Nielsen in Riga, I've been bored, excited, nervous and everything in-between. The explosive performance in Essex adds more to the this ever-intriguing story.
While the UK government, MTK Global, BBBoC and Sky Sports navigate their way to achieving live sports once again, Bolotniks awaits eagerly, a little excitement every-time the phone rings anticipating a call to battle. 
For now though, this tale is stalled with; The Lion at the gate.
By Adam Noble-Forcey
@Adam4cSports