We would excuse Richard Abril if he's a little bit angry and confused about the scorecards from his recent fight with Brandon Rios. The vast majority of the boxing community not only feels that he won his contest against "Bam Bam", but that he in fact dominated the encounter. Of course, the judges decided – either shockingly or predictably, depending on your perspective – in favor of the star attraction.
The official tallies had Abril losing by scores of 112-116 and 113-115, with the third judge, Adalaide Byrd, scoring it 117-111 in his favor. With the loss, Abril's record drops to 17 (8)-3-1.
Abril not only missed out on the opportunity to add an extremely impressive W to his resume, he also missed out on the chance to bring home the full WBA lightweight title, and an extra $50,000 in the form of a promised bonus to the winner of the fight. (Rios was ineligible for both the title and the bonus after failing to make the lightweight limit of 135 lbs).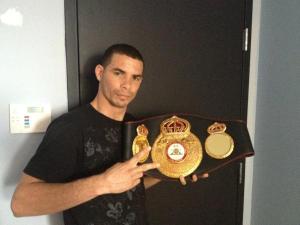 It's not as if this is the first time Richard Abril has been down this road, either. All three of his career losses have come via Split Decision, and in all three fights he was facing a bigger name opponent.
First came Breidis Prescott in 2008, and after Prescott got the nod there, he went on to get a shot at Amir Khan in his next fight, memorably crushing him in 1 round. Next came a then a still-undefeated Hank Lundy in 2010, and finally the Rios bout last weekend.
But Abril isn't angry and he's not lashing out. He's taking it all in stride and getting ready to move on with his career, toward bigger and better things.
I caught up with Richard Abril once he returned to Miami for an exclusive interview to hear his thoughts on the fight and the verdict, what comes next, and much more.
It's been a few days now since the fight… Obviously you think you deserved to win, and most of the boxing community feels the same way. Are you as personally outraged as many fans and analysts have been about the decision, or are you trying to take that in stride?
Richard Abril: I'm trying to take it in stride. I'm glad that everyone tells me that I won the fight, but I'm taking it in stride and I'm going to get back in the gym and begin training for the next fight.
Have you had time to watch the fight on TV yet?
RA: Yea, about 10 times.
Ok, so you haven't wasted any time there! Have you learned anything else from watching the fight, or do you feel any different about the fight and its outcome now?
RA: The only thing that changed is that I was more nervous watching it than I was in the ring.
What do you think you did that was most effective against Rios?
RA: I went into the fight with the game plan to study him for about 4 rounds, and after that I took it over, and stuck to the plan.
What has it been like for you to receive so much support from fans following the controversial loss?
RA: It feels good to have all those people behind me. It gives me courage to go onto the next fight with people knowing that I won. I feel good about it.
What's worse – not getting the win over Brandon Rios on your resume, not getting the full WBA title, or not getting the winner's $50,000 bonus?
RA: The belt.
Well, if it was me the $50,000 might have been the worse. But the WBA has ruled that you are still the interim titleholder at 135 lbs. What does that mean to you?
RA: Whatever they want to do with the belts is fine. I think I beat the best 135 pounder in the world and I'm ready to fight whoever.
What did you think of Rios not making weight before the fight? In your opinion, was his performance affected by being weight drained?
RA: It seemed like the weight didn't have much to do with it. I think the frustration he had had more to do with it. It started when I smacked him and all the way through the press conferences and that frustration affected his performance not the weight.
Even though you lost the fight, it was the most exposure you've received as a professional fighter. Do you look at that as a positive you can take from this experience?
RA: Absolutely.
You've been a hard luck guy in your career – all three of your losses have been split decisions. What does that make you feel about the sport, and is that motivation for you?
RA: I feel like I won all those fights but I wasn't supposed to win those fights…. When you're in the wrong corner from the guy who's supposed to win. I understand that, but I think I won them all and I deserve to be 20-0.
Rios already has his plans to move up to junior welterweight, likely to fight Juan Manuel Marquez. Would you follow him up to 140 lbs for a rematch, or a shot at the winner of that fight? Or are you looking maybe at another rematch at 135 lbs with somebody that beat you, like Hank Lundy?
RA: Of course I'd rather fight the legend, Juan Manuel Marquez. But I'm staying at 135 and collect as many belts as I can, no matter who I'm fighting.
What are your goals for the rest of the year?
RA: To defend my WBA belt, and maybe unify it before the end of the year.
Anything you'd like to say in closing?
RA: Thanks to everyone who has been giving me support on Twitter (follow him on Twitter here) and Facebook and Youtube and everywhere else. I love all of that, and I'll be training hard and looking forward to having a good year. I want my fans to expect the best from me. And I'll make anybody I fight look like Rios did.
Comments
comments