"After the first two or three lessons my wife came to me and she said 'Sophie likes to box' and I was like 'oh my fucking god!' I saw myself sitting some day, because she was very talented in tennis joining the national team after only one year of tennis, with a drink in the players lounge. Now the girl wants to box, a male dominated sport."
A father's reaction knowing his daughter wants to box for a living. Fortunately, Sophie Alisch is one of the most talented prospects in world boxing.
Her father Michael has backed Sophie from the start and has a bigger role to play than just her father. He is also part of her management team alongside OneSport, and for this interview her translator in parts.
"I was in the textile business," Michael exclaimed.
"I had many companies. Distributing exclusive brands from the United States, our job was to build up new brands.
"The best we did was with a brand called 'Ed Hardy' which was very popular between 2006-2010.
"Christian Audigier, [the founder of 'Ed Hardy' and 'Von Dutch'] was a good friend of mine and business partner and we built the brand up in Europe and that's my background.
"Building brands up, it doesn't matter if it's a t-shirt or a person.
"It's a brand name in sports so it's the same. I'm taking care of how her name is developed."
Sophie Alisch, the brand, is certainly creating a buzz around boxing but it's Sophie Alisch, the boxer which has got people talking.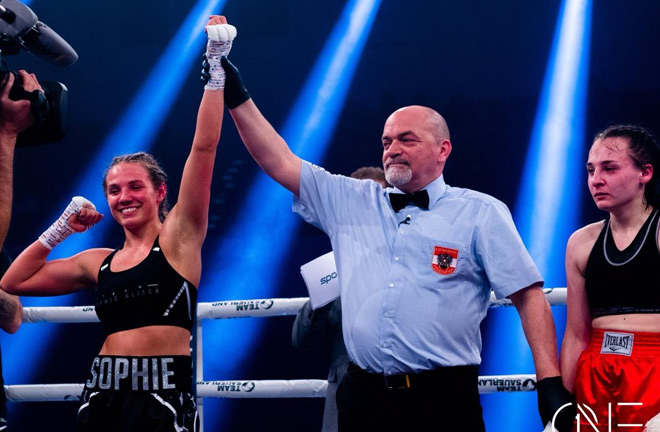 Alisch was nominated for the WBC prospect of 2019 after an outstanding debut year as a professional, a perfect record after five bouts.
Sophie was signed by Team Sauerland whilst an amateur. It was a decision made with no regrets twelve months later.
"We had some problems," Sophie explained.
"I was in the amateurs but the Olympic Games were in jeopardy, no one knew what was happening because of this AIBA problem we didn't know if the Tokyo Olympic Games was going to happen.
"I had my spot in 60kg and everything was good with the federation but, Tom Dallas [the matchmaker for Team Sauerland] reached out and made an offer.
"It was always a dream to turn professional. We talked about it with the family, the offer was really, really good. We said just take the bull by the horns and don't think about it."
Growing up it was clear to see Sophie was going to be an athlete in some capacity. Whilst living in Austria as a young girl it was tennis in which she excelled.
"I grew up in Berlin. I had a good childhood, no problems. I did a lot of sports.
"We moved to Austria for five years, where I started to play tennis, then we moved back to Berlin where I started to box.
"I learnt footwork that's also important in the ring. Also, speed and agility."
Recalling her first day in the gym, the eighteen-year-old remembers vividly what should've been a daunting moment she passed through the doors to find a gym filled with boys.
"Oh yeah, it was only boys. I was the only girl but it was not frightening being the only girl in the gym, because I wanted an additional sport besides tennis.
"In tennis you cannot do everything with power and in boxing you can hit hard.
"Of course tennis is an individual sport but I like to punch people in the face, yeah, I like it."
Most eighteen-year-old women will usually be updating their TikTok, experiencing nightlife and wondering which lipstick to wear.
Alisch is different. Alisch is driven. Alisch has ambition.
"I have a goal. My friends are partying and they have no real goal to reach. I'm the opposite I want to reach my goal.
"Of course if you're eighteen it's normal to hang around. Most young people don't have a goal of course.
"I'm training twice a day, six days a week, I have no free time to go and party or go out with friends. I train, eat, sleep and repeat everyday."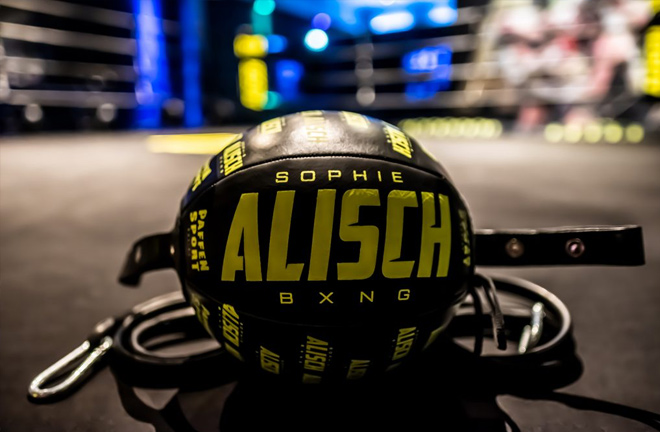 It's not just being a professional boxer that makes Sophie stand apart from the rest. At such a tender age she has opened her own gym in Berlin.
"I'm very proud. I have my own gym at the age of eighteen and other normal girls at this age are doing other things and I've got my own gym.
"I opened it for me so I can train there, the Sauerland fighters can come and train here when they are in Berlin.
"It's like a family business, my close family are working there, and it's also open to the public.
Sophie proudly continued. "I wanted to invest my money at an early stage because you never know what happens in professional sports and I'm not going to throw money away on cars and bags.
"It's always more secure to stand on two feet rather than one that's why I decided I'm investing my money into a second business."
The official unveiling of the gym brought some familiar faces to the opening day. British Super-Flyweight champion, Sunny Edwards took the short flight to Germany to be there after speaking to Sophie on social media.
"My management agency, OneSport, manage Denis Radovan who was training with Grant Smith and Sunny Edwards.
"I was really happy he would take his time to come over. Sunny said he was a big fan of mine and the way I boxed.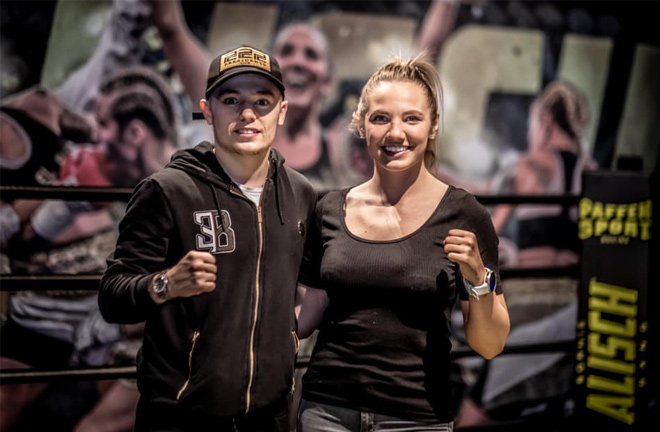 "We spoke over Instagram and I was opening the gym and of course invited him. He came and it was a big honour. Those brothers are really cool guys and great boxers."
The relationship between father and daughter is a special one. An unbreakable bond, which is why the Alisch's working relationship is the right one. Michael is a father who will not do wrong by his daughter.
"It's very simple. The sports life takes all your time, if you want to do something right, you have to invest everything.
"When she was an amateur I wasn't satisfied with how the federation was treating the athletes. I always thought it could be better.
"I want to give her the best surroundings because she only gets one career. You don't have a second shot so you have to do it right from the beginning.
"I decided to sell my shares and businesses and take care of the career of my daughter."
Sophie admitted there are turbulent times between the pair, but what parent and child don't have their fair share of tiffs.
"Sometimes it's hard. But I'm very lucky to have my father by my side because I don't know where I would stand now without my father," Sophie continued.
"It's a special relationship."
Sophie has shown she is a driven and determined young lady with her sights set on her goals. Follow her career closely because she is creating a legacy.
"I want to be a world champion, maybe in other weight classes also.
"To be undisputed, hashtag all the belts. But, to stay healthy first and foremost."