"When I was in prison, I met my sister, who had been adopted by another family. It was the first time I'd seen her in 11 years. She came and visited me and that broke me. I actually said to her the other day, 'I'm sorry. I'm sorry that I put you in that position.'
"Since she'd been adopted, she hadn't been accustomed to the life that I had, so I felt horrible knowing that I'd put her in a position where she had to see what the inside of a prison looked like, or had to come and sit opposite me for a short amount of time and try and get to know me in the 11 years that we'd missed.
"Then, having to walk away from me, knowing she was leaving me there must have been an awful burden for her to walk away with. Still, to this day I feel horrible that I put her in that position." 
Twenty-one-year-old Whitney Clark, now a Youth Justice worker didn't have the easiest starts in life. "My mum has eight children and social services thought she couldn't care for us. At the age of eight I was put into a foster care home due to physical abuse, neglect and emotional abuse.
"Four of my siblings got removed a year prior to me and my sister, then three of them ended up being adopted. Then my mum had two more children after me and my sister got taken.
"Me and my sister ran away 47 times, well, that's how many times it was reported. We'd be missing for days and days each time. Then, when we were 12 we took our local authority, which was Wandsworth at the time, to court, because we were on a Section 31, which is a full care order until you are 18 years old. We had to apply to the court to get the order revoked so we could go back home and live with our mum. 
"We took them to court, got our order revoked and went back home to live with our mum. But that wasn't ideal either. I was in care up until the age of 12 and then me and my mum didn't really get along. However, my nan was living with us at the time and she was ill, so the main focus was on her really. Looking after her. But when she died, it all just turned to shit. My mum would kick me out when she felt like it. I was homeless on and off and then I went back to care when I just turned 17."
With the volatility of an uncertain bed for the night, Clark had to resort to other sleeping arrangements. "It was only a few days at a time here and there, sofa surfing, sleeping on park benches. But because I was already streetwise, running away from home from the age of 10-years-old didn't bother me. It was just the feeling of not belonging anywhere I didn't like. I didn't know where to go and in fairness, I had nowhere to go. The fact that my mum didn't want me at home said it all. I had to get on with it. When you are presented with a situation and you have nothing else to do, you have to go with it. 
"I took every day as it came. 'Is my mum going to let me home today, or is it another day trying to find somewhere to sleep? Or will you be wandering the streets? Or maybe going on the 24 hour night buses?' These were questions I was asking myself every day. If I wasn't going home, then I had to find other avenues in order to either keep warm or to just keep busy and if I was allowed home, I'd go home."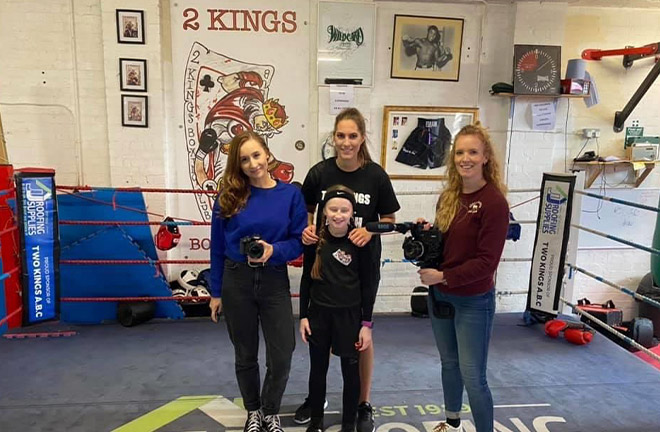 Without a positive influence in her life, Clark's life began to fall apart. "My first arrest happened when I was 14 and that was for ABH. I didn't get in trouble again until I was 16. My first ever conviction was to do with my mum. We would get into fights and arguments and she would provoke me to a point where she would involve my little sister, who means the world to me, or my nan and there would be a physical fight and she would call the police on me and they would come and arrest me. That's kind of where it all started with me getting in trouble with the police consistently. 
"I also got arrested for Affray, which was completely separate to my mum. Then GBH, which then got knocked down to common assault because they didn't have CCTV footage. Knife possession was another."
Clark was given a suspended sentence for knife possession on the onus she would wear a tag. Unfortunately, she rebelled against the conditions which came with the regulations.
"I breached my tag regulations, disregarded the whole system and what they wanted me to do. When breaching, you know you are doing wrong and you know where it's going to lead, but ultimately, you don't see it at the time of doing it. At the time, I thought I was this invincible person who was going to get away with the absolute world, because I didn't care. The thing is, deep down I did care but nobody was asking me why I was behaving like I didn't. The breach was simple, but in the broader scheme of things, meant so much more." Consequently, Clark's breach led her to HMP Bronzefield at the age of 19-years-old. 
The London based resident recalled her most poignant memories behind bars. "Seeing people come and go. You have a lot of time to think in prison, when you are sitting in that cell. It can either make you or break you. To some degree, it broke me, because I realised what I was doing to myself, but it made me because I knew that there was no way I was going back to that same person before I came inside. 
"I'd been advocating young people since I was 17 in the justice system, the care system, the mental health system. I'd travelled up and down the country, spoke at the House of Lords, been to Buckingham Palace, been to 10 Downing Street and I think it got to a point where everything I was doing before prison, was like I was living a double life. On one hand, I was going to all these places and I was talking, advocating for young people and talking to them about how they needed to change. Then I'd leave them and do the complete opposite. 
"I sat there and had to pick which life I wanted. Having been failed by so many systems my entire life, I knew that was not something I wanted to contribute towards another young person's life – but ultimately, that is exactly what I was doing. I was failing myself, so I was also failing them.
"I wasn't living up to what I was telling them. I had three choices. Either carry on doing what I was doing, going in and out of prison, or, I was going to end up dead. The final option was, I was going to change my life.  Number two wasn't an option for me. I have siblings and I had systems to change, young people to help and I knew that if I kept doing what I was doing, I wouldn't be able to do any of that. 
"When I came out of prison, as hard as it was, I had to cut people off. But then you realise they weren't really friends. They didn't contact me when I was in prison. They didn't come and see me. They didn't send me money. The only people that came were the people who loved and cared for me, who had seen the position I was in."
Whilst in a state of limbo, solace came in an unlikely form. "I tried boxing when I was younger and absolutely hated it. When I came out of prison I didn't know what to do with myself. I didn't have any hobbies. My only hobby was doing stupid things. I knew I needed an outlet and somebody said, 'Why don't you try boxing again?' I replied, 'I'm not sure if I can be bothered.' 
"At the time, I was still in contact with my youth offending team, and they went to Two Kings Amateur Boxing Club (based in New Malden) and they took groups of young people there. They said, 'Why don't you come with us?' I decided to go with them and absolutely loved it. I walked out of the gym feeling like a different person.
"I'm the sort of person who is generally very shy when taking on a new skill, because I'm so scared of failure. I was so scared to mess up that if I walked into the gym and made myself look like an idiot or thought that I wasn't good enough at it, that would normally set me back, but the gym was different. It was a totally different community. Being a female is often completely different walking into a gym environment, but that was different here. I never felt like I was failing. Everyone was really welcoming and were very helpful. There were great vibes and it felt like a form of home. 
"The discipline at Two Kings is completely different to anything I'd experienced before. You can't just go in there and think that you are Mike Tyson, because that won't work. Boxing teaches you a different style of fighting in life. It shows you how to engage, but with control and a clear head.
"When you master something in boxing, it's a different sense of achievement. It's not violence related or aggression. Like, learning a new punch combination on the pads or mastering that skipping rope, because my footwork is awful! I've developed my boxing technique and although my footwork isn't great, my punches are getting better. I throw a mean hook now.
"The instructors are patient and nobody has ever been patient with me in that way. All my life I've been fobbed off or nobody has wanted to teach me anything. Up to the point before boxing, everything I knew, I'd taught myself because nobody had the time of day for me. But in that gym, they do have that time for you. They teach you. They talk to you like you are human."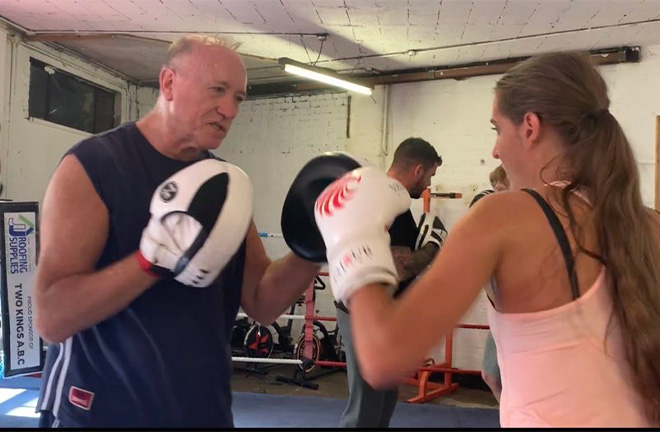 Head coach at Two Kings ABC commented. "Whitney is a really nice human being. I think boxing has helped her grow up a little bit, matured her in a sense, which is what boxing does to a lot of people who come into the gym. Boxing helps to give her a little bit of purpose. Focus on something positive with her time. Get herself a little bit fitter and keep her mentally sharp. She's good to have around the gym, helps out on the pads and the kids really like her. She has a lot to offer." 
Clark's intention is to become a qualified boxing coach, however it hasn't been an easy ride since walking out the gates of HMP Bronzefield.
"About 18 months ago, I was diagnosed with anorexia. There's been points when I wasn't physically able to walk, let alone throw a punch. I have to be at a point where I know I can coach properly before attempting to go for qualification, because I don't see the point of doing something if I don't do it properly. But that's certainly one of my aims in life, to become a boxing coach.
"My aim in life is to help young people and give back. I've seen what boxing has done for me and if I can contribute to making somebody else see and feel the same as I in boxing, then that's a victory. My advice to anybody in prison or who has experienced tough times in life? Don't give up. Life throws a million rocks at you, but it's which one you pick up that's important."