Montiel vs. Donaire Bantamweight Title Fight Showdown
On February 19, Fernando Montiel and Nonito Donaire tangle to determine whom the top dog is at 118 pounds. The winner of the upcoming bantamweight tournament final between Abner Mares and Joseph Agbeko will have a compelling claim, but make no mistake—this is for the top spot.
Fernando Montiel, 44-2-2 (34 KOs), Los Mochis, Mexico, World Bantamweight Champion
Vs.
Nonito Donaire, 25-1 (17 KOs), San Leandro, CA/Talibon, Philippines
Buy Donaire vs. Montiel tickets online!
When: Saturday, February 19, 2011
Where: Mandalay Bay Resort and Casino, Las Vegas, Nevada
Titles: WBC/WBO Bantamweight Championship: 12 Rounds
Montiel vs. Donaire Preview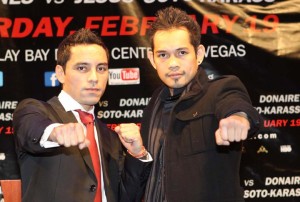 Fernando Montiel, a long-serving pro with over a decade of world-class competition under his belt, consolidated his world title claims in 2010 with a crushing title unification knockout over fellow titlist Hozumi Hasegawa. This was his biggest win and put him at the top of a thoroughly stacked bantamweight division.
Nonito Donaire burst into the collective boxing consciousness with a stunning 2007 starching of then-unbeaten Vic Darchinyan. His subsequent work has not been sterling in terms of opposition, but the "Filipino Flash" has nonetheless been dominant. He showed he means business as a bantamweight, with an impressive December stoppage of Wladimir Sidorenko—a former world champion, albeit a fading one, who had never been stopped.
Background and Resume
Fernando Montiel: Turned pro at 17 in 1996 and graduated to the world class ranks by 2000, winning the WBO flyweight strap over Isidro Perez. Still unbeaten, moved up to 115 in 2002 and won the WBO belt by knocking out Pedro Alcazar in the 6th round. Alcazar tragically passed away 2 days later. In 2003, lost to the much more experienced Mark Johnson, in the last great performance for "Too Sharp."
Montiel regained the WBO 115-pound belt in 2005 and continued making defenses. In his first 118-pound appearance, lost a split decision to WBO champ Jhonny Gonzalez. Dropped back to 115 and struggled against Z Gorres in his following fight, barely eking out a decision. Seemed to get his mojo back in 2008, smashing Martin Castillo and Luis Maldonado.
Buy Donaire vs. Montiel tickets online!
Moved up to bantamweight again in 2008 and after a series of low-profile alphabet title bouts, scored his landmark win with the Hasegawa knockout. Was getting outboxed until lowering the boom with a few seconds remaining in the 4th round. Stayed busy with a July knockout defense of talented contender Rafael Concepcion and a non-title knockout of journeyman Jovany Soto. At the end of the day, Montiel is a nearly-15-year pro who has lost only two decisions, neither of which was unanimous.
Nonito Donaire: A good amateur, Donaire was somewhat stymied by the presence of super-amateur Brian Viloria. Beat current Jr. Middleweight James Kirkland in a 106-pound Junior Olympics final in 1999. Turned pro at 18 in 2001. Lost his second pro bout and has since won 25 straight. While considered a good prospect, the first 5-6 years of his career lacked direction, as he operated almost anonymously. Vic Darchinyan was a huge favorite in their 2007 bout, but Donaire punched his ticket with an emphatic knockout win.
Donaire has been miffed by his inability to secure another meaningful matchup since the Darchinyan victory. While busy with 7 fights since that time, he has basically just been biding time. Has a chance to erase the bad taste of the past several years with a win here, which will elevate his status tremendously.
Physical Dimensions and Style
Fernando Montiel: Not a big bantamweight at 5'4," with a reach of 66 inches. Seemed to revert more to a boxing style following the Alcazar tragedy, but is sitting down on his punches more with age, with only 1 of his last 11 bouts going the distance. Not particularly quick with his feet. Makes up for it with the suddenness of his punches. Doesn't show many "tells," often surprising foes with punches that are much harder than they anticipated. A difficult fighter to get a read on, as he can level opponents who think they have him solved.
Nonito Donaire: A big flyweight, he still has decent size for this division at 5'6" and a 68-inch reach. Seems even lankier than those stats suggest for some reason and will have a decent size edge against Montiel. More of a technician in the ring, but is also capable of power surges. Fights with high levels of concentration, thoughtfulness, and self-assuredness. Chin has proven to be reliable. Has faster hands and feet than Montiel, but not as much experience at the highest levels.
Strength and Weaknesses
Fernando Montiel: A level-headed and poised veteran who is almost impossible to rattle. Powerful and sneaky, Montiel is still a very cagey and slick foe. Riding high emotionally, having recently won a unification bout on the road as an underdog, with a split decision loss being his only setback in the past 8 years. His struggles against Jhonny Gonzalez, Z Gorres, and even Hozumi Hasegawa show that taller and resilient fighters can outbox him. At nearly 32 and with a long career behind him, might be starting to head down the other side of the hill, though it hasn't showed in his recent outings.
Nonito Donaire: Versatile and talented fighter. Can usually overwhelm opponents with his supreme boxing ability, but is not lost when the action gets heated. His slashing power keeps him in good stead in brawls, giving him the ultimate equalizer. The left hook he used to discombobulate the sturdy Vic Darchinyan was one of the best shots seen in the lighter weight classes in a long time. Despite now being a top guy for several years, is still untested to some degree. Feasting on lower-caliber opponents for 3 years might not be the best preparation for a fight of this nature. While his work has at times been inspiring during this period, the only truly meaningful thing he has ever done is land a great punch that Vic Darchinyan never saw coming.
Questions
Can Donaire finish what Hozumi Hasegawa started? Montiel wasn't looking very good until the KO. Can a more robust talent like Donaire perhaps hold up better and outbox Montiel for the whole 12 rounds?
Is it possible that Donaire's undemanding recent workload was not such a bad course of action after all? Will he be the fresher fighter in the ring on February 19?
Both men's chins have withstood bombs before. But each man is capable of testing the other with shots that surpass anything they've felt before. Whose chin is more likely to hold up, especially if the fight turns into a shootout? Is Montiel's chin more reliable? Has Donaire's chin really been tested?
Can Montiel bring his power into play, or will he will spend most of the fight a half-step behind the whippet-like Donaire?
Donaire's concentration will need to be at an all-time high. Is he capable of the mental high-wire act he will need to demonstrate on February 19?
Will Donaire grow comfortable taking shots from Montiel, only to have the veteran sneak home a game-changer without warning?
Will Montiel's low center of gravity and heavy dependence on his legs to generate power make him overly stationary against Donaire?
Montiel vs. Donaire Prediction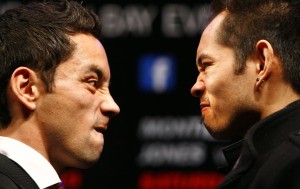 The stakes are high in this match. Both fighters are immensely prideful, each participating in the signature fight of their careers. Donaire and Montiel will be looking to put their stamp on the fight and not wait around. Look for Donaire to be mobile, but not pitty-pat. He will dig in from time to time, which will give Montiel an opening. It seems possible that a high-paced shootout could ensue.
Donaire will flash his superior speed in the early going, showing his power. Montiel might be out of sorts for the first few rounds and could even touch the canvas. Donaire might begin to feel comfortable in his dissection of Montiel and that's when he will get into trouble. In the 6th and 7th, Montiel will begin connecting with his big punches, sending Donaire to the mat once or twice.
Donaire, with the fight slipping away, will again revert to his faster feet and hands and right the ship. The last several rounds finds Donaire using movement to define the lines of battle, with Montiel remaining dangerous, though just a step behind Donaire. In a great fight that calls for a rematch or even a trilogy, Nonito Donaire will soldier through to earn a majority decision.
Prediction: Nonito Donaire becomes the World Bantamweight Champion with a majority decision over Fernando Montiel.