Fight Predictions for the July 27 Macau Card
Juan Francisco Estrada vs. Milan Melindo, WBA/WBO Flyweight Title
Evgeny Gradovich vs. Mauricio Munoz, IBF Featherweight Title
Andy Ruiz, Jr. vs. Joe Hanks, 10 round heavyweight Bout
Date: July 27, 2012
Site: Venetian Hotel, Macau, China
TV: HBO Boxing
Juan Francisco Estrada, 24-2 (19 KOs) vs. Milan Melindo, 29-0 (12 KOs)
In his last bout, Estrada lifted Brian Viloria's belts in this very venue. He returns a little over 3 months later to defend his laurels against unbeaten Filipino contender Milan Melindo. This is an important bout for Estrada. Even though he showed a lot of upside in beating an esteemed champion in Viloria, he needs to confirm he is in fact the goods. Did he just beat an inconsistent champion having an off-night or is he a breath of fresh air in the always-exciting flyweight class?
Melindo, 25, also fought on the Venetian card in Macau when Estrada won the belt, beating 23-1 Tommy Seran by 4th-round TKO. A pro since 2005, he is not just a guy with a glossy record, having beaten respectable competition like Muhammad Rachman and Juan Eaquer, among others. He will be giving away a few inches in height and reach to Estrada.
Not to undermine Estrada, who is unquestionably a top campaigner and a deserving titleholder, but Melindo is a shifty, intense, and quick-fisted rising commodity who just might be ready to take the next step in his career. I see Melindo having the extra gear needed to separate himself from Estrada in the late rounds to earn a tough decision win.
Evgeny Gradovich, 16-0 (8 KOs) vs. Mauricio Munoz, 26-3 (12 KOs)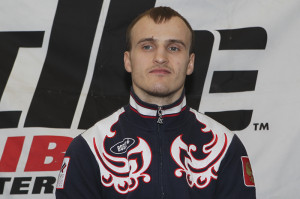 Gradovich, 26, came out of nowhere to lift the IBF title from Billy Dib in March. It was an a passionate performance where the Oxnard-based Russian won on grit and determination over his more versatile foe. A pro only since 2010, Gradovich had no wins on his record to suggest he was capable of such a feat. Obviously, being a part of Robert Garcia's stable has elevated his game to a new level.
Still, Gradovich has a lot to prove before he is to be considered a truly top featherweight. Beating Billy Dib is nice, but not grounds for greatness, necessarily. As it is, Gradovich is easy to hit and doesn't pack much power. Perhaps he will benefit as other boxers have from winning the belt, making him a little better. He is still a beatable fighter, albeit one with tremendous moxie and self-belief.
It remains iffy if Mauricio Munoz is the man for the job. The Argentine battler is a good fighter and did manage to upset hyped prospect Luis Franco in his last fight. In his only other fight with a recognizable opponent, he was stopped in 9 rounds by then-WBC 122-pound champ Toshiaki Nishioka. Also disconcerting are his 2008 and 2009 defeats to Jose Saez and Miguel Caceres, a pair of fighters with a combined 29-21-5 record. At 27, however, he may be peaking and is coming off 4 straight knockout wins.
I see this as being a well-matched fight that could go either way. Gradovich isn't going to be blowing guys like this away. But with the new champion's determination, it should be enough to see him through his first defense. I see Gradovich being a little too insistent for Munoz. Look for a hard-fought and close fight with Gradovich getting to the finish line with his nose ahead.
Andy Ruiz, Jr., 19-0 (13 KOs) vs. Joe Hanks, 21-0 (14 KOs)
It's nice to see two unbeaten heavyweight prospects tangling. Hats off to each man for taking this fight in an effort to further their careers. This is a fight of contrasts–the portly amateur standout Ruiz, Jr. against the more statuesque Hanks, who at least looks the part of a top heavyweight. Ruiz, Jr. is more fluid and quick, the more classical boxer. Hanks is the more formidable physical presence.
Looking at the two, one might be inclined to take the more-fearsome looking Hanks. But this isn't a pose-down–it's a fight. Ruiz, Jr., who turned pro at 299 pounds in 2009, was an amateur with a 105-5 mark, but being the best Mexican amateur heavyweight is like being the best at ultimate frisbee in Warsaw. Fighting a big tough guy like Hanks is a different ball game. To the credit of Ruiz, Jr., he has managed to whip himself into better shape–recently clocking in around the 250 mark. He's a nifty boxer-puncher for such a big young man.
It's difficult to gauge fighters who build their record on inferior fighters and then suddenly appear in a fight like this. Both Ruiz, Jr. and Hanks have shown promise, but so have hundreds of heavyweights who never made it at a higher level. I like Ruiz, Jr. He has fast hands for a heavyweight and seems to have an air of toughness. He goes to the body well and fires a nice jab. His right hand is a little sloppy, but you can't ask for everything.
This is a nice matchup. Hanks is built like he's cut from granite. The Newark native is a hungry 30-year old looking to break in to the big-time. If he can remain patient, withstand the Ruiz, Jr. body attack, and let his hands go freely, I see him holding a slight edge. If Ruiz, Jr. maneuvered his way to a 10-round points win, it wouldn't be terribly surprising. Hanks is going to have to really go after it, but if he does, I see him winning sometime around the 6th round.