Adrien "The Problem" Broner Fighter Profile, Bio & Record: (24-0, 20 KOs)
Young American boxer Adrien Broner has quickly gained popularity in recent years due to his exciting style, as well as his polarizing personality. Broner the WBO Super Featherweight titleholder, but last that belt on the scales and is now moving up to the Lightweight division to continue his career. Broner can be flashy and dynamic in the ring, but does he have what it takes to climb to the highest levels of the sport?
Adrien Broner's Amateur Career: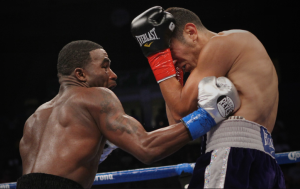 As an amateur, Broner had over 300 fights and remained outstanding amongst his peers by winning the Silver Gloves tournament in 2002 and in 2003. Additionally, Broner was able to compete and advance to the semifinals at the 2005 Junior Olympics.
Three years after the 2005 Junior Olympics, Broner made his professional debut against Allente Davis. Broner's career immediately began on an upward arc and he has been ascending farther and higher with every bout.
WBO Super Featherweight Title:
Broner was able to get a shot at a major title against Vincente Martin Rodriguez in November 2011. Rodriguez's boxing ability posed no threat for Broner's excellent defense and quick hand speed. In the third round, Broner easily took over the fight and managed to score a knockout against Rodriguez, securing his first WBO Super Featherweight title. It was notable not only for the title win itself, but for the quality and excitement of the performance. Broner had previously stunk out the joint in a win over Daniel Ponce de Leon, and needed to not only get the W, but look good in the process.
Defending the title:
Broner's first title defense occurred against Eloy Perez. The results of this fight once again proved Broner's boxing superiority as he easily took out Perez, eventually scoring a technical knockout in just the 4th round of the scheduled 12 round fight. Perez was an undefeated prospect in his own right, and Broner opened up a lot of eyes with the way he just utterly outclassed him.
Broner vs. Escobedo & Controversy
Broner's fight against Vincente Escobedo proved a disaster when he was automatically stripped of his WBO Super Featherweight title for weighing in at 3 ½ pounds over the 130 pounds Super Featherweight limit. It wasn't just that he didn't make weight, it's that he clearly made no attempt to, and didn't seem to care. His team finally bullied/paid off Escobedo into taking the fight, at which point Broner managed to secure a 5th round TKO against Escobedo.
Broner was always heavily favored to win the contest, and by giving him a few extra pounds, it was a blowout from the start. Already a polarizing figure, Broner turned off a lot of fight fans with his antics here.
What's next for Broner:
For Adrien "The Problem" Broner to continue to build up his career, he will need to start opponents with bigger names, and bigger bodies. By moving up to lightweight, Broner but this could pose more problems for the division's top fighters, encountering the likes of Miguel Vasquez and Richard Abril. Broner's career will definitely be one to watch closely in the next few years.