Alexander Povetkin Bio, Fighter Profile & Career Record(19-0, 14 KO's)
The Heavyweight division has recently been dubbed as a division that is dying out: A division that lacks the popular fighters and exciting match ups that it used to have in past years. However there are a few fighters that bring a glimmer of hope and talent to the mostly desolate Heavyweight division and one of these fighters is Alexander Povetkin, a talented Heavyweight hailing from Russia. He is seen as one of the top prospects of this division and now that he's gained some early professional career experience, he is looking to make a name for himself.
Amateur Career
Not only was Povetkin a successful amateur boxer, but was also a successful kickboxer, participating in the World Junior Games in the late 90's. However, his amateur boxing resume was much more impressive.  Povetkin's career amateur record was a staggering 125 wins with a mere 7 losses, all of which were avenged. Perhaps the biggest feat in his amateur career was a win in the super heavyweight division of the 2004 Olympics.
Early Pro Career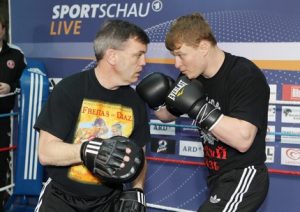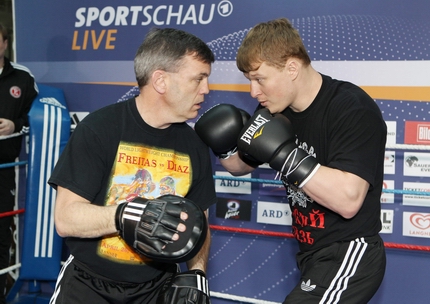 After taking a year off before deciding to turn pro in 2005, Povetkin decided to train in Russia and fight out of Germany. His early professional career was characterized by many one sided fights against overmatched opponents, but in 2007 after 2 years as a professional, he worked his way up to potential fights against bigger and better opponents.
In a fight that was thought to be a "true test" for Povetkin, he fought against Larry Donald, who has fought the likes of Evander Holyfield and Nikolay Valuev. Povetkin decisively won this fight, proving that he is ready for the big time.
Potential Title Shots
In late 2007 and early 2008 after beating both Chris Byrd and Eddie Chambers, Povetkin proved that he was the number 1 contender to face off against Wladimir Klitschko but was forced to withdraw from this potential fight due to an injury, which he took months off to nurse back to health. The back-to-back victories over Byrd and Chambers though were extremely impressive, and showcased a strong-willed and hard-nosed fighter, with a good chin, good work rate and some exciting offensive potential.
Training with Atlas
After years in Russia and Germany, Povetkin made a big career decision when he decided to come to America to train full time under the legendary Teddy Atlas, Since training under Atlas, Povetkin has continued to look impressive in the Heavyweight division, winning his most recent fights decisively.
Future
Povetkin plans to fight in Germany on October 30 against an opponent that has yet to be announced. Povetkin decided not to face off against Wladimir Klitschko, the WBO/IBF champion, even though he is the mandatory contender. Povetkin's opponent should be announced soon, but expect Povetkin to get his big title shot in 2011, once Atlas gives the okay and Klitschko finds himself without an opponent.