Amir Khan Fighter Profile and Biography
Amir Khan was born in Bolton, England on December 8, 1986, and currently owns a professional record of 26-3, 18 KOs. Khan was once a highly touted prospect and former World Champion who will be looking to rejuvenate his career following a brutal knockout loss to Danny Garcia with new trainer Virgil Hunter.
Profile updated & amended by Matt Andrzejewski in October 2012
Amateur career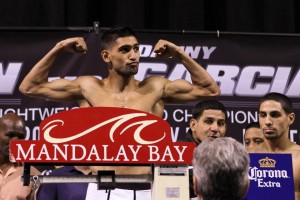 At just 17 years of age, Amir Khan represented Great Britain in the 2004 Athens Olympics, where he won the silver medal in the lightweight category. This was the pinnacle of an amateur career that resulted in a junior Olympic title, three junior ABA titles and a senior ABA title, all before the age of 18.
Khan was beaten in Athens by amateur great, Cuba's Mario Kindelan. Khan though got his revenge in what was to become his last ever amateur bout, by beating Kindelan 19-13 in his hometown of Bolton, watched by millions in the U.K. via terrestrial T.V.
Following what was a tremendous Olympic tournament for someone so young, Khan's signature on a professional contract was the hottest property in boxing. A deal was struck with Britain's most successful promoter Frank Warren and Khan's professional journey was about to begin…..
Turning pro
The job of turning Khan into a professional fighter was given to Oliver Harrison, a young trainer, although regarded in British boxing circles as one of the best in the business.
Khan's career began on July 2005 with a 1st round TKO of David Bailey. Another 17 wins followed, although Khan seemed to be retaining some of his old amateur habits and was getting increasingly criticized over his lack of defense and suspect chin after getting knocked down against Willie Limond and Michael Gomez, decent pugs, although only really pumped up super-featherweights. Finally, Khan and Harrison parted company and after some consideration, Cuba's Jorge Rubio was given the gig.
Next up for Khan was an undefeated pug from Colombia called Breidis Prescott, recommended by Rubio as a credible, yet not too dangerous next opponent. Just before the fight with Prescott, team Khan signed a deal with Sky Box-Office to broadcast future bouts on a pay-per-view format. This raised more than a few eyebrows as Khan was still relatively unproven as a professional.
First defeat- The making of a champion
After just 54 seconds into his Box-Office debut, things went monumentally wrong, knocked out by a huge right hand -left hook combination that would have flattened a horse. At a crossroads, team Khan were forced to make a series of decisions that would either make or break the Brits career. First up, the acrimonious departure of Rubio. Next up was to relocate to Hollywood to train in the famous Wild Card gym, with the respected Freddie Roach given the task in turning Khan's career around.
First fight on the comeback trail was a 2nd round demolition job on Irishman Oisin Fagan. Even at this early stage Khan was showing signs of improvement, especially in defense. Next up was a piece of pure genius match-making; The legend Marco Antonio Barrera was to travel to Manchester to face Khan in a world title eliminator. The outcome was a 5th round TKO when Barrera couldn't continue due to a cut above the eye. The truth was, Khan was just too young and too strong for the once great Barerra.
Khan then moved up to light-welter and in 12 rounds, using his superior speed and technical smarts, outclassed WBA champ Andriy Kotelnik to become Britain's youngest world champ since Naseem Hamed a decade earlier.
Following the Kotelnik fight Khan faced the undefeated Dmitriy Salita.  Salita was a former New York amateur standout with a large following.  However, Khan was able to stop Salita in the first round after putting him down three times in the first 76 seconds of the bout.  The performance helped earn Khan a contract with HBO and set he stage for his US debut.
US Debut
Khan would face slick American boxer Paulie Malignaggi in his US debut at Madison Square Garden on May 15th, 2010.  Khan worked behind his jab to set up his power punching combinations and completely dominated Malignaggi.  In the 11th, Khan was administering more punishment to Malignaggi along the ropes when referee Steve Smoger called a halt to the bout.
Maidana Bout
After his impressive US debut, Khan would next face Marcos Maidana on December 11th, 2010 in Las Vegas.  In the first round, Khan dropped Maidana with multiple body shots.  From there, Khan was pretty dominant building up a lead on the scorecards.  But in the 10th, the power punching Maidana caught Khan and had him badly hurt.  Khan was able to survive the round and the final two rounds were very close.  In the end, Khan was awarded a unanimous decision victory in a fight that was later named the Fight of the Year in 2010 by the Boxing Writers Association of America.
Tough Stretch
Following the Maidana bout, Khan had two relatively easy wins against Paul McCloskey and Zab Judah.  Khan would then sign to fight Lamont Peterson on December 10, 2011 in Peterson's hometown of Washington D.C.
Peterson, known more as a boxer puncher, came out very aggressive early and seemed to catch Khan by surprise.  However, Khan was able to settle down early and gain control with his jab followed by his combination punching.  The rounds were close and often difficult to score.  Peterson seemed to land more but Khan's punches were harder and more effective.
The difference in the bout ended up being controversial point deductions on Khan.  The referee twice deducted points on Khan for excessive pushing.  However, pushing is a rarely called foul in the sport and even more rare was for a fighter to actually be deducted points.  When the cards were read, Peterson was awarded a split decision victory.  But had the two points not been deducted Khan would have won by unanimous decision.
Khan and Peterson signed for a rematch in May 2012.  As part of the contract, both fighters agreed to random testing prior to the fight.  Peterson tested positive for synthetic testosterone during one of the random tests and the bout was called off.  Peterson also admitted to taking the same synthetic testosterone prior to their December bout adding more controversy to that fight.
So Khan would instead face Danny Garcia on July 14th, 2012 for the WBC and WBA Light Welterweight Championships.  Khan controlled the action in the first two rounds and seemed to be poised for a dominant performance.  The third round was also trending toward Khan when he has caught with a big left hook from Garcia that put him down.  Though Khan made it back to his feet he was never able to recover.  Khan was put down twice more in the 4th, and despite pleading to continue after the 2nd knockdown, the referee decided to stop the contest.
Future for Amir Khan
Khan decided to make changes to his team following the loss to Garcia.  Freddie Roach was replaced as trainer in favor of Virgil Hunter.  Khan's first fight with Hunter will come against light hitting prospect Carlos Molina (18-0-1, 7 KOs) though the date has yet to be formalized.  This would seem to be a good fight for Khan against a solid but light hitting opponent.
Assuming he gets through the Molina match, Khan would figure to play a significant role in the 140 to 147 pound weight classes in the coming years.  In all likelihood, following the devastating  KO loss to Garcia, it would not be surprising to see Khan in against fighters regarded as lighter punchers in the early stages of his comeback.
However, at some point in time he will step up.  Given the fact he has lost twice by KO expect his promoter to only seek big money fights when he does step up.  And the two names that seem to fit that bill as of now are the come backing Ricky Hatton and Floyd Mayweather.  A fight against Hatton would be huge in the UK.  And a fight with Mayweather would of course be huge money at both the box office and on pay per view.