Arthur Abraham Fighter Profile, Bio and Career Record (35-3, 27 KOs)
"King" Arthur Abraham is the current WBO Super Middleweight Champion.  Abraham was also a former Middleweight Champion and made ten successful defenses before moving up in weight. He also participated in the Super Six Boxing Classic that concluded in 2011.
Profile updated & amended by Matt Andrzejewski in September 2012
Amateur Career: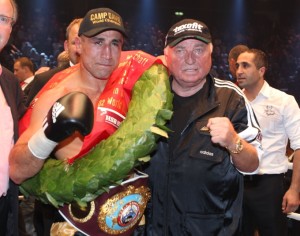 "King" Arthur at an early age became fascinated with boxing. Prior to his interest in boxing, he stayed active as a cyclist. As an amateur, "King" Arthur had a total of ninety fights. He found his immediate niche by winning 81 times, and six times managed to draw. His great achievement came when Abraham was recognized as the International German Champion in 1997. This Armenian-German fighter immediately took to the sport and advanced his career by turning pro in 2003.
The Reigning King
After his professional debut against Frank Kary Roth, "King" Arthur rapidly climbed the ladder of success. By 2005, Abraham was ready to make his mark in the sport. "King" Arthur defeated journeyman Howard Eastman via a twelve round split decision. Following this win, Abraham faced Luis Daniel Parada; winning by a technical knockout in the fifth round. His combined total of 18 wins, 16 by way of knockout, enabled him to land a title shot opportunity.
World Champion:
"King" Arthur's championship request was answered on the night of December 10, 2005, when he squared off against Kingsley Ikeke. In a normal "King" Arthur fashion, he started off steady waiting for his perfect chance to strike. During round two, Abraham found success in left right combinations to the head of Ikeke. At the start of the fifth round, with Abraham pursuing Ikeke, "King" Arthur caught his opponent, with a wide left hand, that sent Ikeke back; followed up with a barrage of punches causing the referee to wave the contest. Arthur Abraham won the bout and picked up the vacant IBF world Middleweight title.
Title Defenses? No Problem:
Arthur Abraham had a total of three title defense in 2003. The first two, against Shannan Taylor and Kofi Jantuah, were won by way of unanimous decision. The third fight was a test of strength, as "King" Arthur faced Edison Miranda. In a grueling match, Abraham went to work landing several body shots to Miranda. However it was Miranda who struck a major blow when he broke "King" Arthur's jaw. However, Miranda was deducted two points in the fifth round for an intentional head butt, two points in the seventh and one point in the eleventh for low blows. To Miranda's dismay, Abraham did not relinquish, he pressed and pressed. "King" Arthur's superb skills landed him the unanimous decision, and regained his IBF title.
"King" Arthur continued his success when he defeated: Khoren Gevor (KO RD11), Wayne Elcock (TKO RD5) and Elvin Ayala (KO RD12). The bout against Ayala marked his seventh successful title defense. However, Arthur was then slated to face Edison Miranada for a second bout.
Abraham vs Miranda II:
The fight was scheduled on June 21, 2008 at the Hard Rock hotel in Hollywood, Florida. "King" Arthur's title would not be on the line for this fight. At the start of the fight, Abraham came out of his corner with fire in his eyes. He immediately backed Miranda up with hard right jabs before backing himself behind a high tight guard. During the second round, Abraham did little in the way of punching. Miranda landed several thudding body shots against Abraham, but could get little past the gloves upstairs. "King" Arthur got back into the game during the start of the fourth round. A perfectly timed Abraham right hand sent Miranda to the floor. Miranda beat the count, and "King" Arthur began to pummel Miranda and dropped Miranda again with a left hook. "King" Arthur would land another left hand marking the third knockdown of the round. The referee stopped the bout before Miranda could rise again.
Continuing Success:
After Abraham's bout with Edison Miranda, he continued to annihilate all competition. "King" Arthur's next opponent would be Raul Marquez. He was able to defeat Marquez via a RTD. His next two opponents Lajuan Simon, and Mahir Oral brought little success against "King" Arthur. Both were defeated, and Arthur Abraham nailed his tenth successful title defense.
Super Six World Boxing Classic:
In July of 2009, "King" Arthur relinquished his IBF title belt to compete in the Super Six Championships as a Super Middleweight. Currently Abraham is one of the six fighters competing. The others are: Mikkel Kessler, Carl Froch, Andre Dirrell, Andre Ward, and Jermain Taylor. Currently, Arthur Abraham is slated to face Jermain Taylor on October 17, 2009.
Abraham got off to a slow start against Taylor but was able to start breaking Taylor down in the middle rounds.  In the 12th Abraham finished Taylor with a brutal one punch knockout with the right hand.  The impressive knockout victory made Abraham seemingly the man to beat in the Super Six Tournament.
In his next fight in the Super Six Tournament Abraham faced Andre Dirrell.  Again in this fight Abraham allowed his opponent to build an early lead.  However, unlike the Taylor fight Abraham never turned up the pace and continued to fall behind on the cards in the middle rounds.
In the 11th, Dirrell, well ahead on all three judge's cards, slipped and took a knee on the canvas.  Abraham hit the defenseless Dirrell while he was down, knocking Dirrell out cold.  The referee, Laurence Cole, correctly disqualified Abraham for hitting Dirrell while he was down.  The loss would be the first of Abraham's career.
In his next fight in the Super Six Tournament Abraham would face Carl Froch.  Abraham never got in the fight and Froch out boxed him from the outside from round one.  Abraham would suffer the second loss of his career, this time by unanimous decision in a very lackluster performance.
Despite the back to back losses Abraham would advance to the Super Six Tournament semifinals to face Andre Ward on May 14th, 2012.  For the third straight fight Abraham struggled to get off his punches and allowed himself to be out boxed by his opponent.  He would lose by unanimous decision to Ward and leave many wondering what the future had in store for Abraham.
Post Super Six Boxing Classic
Arthur Abraham would return to the ring in January 2012 and notch back to back wins against Pablo Farias and Piotr Wilczewski.  Those victories would earn Abraham a chance against Robert Stieglitz for the WBO Super Middleweight Championship.
The fight between Abraham and Stieglitz turned out to be a surprisingly entertaining bout.  Though Stieglitz was more active Abraham seemed to be landing the much harder punches throughout the night.  The fight was very close and in the end Abraham was awarded a close unanimous decision victory to finally become a two-division champion.
Future for Arthur Abraham

With his win against Stieglitz, Abraham has brought credibility back to his career after a disappointing performance in the Super Six Boxing Classic.  He is also a big name and big draw in Europe which will certainly help his career going forward.  Following his win against Stieglitz, Abraham's promoter announced his next fight would be on December 15th, 2012 against an opponent that has yet to be determined.
Though he isn't expected to fight a big name in his next bout, there are many potentially attractive bouts down the line for Abraham. A bout against fellow Super Six contestant Mikkel Kessler would seem to be a strong possibility in the not so distant future.  Both fighters are big draws in Europe so a match between the two would be very lucrative for both men.  Another possibility down the line is Kelly Pavlik whom he nearly faced several years ago and is still a name in the division.
Abraham's title winning performance against Stieglitz propelled him back into relevance in the Super Middleweight division and fight fans can expect to see much more of Arthur Abraham in meaningful fights in the coming years.