Austin Trout Fighter Profile, Bio and Career Record (25-0, 14 KOs)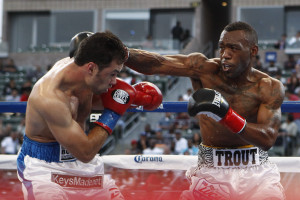 Austin "No Doubt" Trout is the reigning WBA Junior Middleweight Champion.  The undefeated 26-year-old southpaw from New Mexico is quietly moving up the rankings and gaining the attention of fight fans across the world.
Amateur/Early Professional Career
Austin Trout was a 2004 US Amateur Champion in the welterweight division.  In 2004, he lost in the Olympic box-offs to current junior middleweight contender Vanes Martirosyan. Trout turned pro in September 2005 with a 3rd round TKO victory over 63-fight veteran Justo Almazan in Albuquerque, NM. Trout's first real test came in January 2007 in his eighth pro fight against veteran Raul Munoz. Trout was able to KO Munoz, who has faced many of the best junior middleweights and middleweights, in the 5th round.
Austin Trout wins the WBA Junior Middleweight Title
After going undefeated in his first 21 fights against very low level opposition, Trout faced Rigoberto Alvarez in February 2011 for the WBA Junior Middleweight Championship in Alvarez's backyard in Jalisco, Mexico.  Alvarez, the brother of Saul "Canelo" Alvarez, was favored by many to win.
However, Trout out boxed Alvarez throughout the night and was awarded a decisive unanimous decision victory.  Trout defended his portion of the Junior Middleweight Championship two times in 2011 with a decision victory over veteran David Lopez and a 6th round stoppage of Frank LoPorto.  In June 2012, Trout defended his title with a unanimous decision over long time contender Delvin Rodriguez, in what was by far the biggest fight of his career. Many people favored the tough and resurgent Delvin Rodriguez, or at least thought he would make things tough for No Doubt Trout. However, Trout dominated the contest, and with the win vaulted himself into the upper part of the junior middleweight division.
Future for Austin Trout
The junior middleweight division is currently one of the deepest divisions in boxing.  Trout, though undefeated and a belt holder, has really yet to face any of the division's best fighters, beyond Rodriguez.  This will certainly change in the not so distant future as unification fights against the likes of Saul Alvarez or Cornelius Bundrage seem likely. If those fights cannot be made, then a rematch against amateur rival Vanes Martirosyan seems like a great way to go. And if the Martirosyan fight does not come off soon, then there are still many other solid contenders waiting in the wings.  The one thing that does seem certain is we will be seeing much more of Austin Trout in significant fights in the very near future.