All-Time Great Bernard Hopkins Biography, Career Accomplishments & Record
Bernard "The Executioner" Hopkins is one of the most accomplished fighters of his era. Best known for his ten year reign as the Middleweight world champion; Hopkins successfully defended his crown a record 20 times. Later in his career Hopkins would become the oldest man to ever win a World Championship when he outpointed Light Heavyweight Titlist Jean Pascal at age 46.
Profile updated & amended by Matt Andrzejewski in Sept 2012
The Beginning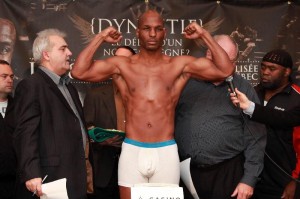 Bernard Hopkins started his professional career as a Light Heavyweight. His professional debut was in October of 1998. Hopkins lost a 4 round majority decision to Clinton Mitchell during his first match. After a two year layoff, Hopkins came back into the ring in 1990. From 1990 to mid 1993 Hopkins went undefeated as his record escalated to 22 wins 1 loss with 16 Knockouts. More impressive, is eleven of the knockouts came by way of first round.
In 1993 Bernard Hopkins defeated Gilbert Baptist by unanimous decision. This fight set the stakes for Hopkins to face Roy Jones Jr on May 22, 1993. Hopkins faced Jones for the vacant IBF Middleweight title. In a highly tactical bout, Hopkins lost via unanimous decision on all three judges' score cards.
Middleweight Championship
However, due to Roy Jones vacating the Middleweight division; Hopkins was awarded another chance in December of 1994. He faced Segundo Mercado in Ecuador. Mercado was able to knock Hopkins down twice, before Bernard managed to make a brilliant late round comeback. Hopkins rally earned him a draw, and still remains the only time in his career he was knocked down. The IBF called for an immediate rematch between the two fighters. Hopkins earned his championship by a seventh round technical knockout in their second bout.
In January of 1996, Bernard Hopkins faced Steve Frank for his first title defense. Hopkins defeated Frank within 24 seconds of the first round. From January 1996 to the end of 2000, Bernard "The Executioner" Hopkins defended his title a successful 12 times without a single loss. During his reign Hopkins defeated notable opponents such as: Simon Brown, Glen Johnson and John David Jackson.
Undisputed Middleweight Champion
In 2001, the Middleweight ranks threw a series of unification bouts between major title holders. The four major contestants were Bernard Hopkins (IBF) Keith Holmes (WBC), Felix Trinidad and William Joppy (WBA).
On April 14, 2001 Hopkins faced world champion Keith Holmes. In front of a sellout crowd, Bernard Hopkins won a lopsided 12 round unanimous decision to win the WBC, and retain his IBF Middleweight title. After defeating Holmes, Hopkins was set to face Felix Trinidad in September of 2001.
For the first time in years, Hopkins was an underdog in betting. As the story goes, this led Hopkins to place a 1,000,000.00 bet on himself to win the bout. And that is exactly what Bernard Hopkins did. The Executioner led on all scorecards when in the twelfth round he floored Trinidad. The referee stopped the bout as Trinidad's corner threw in the towel. With this win Bernard Hopkins now held the WBC, IBF, WBA championship belts, and earned the title of undisputed Middleweight champion of the world.
The Executioner went on to defend and retain his titles six more times. Hopkins bested Carl Daniels in February of 2002, Morrade Hakkar in March of 2003, William Joppy in December 2003 and Robert Allen in June of 2004.
Bernard Hopkins vs Oscar De La Hoya
Bernard Hopkins fought six time division title holder Oscar De La Hoya on September 18, 2004. In the highest paying fight of his career, Hopkins won the bout with a knockout by a left hook in the ninth round. With this win Hopkins became the first boxer ever to unify the titles of all four major sanctioning bodies. At the time of stoppage, Hopkins was ahead on two of the three judges' scorecards.
At the age of 40 years old, Bernard Hopkins reached the middleweight record of 20 title defenses against Howard Eastman. Hopkins dominated the fight to win a lopsided unanimous decision.
Bernard Hopkins vs Jermain Taylor
The Executioners next fight was against Jermain Taylor for the undisputed Middleweight championship. On July 16, 2005 Hopkins started off slow, but was able to finish strong against the younger opponent in Taylor. However, Hopkins came up short as he lost via split decision.
Not deterred, Hopkins climbed into the ring again against Jermain Taylor for a rematch on December 3, 2005. Bernard Hopkins once again lost the bout via unanimous decision. However, some think Hopkins did enough to win the fight; based on the power punches, and overall shots thrown.
With his two losses to Jermain Taylor behind him, Hopkins decided not to retire and instead moved up in weight. At the age of 41 he was in line to face Antonio Tarver in June of 2006. Tarver was a 3 to 1 betting favorite coming into the bout. However, it was Hopkins who dominated the fight, landing crisp clean punches to the head and body of Tarver. Bernard Hopkins picked up the lopsided unanimous decision, IBO title and his first win as a Light Heavyweight.
Bernard Hopkins vs Winky Wright
Bernard Hopkins faced former undisputed Light Middleweight champion Ronald "Winky" Wright at Mandalay Bay on July 21, 2007. Both fighters started off slow, figuring out each other's tactics. However, it was Hopkins who landed first. In the third round Hopkins opened a gash over Wrights left eye from an unintentional head butt. As the fight progressed, Bernard Hopkins won by a unanimous decision. Most observers felt that Wright made it a closer fight than it appeared on the scorecards, but still, the unanimous decision was given to Hopkins.
Joe Calzaghe vs Bernard Hopkins
After numerous mouthy acquisitions from Bernard Hopkins, Joe Calzaghe agreed to face Hopkins in the United States in April of 2008. Hopkins got off to a great start by dropping Calzaghe with a straight right in round one. As the fight progressed, Hopkins mostly threw one punch and often initiated clinches to prevent Calzaghe from throwing combinations. However, Calzaghe was able to figure Hopkins out, and began to land a series of short quick punches. It would be Joe Calzaghe in the end that would prevail, he won by split decision after 12 rounds of boxing.
Both fighters stepped into the ring on October 18, 2008. Hopkins started off quick, landing and schooling Pavlik to the punch. Pavlik always came up high and dry as his power shot missed Hopkins by a far margin. Hopkins punched his way to a highly lopsided unanimous decision, and handed Pavlik the first loss of his career.
Avenging the Loss to Roy Jones Jr.
Hopkins would be idle for almost a year before winning a unanimous decision against journeyman Enrique Ornelas.   The win would set up a long awaited rematch with Roy Jones Jr.
In a foul filled bout that often lacked action, Hopkins would use all the skills and guile he has acquired over his career to win a decision victory over his long time rival.  In the post fight interview Hopkins would call out Heavyweight David Haye.  But when the Haye fight couldn't be made Hopkins turned his attention to Light Heavyweight Champion Jean Pascal.
Jean Pascal Bouts
The Hopkins-Pascal bout would take place on December 18th, 2010 in Quebec City.  Hopkins was knocked down twice in the first three rounds which were controlled by the younger champion.  However in round four Hopkins seemed to figure out his foe and begin out boxing Pascal.  Hopkins appeared to win eight of the next nine rounds decisively.  But when the scorecards were read the fight was declared a draw.
The fighters almost immediately would agree to a rematch which would take place on May 21st, 2011 in Montreal.  This time around Hopkins started faster and seemed more willing to engage Pascal than in the first fight.  Though the bout was close Hopkins seemed to land the harder more effective punches throughout.  Hopkins was awarded a well deserved unanimous decision victory and at age 46 became the oldest man to ever win a World Title.
Fights Against Chad Dawson
Hopkins would next face former Light Heavyweight Champion Chad Dawson.  The first round was very lackluster and saw little action.  The second round was equally as dull until Dawson picked up Hopkins when the fighters were nearing a clinch and tossed him to the canvas.  Hopkins agonized in pain holding his left shoulder and the referee ruled him unable to continue.  Initially Dawson was awarded a TKO victory but that was later correctly changed by the California State Athletic Commission to a No-Contest.
The rematch with Dawson would take place on April 28th, 2012 in Atlantic City, NJ.  For the first time in his career Hopkins looked like an old fighter in this bout.  He had a hard time getting off with his punches and the younger Dawson simply was able to outwork him in most rounds.  Dawson would win a decision victory and many boxing experts wondered if this would be the last time we would see the legendary Bernard Hopkins in the ring.
Future for Bernard Hopkins
Hopkins is now 47 and coming off one of the worst performances in his career.  However, Hopkins has a history of coming back strong after being written of by the boxing community.  Can he do it one more time?  The feeling in the sport after the Dawson fight was Hopkins may retire.  But after that was written, Hopkins seemed to get motivated to once again prove his critics wrong.
Recently, Hopkins name had been mentioned as an opponent for Nathan Cleverly.  Cleverly though at least for now chose to go in another direction.  One name to keep an eye on as an opponent is Tavoris Cloud.  He is young, undefeated and holds a belt.  But he has looked very vulnerable in recent fights and Hopkins may feel he can take the young fighter to school.
The suspicion in the boxing community is we have not yet seen the last of Bernard Hopkins.  Though he may not be done fighting Hopkins has solidified his status as one of the all time greats in the sport of boxing.