Fighter Profile: Career Record & Bio for Brandon "Bam Bam" Rios (30-0-1, 22 KOs)
Mexican-American Brandon 'Bam Bam' Rios is one of the most formidable fighters of the new generation of boxing. The undefeated fighter is a former WBA lightweight champion, now setting his sights on higher weight divisions after his famous and infamous struggles making weight. Learn more about Brandon Rios, his career and his background right here.
Amateur Career: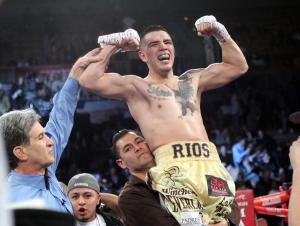 As an amateur, Rios had an outstanding boxing record of 230 wins with only 35 losses. This remarkable record led him to become the USA National Featherweight Champion in 2004. Additionally, Rios was placed as a substitute fighter at the 2004 Olympic games, narrowly missing the cut to compete in Athens.
Breakout Win Against Anthony Peterson:
Rios decided to turn professional the same year as he became the USA National Champion and Olympic substitute. He wasn't much discussed as a young prospect, and was under the radar for the first few years of his career. Brandon's first major fight occurred against Anthony Peterson in 2010. In this fight, Rios destroyed Peterson with his powerful blows, and momentarily knocked Peterson down in the 5th round. The fight eventually ended in disqualification due to a significant number of low blows thrown by Peterson, who was trying to grasp at anything in order to keep himself in the fight, or slow down Bam Bam.
Fight with Miguel Acosta:
In 2011, Rios fought Miguel Acosta for the WBA World Lightweight Title. Rios started off slow, as Acosta controlled the early portions of the fight. However, as he has been known to do, Rios came back strong, and wore down Acosta knocking him down 3 times during the match. In the 10th round, referee David Mendoza declared a stopped to the fight and Rios became the new WBA World Lightweight Champion.
Controversial Fight with Richard Abril:
After his win over Acosta, Rios knocked out Urbano Antillon in a scintillating three round fight. He was then set to defend his title against John Murray, but was unable to make weight for the bout. Even though he appeared off his game, he still battered Murray to win by 11th round TKO.
After a scheduled fight against Yuriorkis Gamboa was scheduled, Rios instead tried to reclaim his old WBA strap, which he lost at the scales, taking on Richard Abril.  However, Rios was again unable to make the lightweight limit. During the fight, Rios looked slow and not as powerful as he was in previous fights. Abril had looked on the upper hand for the most part of the fight but a controversial split decision win went in favor for Rios.
What's next for Brandon Rios?
Brandon Rios has the potential to be a powerful and formidable force of boxing. However, judging from his last 2 fights against Richard Abril and John Murray, it's well pat due for him to move up in weight. This is a major concern that needs to be taken into consideration by Brandon's camp as it could cause problems for him in the future. Furthermore, Rios recently sustained a right arm injury and has pulled out for his fight against Mauricio Herrara. Rios' career is somewhat uncertain at the moment and it will be interesting to see how it pans out in the near future.
However, once he gets his legs under him at 140 lbs, you can bet he'll be one of the top fighters in the division, and big-time fights will be there waiting for him.